We spent most of half term on a photo shoot for my book, which meant I didn't manage to take the kids further than the park, and ended up feeling very guilty. To make up for it I wanted to take them somewhere extra special on our much needed Inset day before we returned to the madness of the run up to Christmas.
We visited Hobbledown several years ago when the kids were smaller so I knew they would love it and Zak was desperate to try the high ropes ( which he wasn't tall enough for first time round ) and I knew Sydney would enjoy the animals and jumping pillow.
Hobbledown is a mystical farm full of animals and exciting indoor and outdoor play areas in Epsom, Surrey. It's perfect for children of all ages as there are playgrounds suitable for young children as well as more challenging areas for older kids. It was fantastic for us as we could sit down and watch the kids explore on their own, knowing they were having fun in a safe environment.
The photo below shows Sydney playing with her rabbit in the gorgeous sandy play area. It was only a few weeks ago, but so much warmer than today.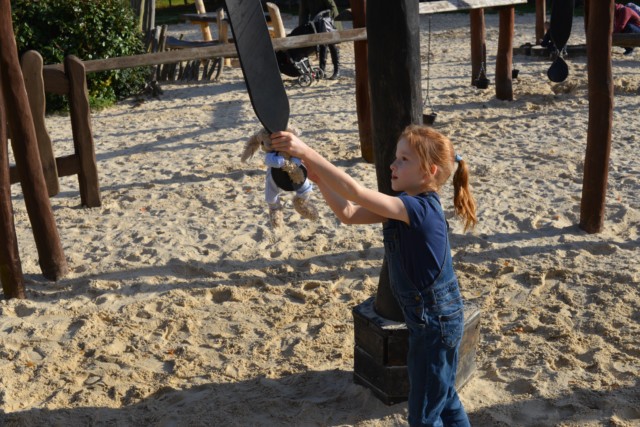 We set off slightly later than planned, but the journey down the M25 was easy and we had no trouble parking. There was a small queue to get in when we arrived, but a lovely member of staff came out of the shop to tell us we could pay for entry in the shop and skip the queue. All the activities are included in the price making it great value. A peak ticket is currently £9.95 for children over 2, but you can save 20% by booking online in advance and there are special rates for childminders too. We didn't have to worry about the weather on our visit, but there is a great soft play area to shelter in if it does rain while you're there.
We were given a timetable of events for the day and realised we'd arrived at the perfect time to try the climbing towers. The kids raced off to join the short queue while we ambled along behind showing baby Charlie the rabbits and meerkats. My 10 year old is an experienced climber, but still thoroughly enjoyed the experience as did both girls ( aged 9 and 7 ).  The staff were very encouraging and we didn't feel rushed at all.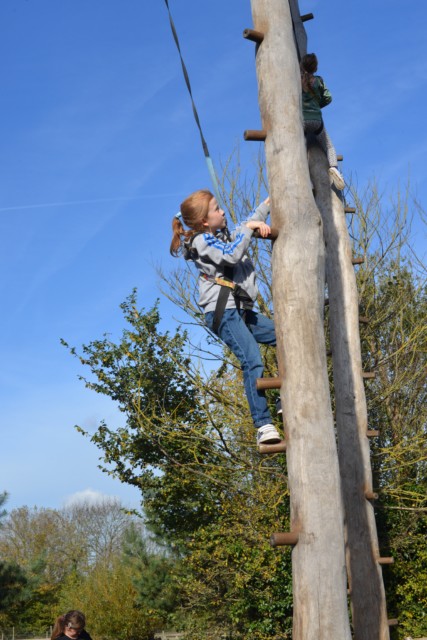 High Ropes Course
On the day we visited, the high ropes course like the climbing towers was only open at specific times. I'd recommend getting in the queue a little early as it did get quite long be the time Zak joined, but he said it was definitely worth the wait, and especially enjoyed the zip wire at the end.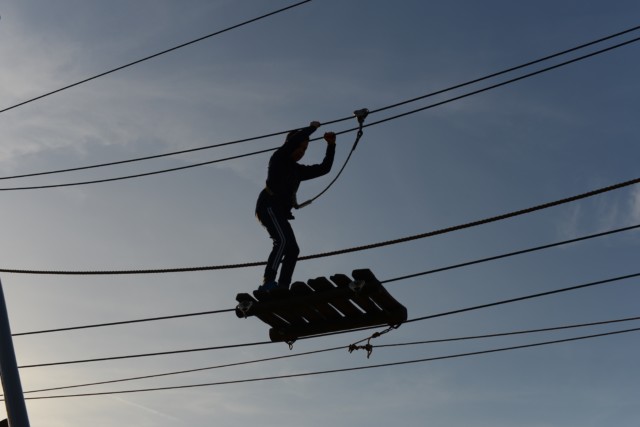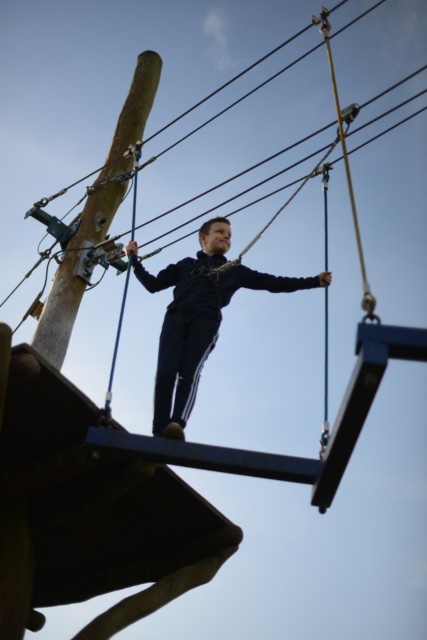 Jumping Pillow
While Zak was on the high ropes, Sydney and Hannah were very happy on the jumping pillow. At one point Sydney had a crowd around her as she backflipped around, cheered on by another gymnast who happened to be there at the same time. It was lovely to watch, especially when the other children tried to do the same.
Hobbledown was relatively busy when we visited as it was an inset day, but the park didn't feel crowded at all and there was plenty of space for all the children in whichever area we happened to be in.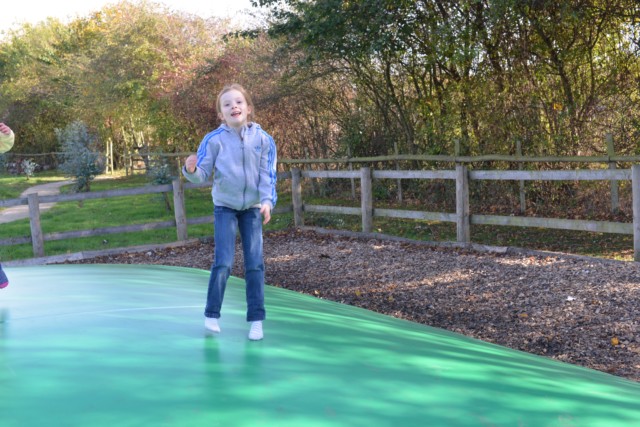 Hobbledown's Animals
Hobbledown is home to some very special animals. We especially loved seeing the Giant Rabbits, Wallabys and Meercats. You can walk through enclosures meaning the animal experience feels very up close, but completely safe. My girls loved it and it was a fantastic way for little Charlie to get his first experience of some unusual animals.
The animal enclosures are nice and spacious with information boards telling you about the animals and Meet and Greet times spread throughout the day.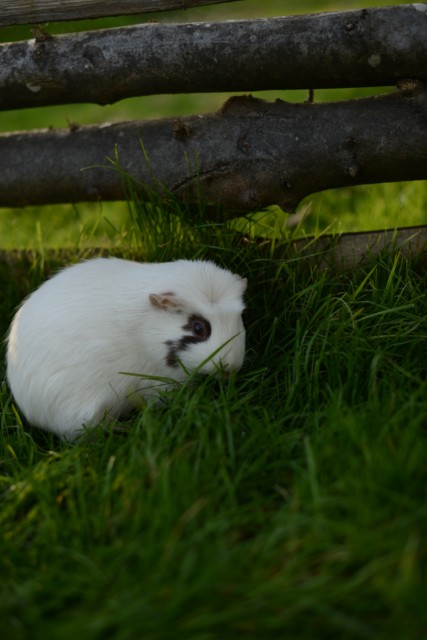 Hobbledown Village
Hobbledown Village is one of the best play areas we've been too, there are underground tunnels, high up tunnels, slides and things to climb. My three loved it. Some children might find the tunnels a little scary, but there's plenty to do above ground if that's the case.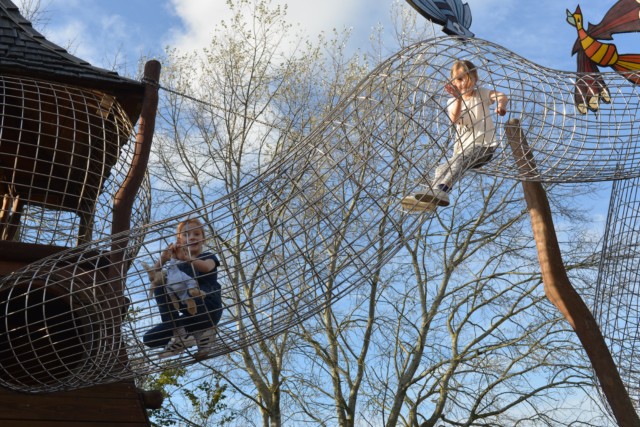 Christmas at Hobbledown
You can also join Santa for lunch, brunch and tea over the festive period. See the website for full details.
Our Thoughts
Hobbledown is a great day out for all the family, we'll definitely be back soon. It's a bit quirky and full of little surprises along the way. Definitely not your standard farm park.
I'd also recommend buying food from the restaurant as my meatballs were amazing.
We were given complimentary tickets to Hobbledown for the day, but all thoughts and opinions are my own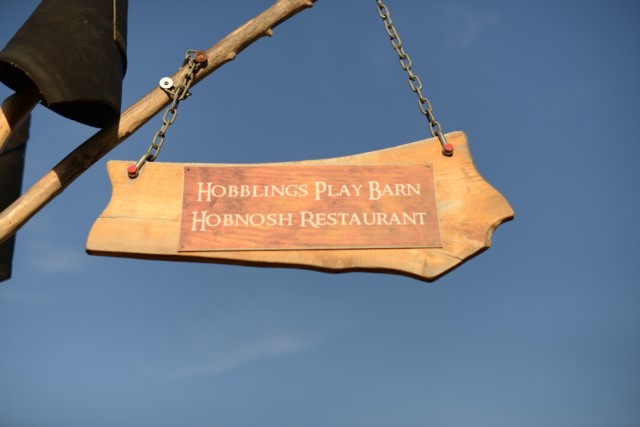 SaveSave
SaveSaveSaveSave
SaveSave
SaveSave