One of my strongest memories of my childhood toys apart from my beloved Cabbage Patch dolls are of my Rubik's cube and the other Rubik's products which were around at the time. Do you remember the one with all the clock faces? Or the flippy one with the rings?
I remember one Christmas, most of my cousins had a Rubik's cube, one could solve it within minutes while the rest of us tried and failed for hours on end. I remember all my aunts and uncles trying and failing too. It's funny watching my own children with them now, Z tries really hard to solve it, while the girls attempt to peel off the stickers and stick them back on in the right place. One day when I get a spare half an hour, I'm going to finally work it out. I'm sure there must be some logic to it that I've missed over the years, and it's quite an impressive trick if you're one of those people who can solve it in minutes, without switching stickers of course.
I'm sure most people must have similar stories to tell, my husband tells me he also had friends who could solve a Rubik's cube easily, and his favoured approach was to take the cube apart  and put it back together in the right order while his brothers tried to switch the stickers around. The latest version of the Rubik's cube has plastic squares instead of stickers and a faster action mechanism, I wish that had been around when I was younger, it would definitely have solved the sticker switching problem and subsequent sticker peeling.
It's funny the toys that pass the test of time isn't it? I love watching my own children play with toys I used to own, especially something as simple as the Rubik's cube. Did you know the first Rubik's cube was sold in 1977 and was called the Magic Cube before being renamed to the  Rubik's Cube in 1980?
I love that the appeal the Rubik's cube extends to grown ups as well as children and that most people have some enduring memory of the Rubik's Cube. I asked some fellow bloggers about their Rubik's Cube memories.
My dad had an engineering friend who wrote instructions how to do it. I memorised it & could do it in no time…I can do half now but have forgotten the last bit & have no idea where the instructions are! @jessies_kitchen
We used to have a book that told you how to solve it but I never worked it out, it also explained how to take it apart with a screwdriver and reassemble so I did that instead! @JenniferJain
I got so depressed over solving the riddle when I was younger, I just took off all the stickers, put them in the right places and pretended I had solved it. @caro_mad
We had the book but I also knew the knack of taking it apart, lol @SeasiderClare
We've really enjoyed playing with the Rubik's Twist recently too, can you guess what animal this is meant to be?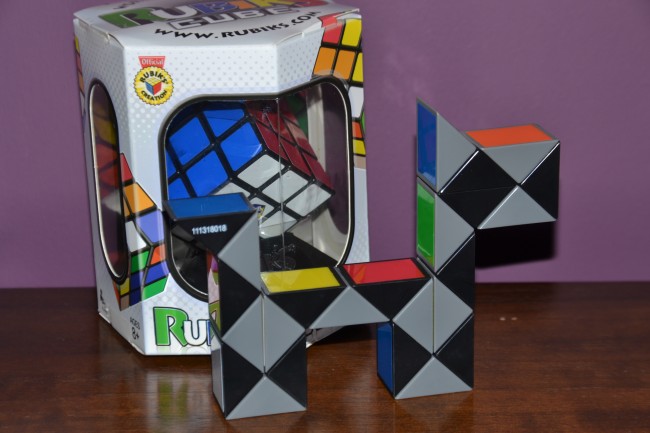 My son also loves the Rubik's Race game, which is a great fast action, logic game brilliant for kids and grown ups, but my favourite will always be the traditional Rubik's cube. I spotted you can buy a 5×5 cube as well, I wonder how long that would take me to solve? Perhaps I need to start with the 2×2 cube? What do you think?
Do you know how many possible combinations there are of the Rubik's cube? Find out the answer and more fun Rubik's facts on the John Lewis Website.
What's your favourite Rubik's memory? Do you have a friend or family member who loved the Rubik's cube?
This campaign was run by John Lewis Insurance