Scooby Doo is a show I remember from my own childhood and one all three of my children adore. We have a box set of the DVDs that is often asked for on a rainy day. Scooby Doo is actually one of the few shows everyone is happy to watch together.
We haven't been to the theatre much as a family, which is something I definitely want to change, so I'm always on the lookout for a new family friendly show to watch.
The new Scooby Doo live UK Show fits the bill perfectly.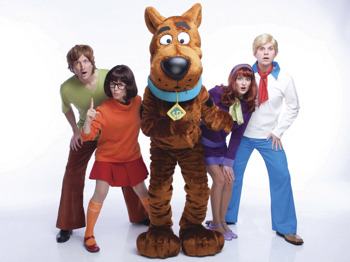 The show surrounds Scooby Doo, Shaggy, Velma and Daphne as they arrive in Egypt to solve the mystery of Pharoh Hatchespouts Pyramid. The show looks AMAZING and luckily for us is quite
close by, but if you do live further afield there are some great hotel deals available in the local area.
Holiday Inn Basingstoke  (6 mins by car)
Holiday Inn Farnborough  (27 mins by car)
Holiday Inn Guildford (38 mins by car)
You could even combine your trip with some other great local attractions. How about LegoLand, Chessington, Milestones Museum, a National Trust site or there are lots of other great things to do with kids in the Guildford area.
Mystery Of The Pyramid: Scooby-Doo live show UK tour starts tomorrow and runs until the August 31st. More info about the show can be found here – http://www.scoobydoo-live.com
Don't forget your scooby snacks 🙂
This is an advertorial post