My husband is always talking about finding his fashion style. I struggle with the concept of a style for most men really, as surely there's not much you can do with either jeans and a T-shirt or smart trousers, shirt ad tie, which is pretty much all he wears.
When we met at University, he wore loose trousers and baggy tops, he was the only student ( possibly the only person ) I know who didn't own a pair of jeans, and I won't even mention the flat cap, did I mention he was 22? Thankfully now his wardrobe has improved slightly, although admittedly not much.
If I was to dress him for the day I'd choose.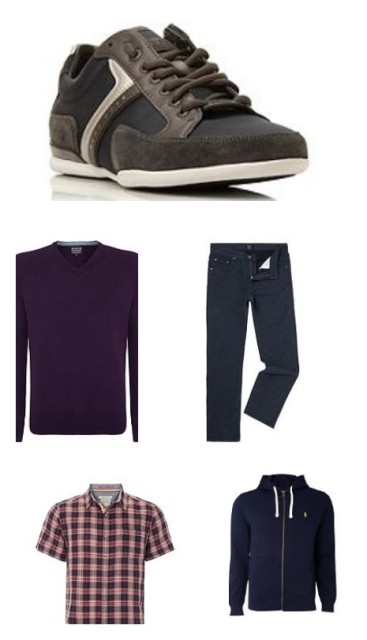 Hugo Boss Spacit lace up trainers
White Stuff Chopper Check Shirt
Howick Arlington Lambswool jumper or a Polo Ralph Lauren zip through hoody.
Diesel Jeans
I'm not actually sure I'm better at styling than my husband is. Does the shirt go with the jumper? I do love the jeans and shoes though.
Jean and a T-shirt seems so much easier, doesn't it? Do you have a stylish partner?
In association with House of Fraser