I first bought Connetix Tiles about three years ago after seeing them on Instagram. Since then, they've been in almost constant use. We've built ramps, bridges, parking garages for toy cars, houses for toy figures and hundreds of different tower structures. They are one of the few toys that my teens are as happy to play with as my 6 year old.
The tiles are great for learning about magnets, strong shapes and other engineering concepts, as well as helping children develop fine motor skills and inspiring lots of fantastic designs and ideas.
I love they are a great toy to play with collaboratively or to encourage independent play.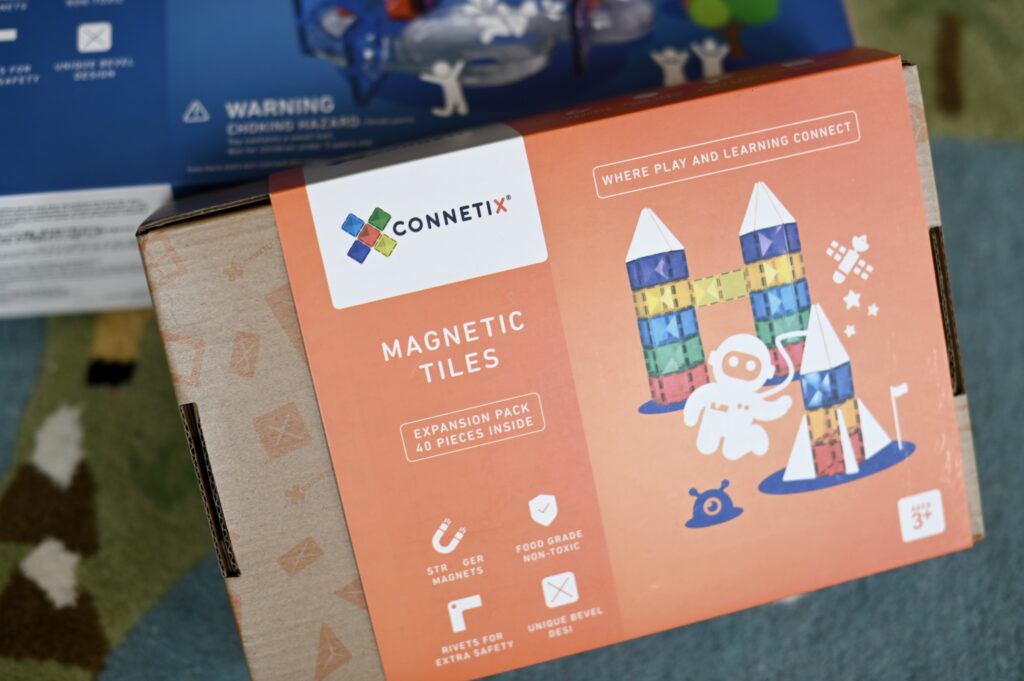 What are Connetix Tiles
Connetix Tiles are a magnetic construction toy that are wonderful for inspiring imaginative and creative play. The quality is fantastic, and the magnets are plenty strong enough to hold together almost anything you want to build, but still easy to disassemble as well as build with.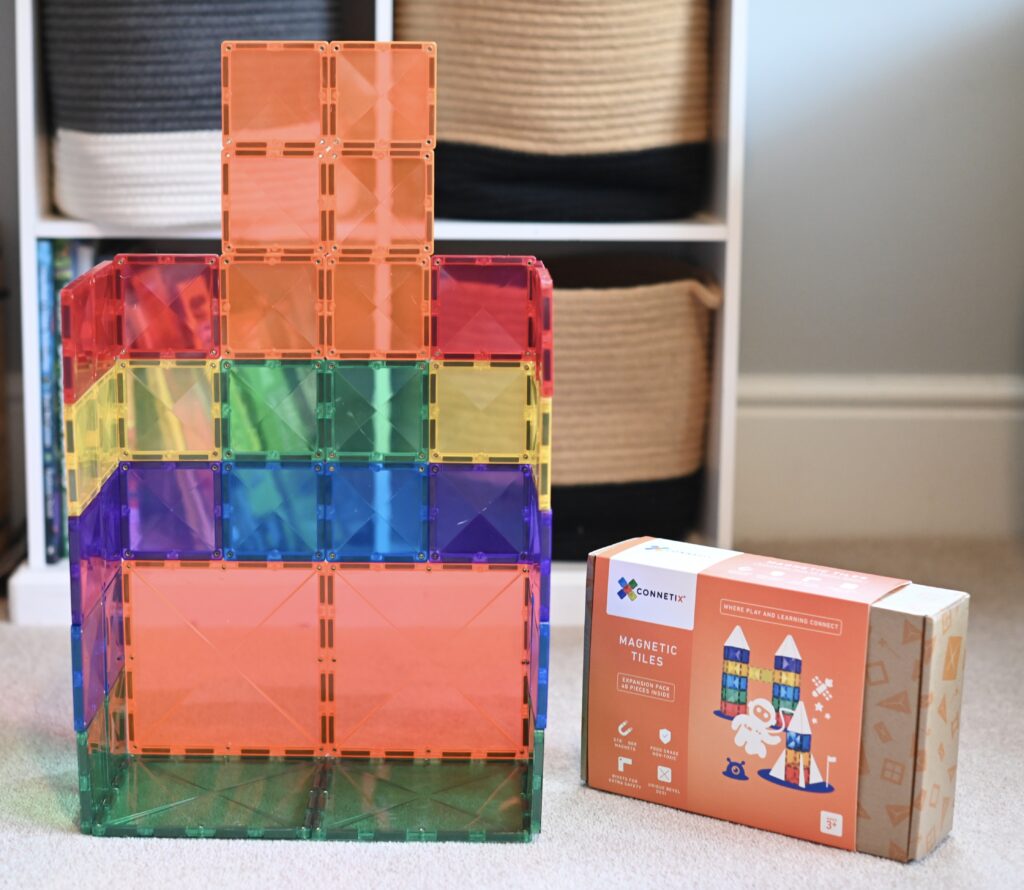 Connetix tiles are made using non-toxic ABS plastic that is BPA, lead and Phthalate free. The edges are smooth and easy for little hands to hold.
The range includes rainbow, pastel and clear-coloured tiles of different sizes and shapes. A set with a mix of sizes is a great starting point. We also love our ball run set, and the transport box looks amazing too.
The sets come with an inspiration book bursting with fantastic ideas to spark the creative process.
Each tile has a transparent middle, which means you can see through the tiles adding a wonderful visual element to structures. The tiles cast beautiful coloured shadows that always make me stop to look.
The thing I love most about Connetix tiles is their versatility. From basic 2D shapes to humongous 3D structures, the possibilities really are endless. There really is no better way to have fun while working on those essential fine motor and problem-solving skills.
The 40 piece square pack is a great starting set with enough pieces to create 100s of different structures.
Five Easy Ways to Play with Connetix Tiles
Have a tower race
My 6 year old always enjoys a tower-building race where we race each other to see who can build the tallest tower.
Once we've finished the towers, we test them to see which is the strongest.
Towers are a great way to start to learn about engineering by thinking about the best shape to build the tower and which size and shape tiles to use in the construction. We've learned that a strong base is needed to support a very tall tower!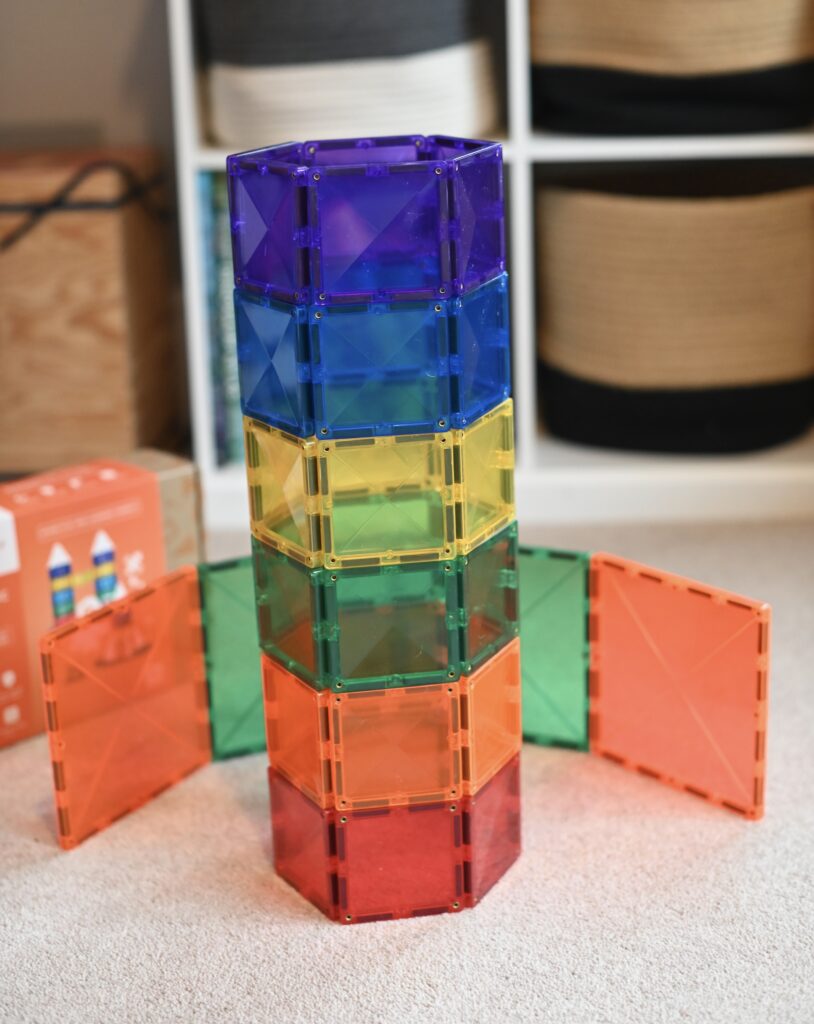 Build a Bridge
I always like to add STEM challenges into our play when I can, and this Connetix bridge-building challenge is super easy and one of our favourites.
Children just need to build a bridge ( they can design it on paper first if they want ) and then test it by adding different toys to the top.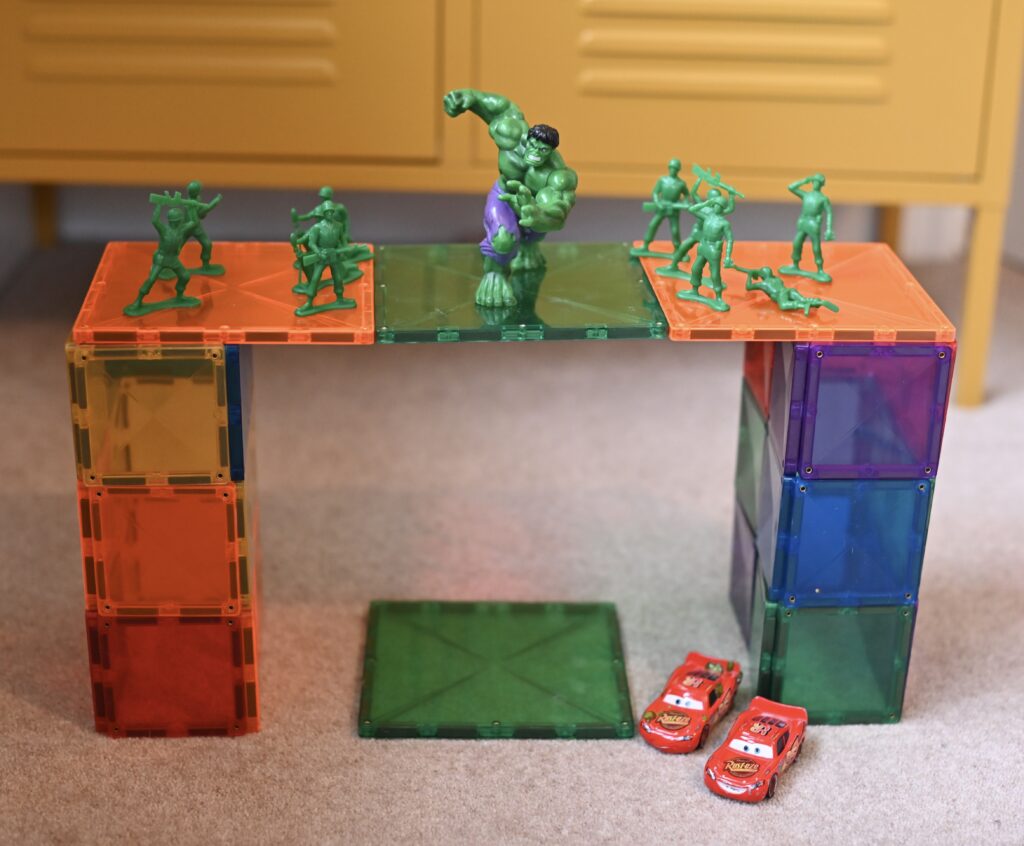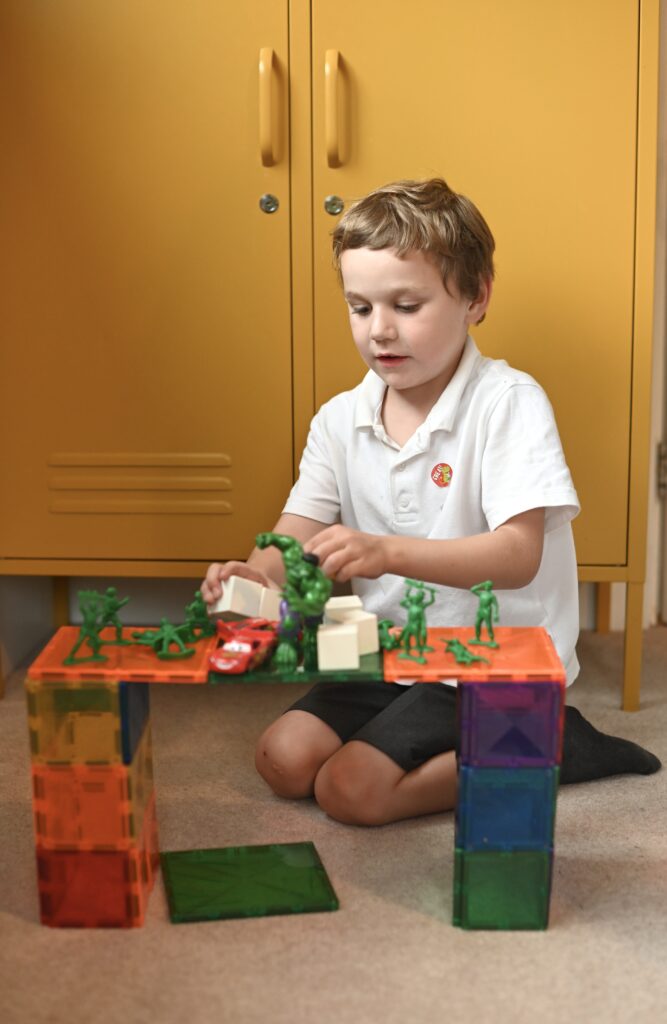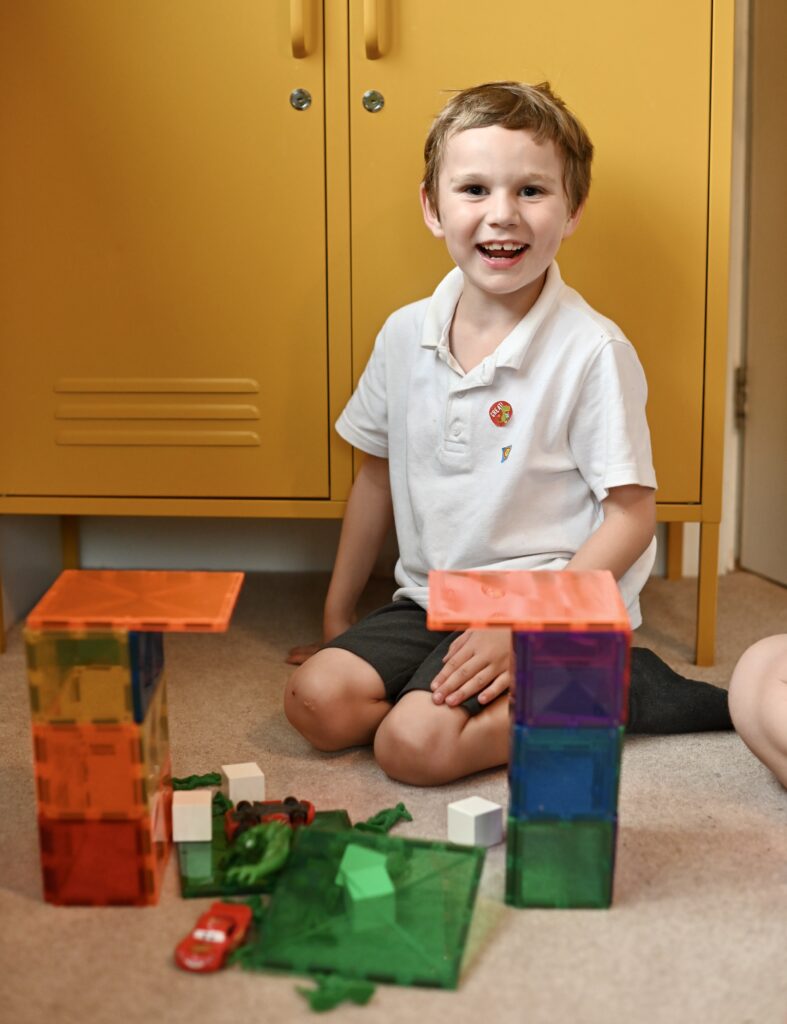 Create coloured shadows
Make the most of a sunny day by creating some beautiful coloured shadows. Connetix tiles create beautiful refractions in the sunlight. I'm always amazed by how pretty they look.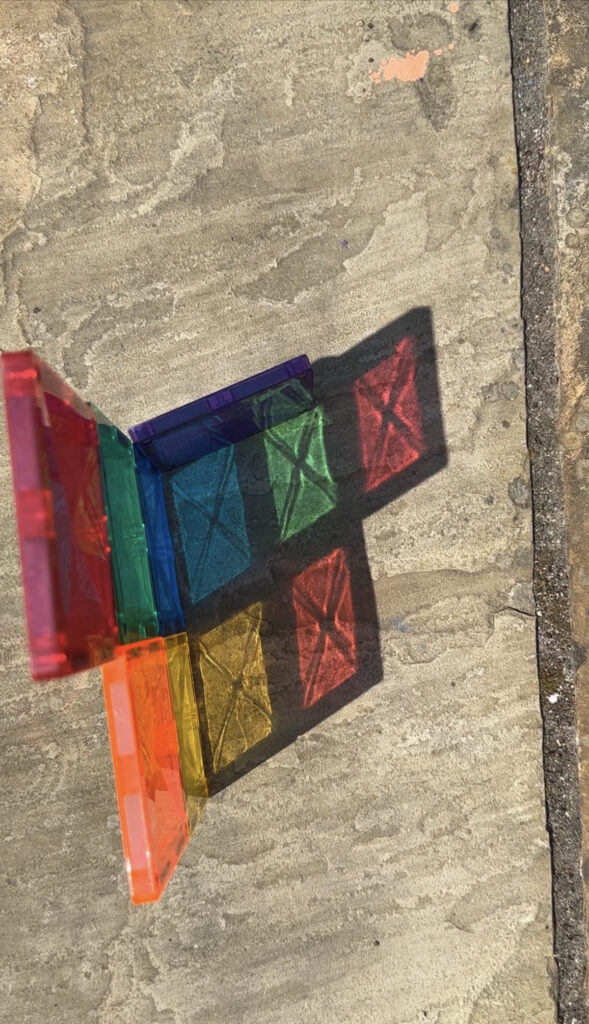 Build a famous landmark
One game that engages my older children, as well as my youngest one, is building a famous landmark or another recognisable object so someone else can guess what has been built.
Create a ramp
Ramps are great fun to build with Connetix tiles. Children can experiment with different gradients, lengths of ramps and types of toy cars used.
A twist on this is to add a ramp going upwards and experiment to find out how far cars can travel up a ramp after going down.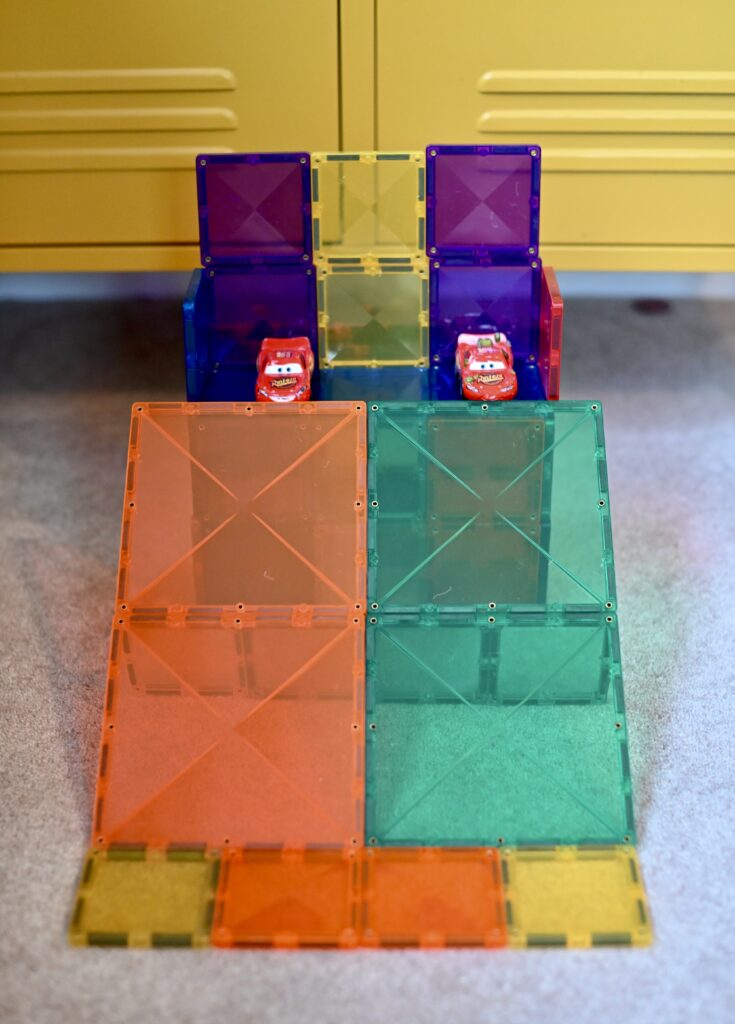 We were kindly sent the 40 Piece Rainbow Square Pack to review, which we used to build all the models above. This set is a brilliant starter pack, with 36 small square pieces and four large squares.
Connetix Ball Run
I bought a Connetix ball run for my now 6 year old about 18 months ago, and it's definitely been a big hit. It's an open-ended toy, so it grows with the child and actually gets better and better the older they get. The ball run packs are recommended for age three plus but can be quite tricky to build. We started out with my son choosing a design for me to build while he helped, but now he's a bit older, he has started to build the ball runs with less and less assistance from me. It's been a lovely process to watch and nurture. The ball run is very sturdy, so we usually leave it built for a few weeks and then change it up a bit.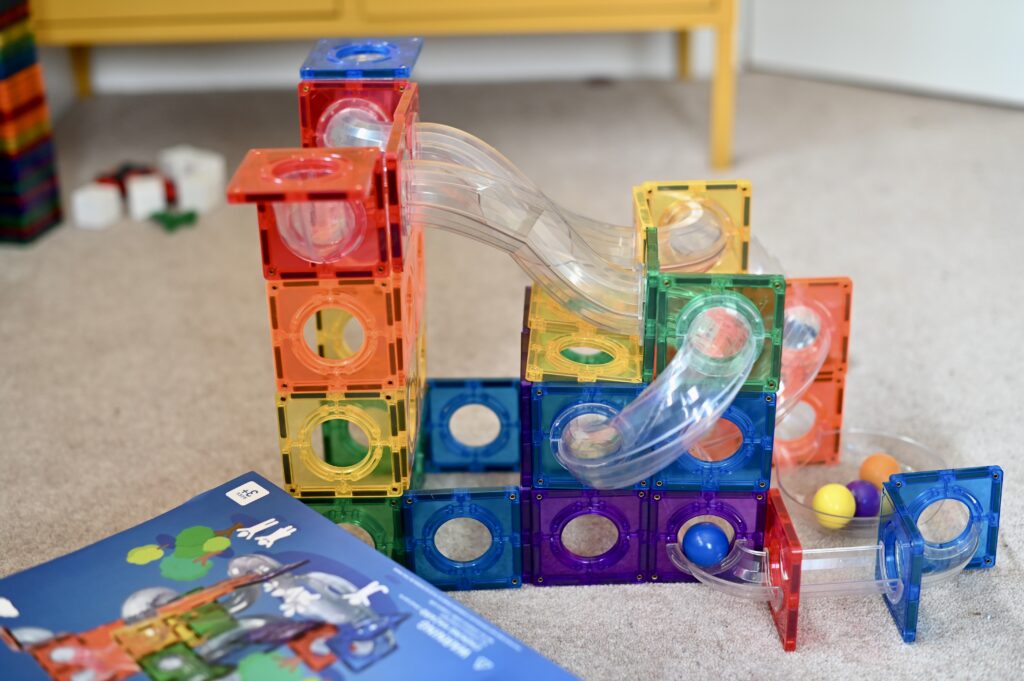 The 66 Piece Rainbow Ball Run Expansion Pack ( shown above ) from the rainbow range, is a fantastic addition to a standard ball run pack and contains NEW exclusively designed Spiral, "X" and double-bowl pieces. These are all great for challenging little engineers and making elaborate ball runs. The expansion pack includes connector square magnetic tiles, wooden balls, plus a range of clear, fluted tubes. We've had lots of fun combining the two sets to make supersized ball runs!
Ball runs are fantastic for learning about gravity, momentum and kinetic energy. We've made many a ball run where the ball has run out of energy halfway through and some that have been over far too quickly. Whatever the outcome, though, we always enjoy experimenting with different designs.
Top tips for building a ball run
Have a plan
Ball runs can be tricky to build ad hoc, so I recommend copying a design from the inspiration book the first few times. Once you've got the hang of it, you can be as crazy as you want.
Create a good base
Make sure the base of your ball run is strong and stable enough to support the higher parts.
Build a ball catcher
The balls will fly out of the ball run, so it's a good idea to build something to catch the balls at the bottom, or if you've got the expansion pack, use one of the spiral pieces.
For more information, take a look at www.connetixtiles.com
Connetix Tiles was officially launched in June 2019 by two families who met when our children started primary school together. After seeing how our children not only enjoyed playing with magnetic tiles but were learning while doing so, we decided to create our own version that was strong and safe while offering clearer refractions than the current tiles on the market.
We were sent the 66-piece ball run expansion pack and the 40-piece square pack for the purpose of this review.