My children have wanted to try the Medieval Glamping  at Warwick Castle since a friend told them about it a couple of years ago. Unfortunately for them I'm not much of a camper, but after seeing the beautifully themed tents up close, I'm sure even I would enjoy the experience, especially in one of the rather fabulous Princess tents, complete with flowing drapes and long mirrors. The toilet and shower area looked rather nice too, and the setting is definitely extra special. How often can you camp in the grounds of a famous castle steeped in history next to a beautiful unspoilt river?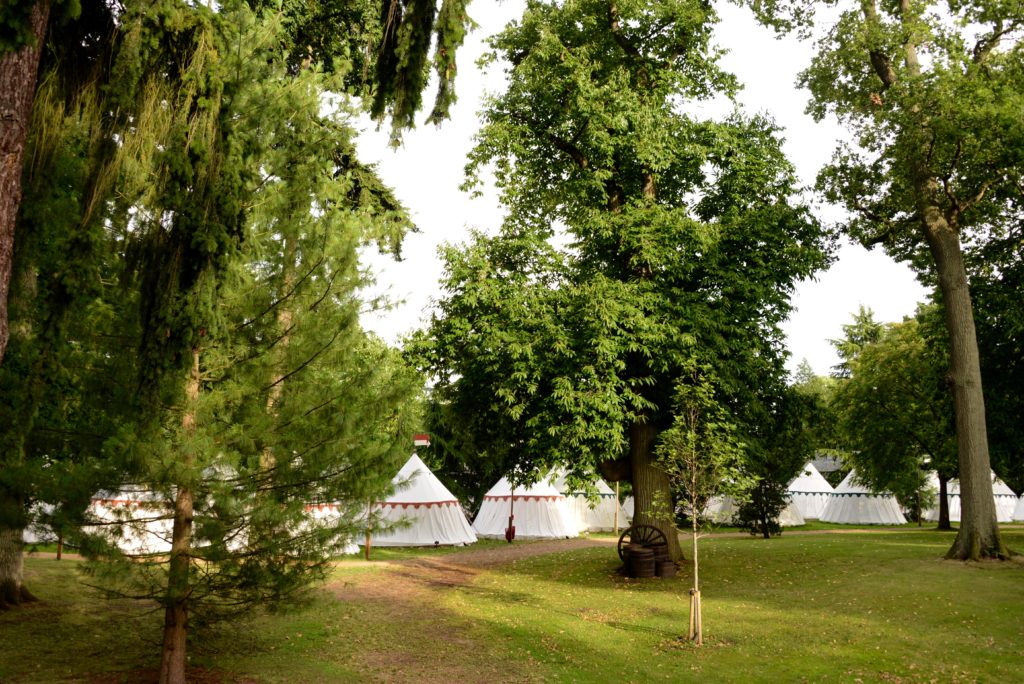 However, for this trip we were treated to one of the very special Woodland Lodges. As with the glamping tents the lodges are set set in the castle grounds next to the River Avon, allowing families to stay overnight and then enjoy a much needed second day at the castle.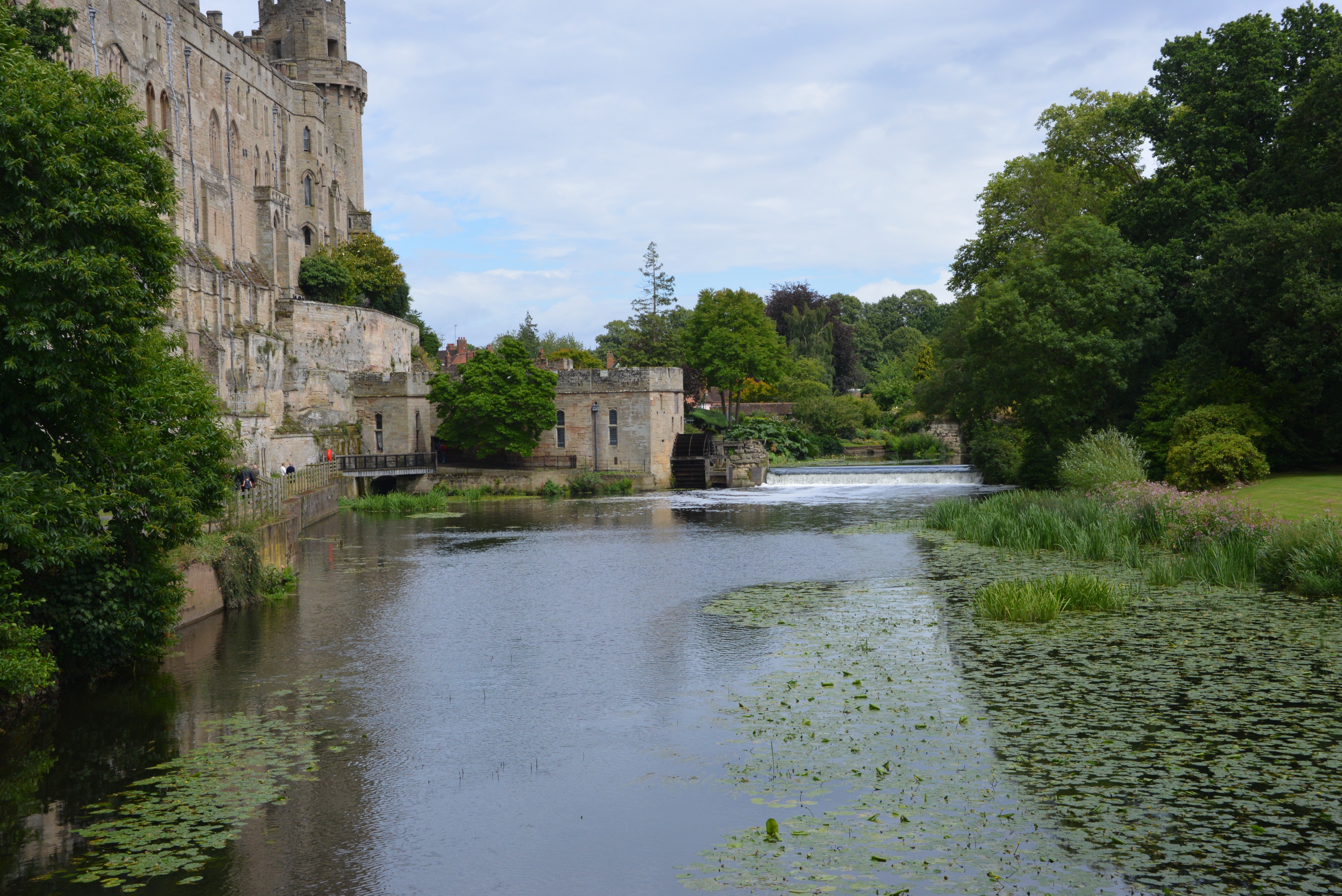 Knight's Village at Warwick Castle
Woodland Lodges sleep up to five in two bedrooms on one floor while a Knight's Lodge sleeps up to seven people over two storeys, including a mezzanine level with master bedroom. Both types of lodge are beautifully themed with shields and swords on the walls, which the children loved and the adults were thrilled with the smart wet rooms and wi-fi.
Our Woodland Lodge had a double bed in the main room and bunk beds in a smaller separate room with a pull out bed under the bottom bunk. There was plenty of room for our family of 3 adults and 4 children ( one baby ). My big three were super excited to be sleeping in the same room in such opulent surroundings!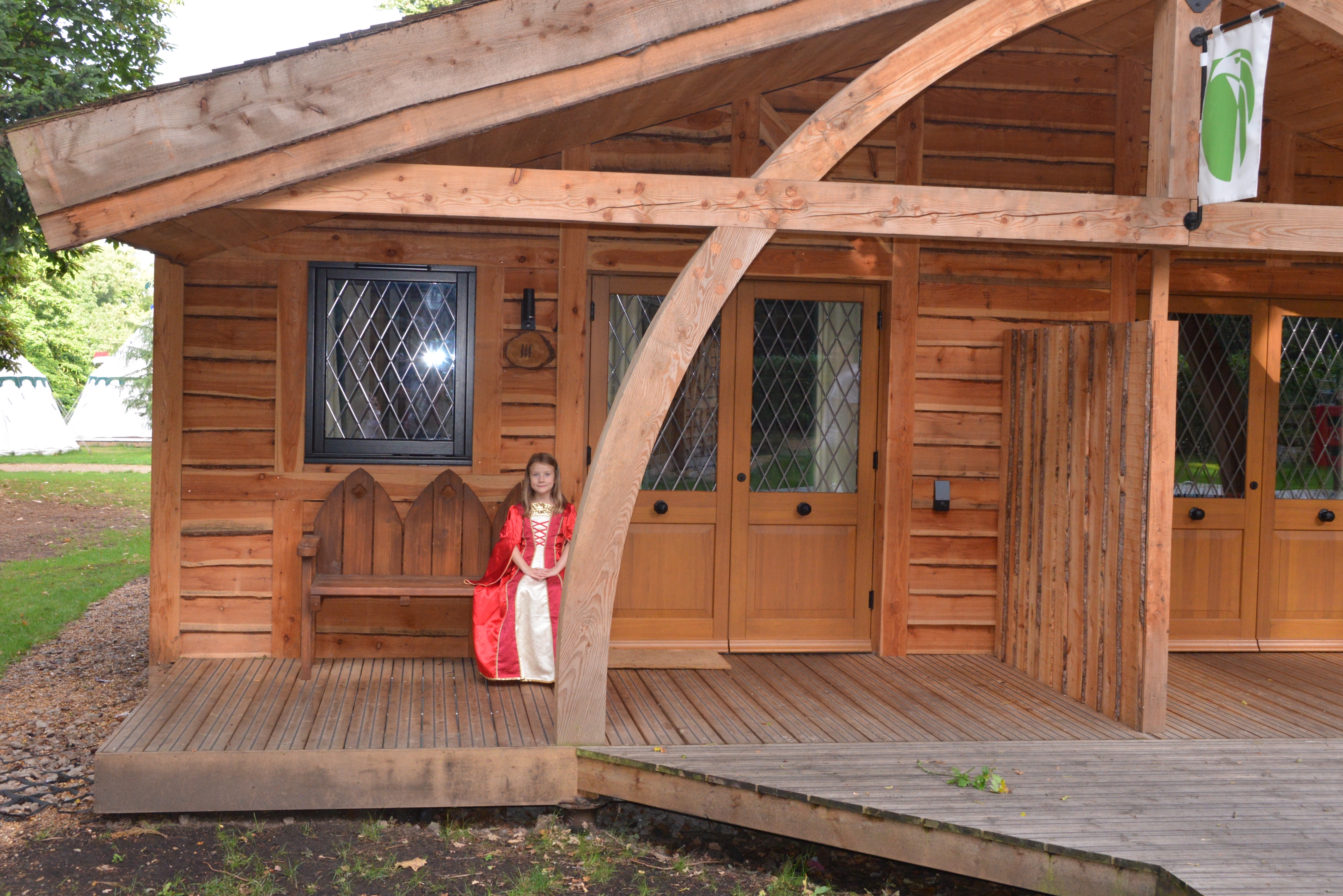 The lodges are set in a quiet woodland area with plenty of space for energetic children to run around and play games outside. It was the just the perfect setting for us.
This photo shows just how special and wonderfully decorated the lodges are inside.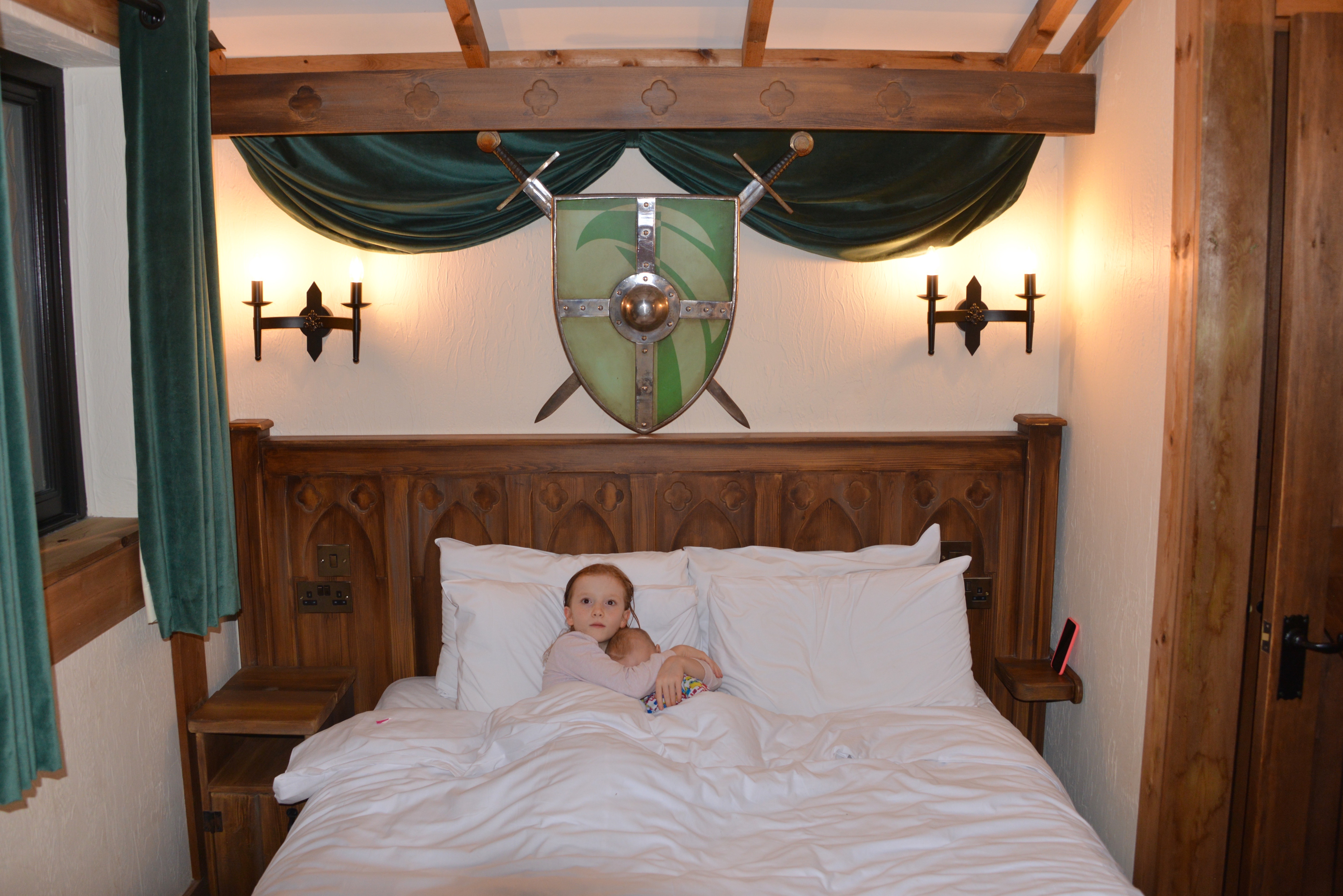 An overnight lodge package includes:
FREE second day Castle ticket
Cooked or Continental Breakfast in the Mediaeval Banqueting Hal
VIP Parking
Evening Entertainment
The evening entertainment is on between 6.30 and 8.30pm by the river bank and was a great end to a fantastic day. There was a small queue for the archery, but other than that we didn't have to wait to watch or try anything. It was all very relaxed and easygoing, the perfect way to unwind and let the children run off some steam after their fantastic dinner.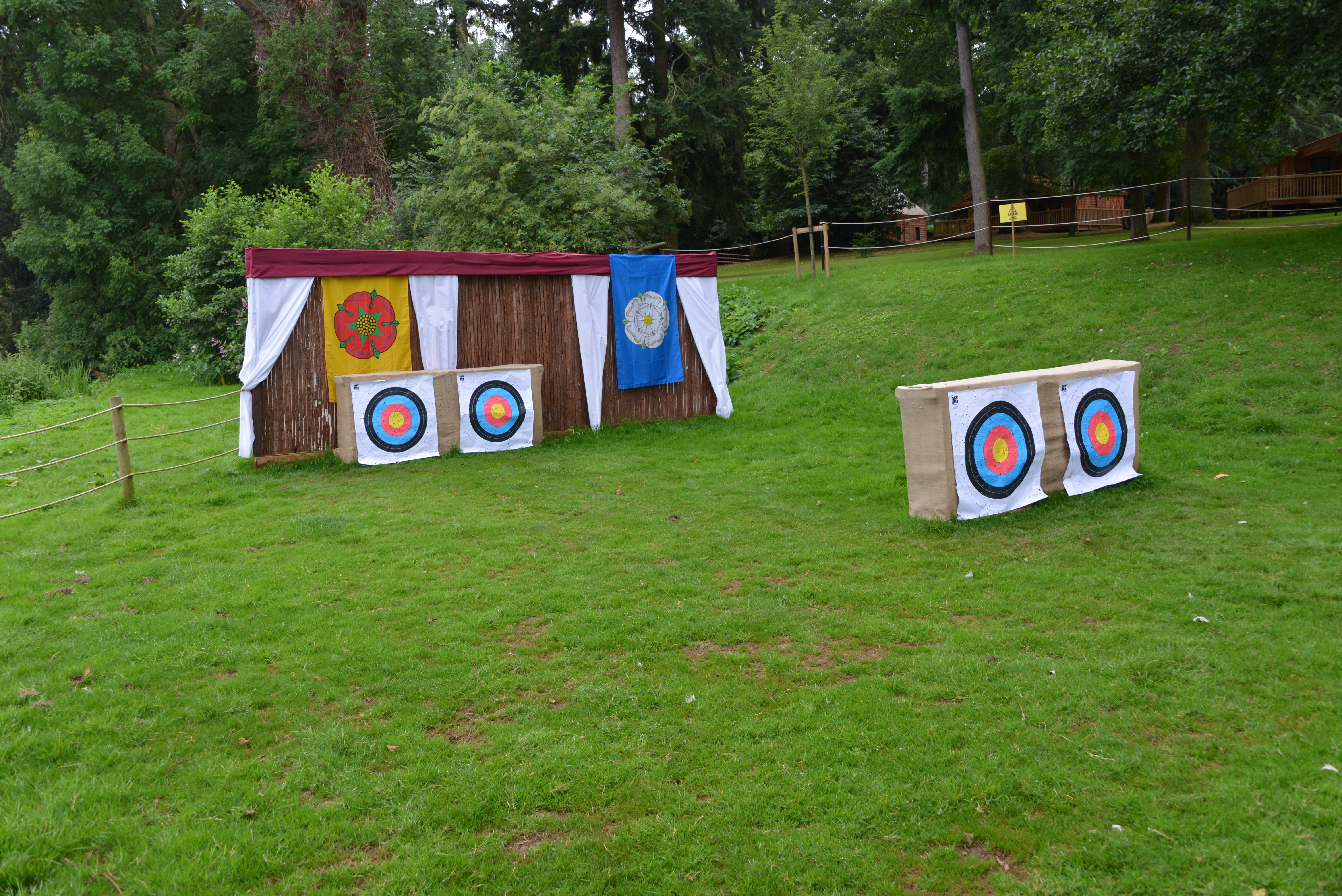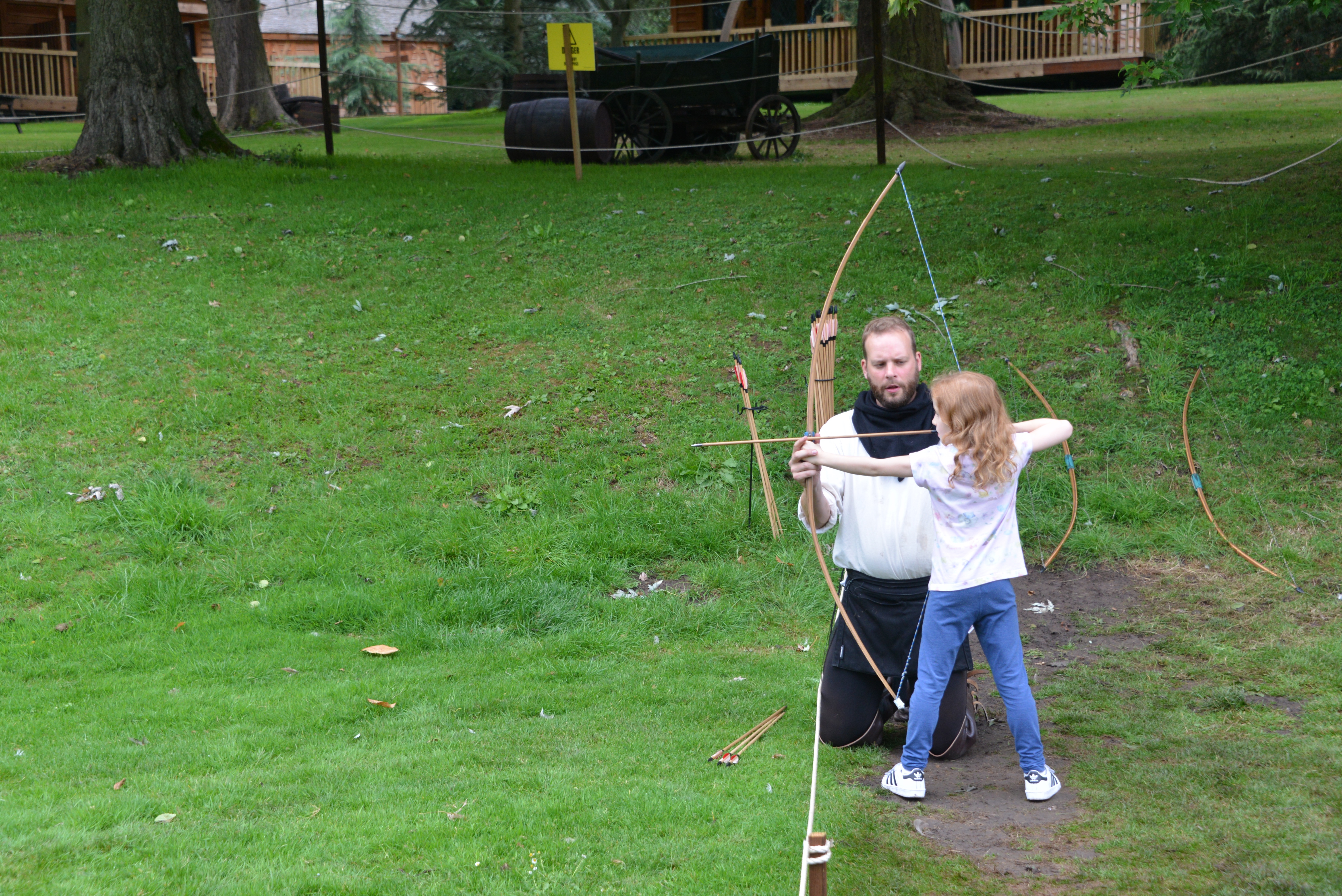 After archery the children learned basic sword and defence skills at sword school. I have to give a big shout out to the Knights who ran the entertainment as they did an amazing job keeping lots of children of different ages engaged and interested. It was a great experience for everyone involved.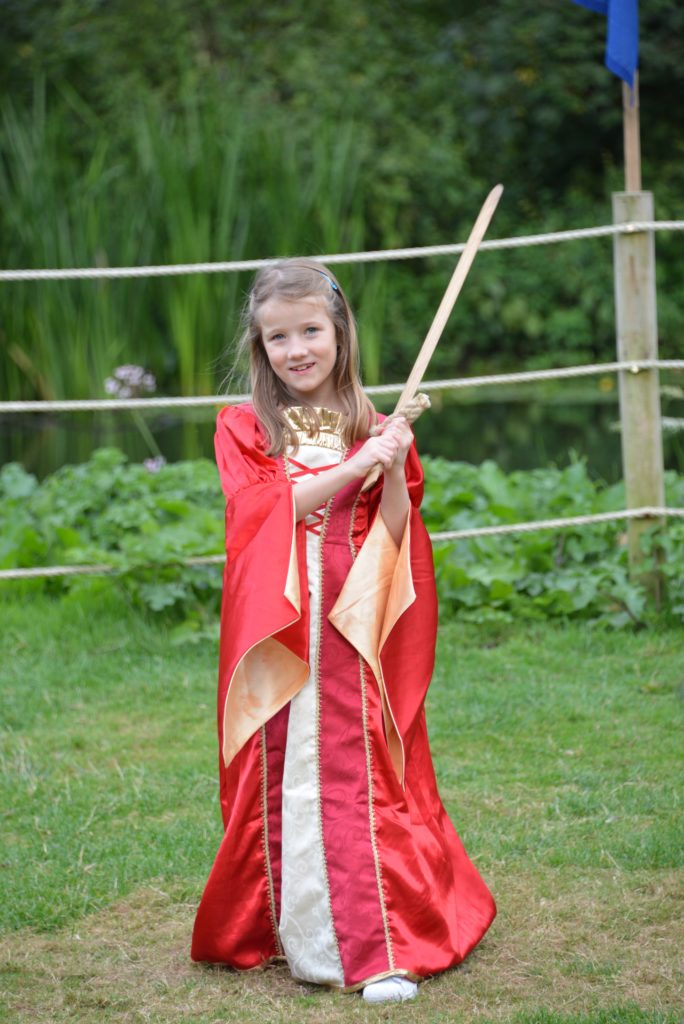 After Sword School there was Princess School which was perfect for my little Princess Hannah. The trainee Princesses were given a pea at the end to test if they were a real Princess. Hannah went straight back to our lodge and put it under her mattress where she was utterly convinced she could feel it, much to her big brother's amusement.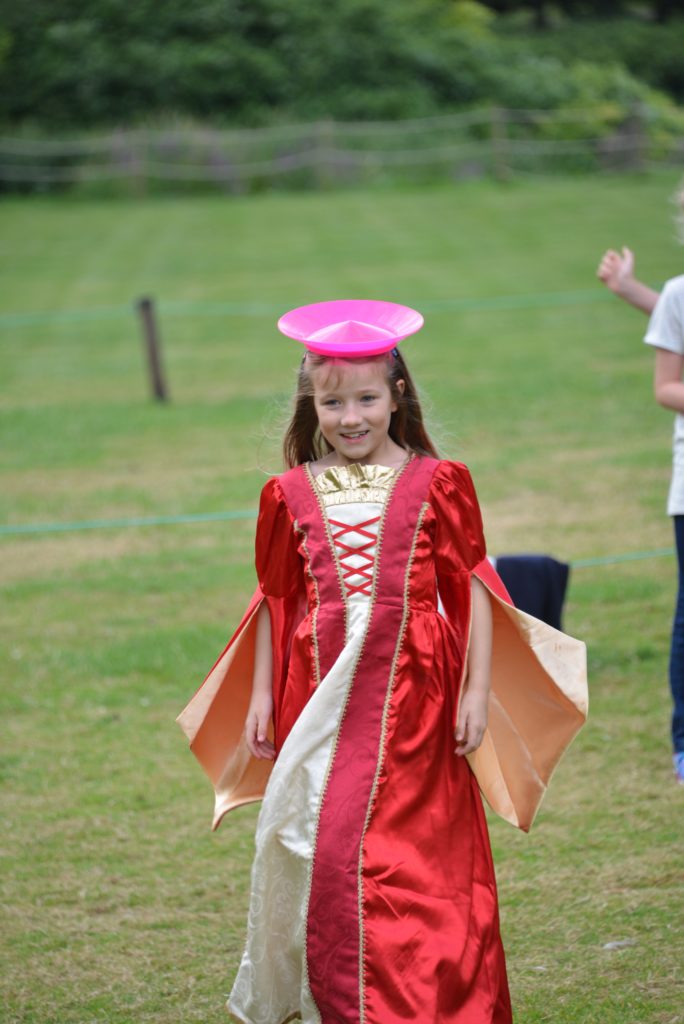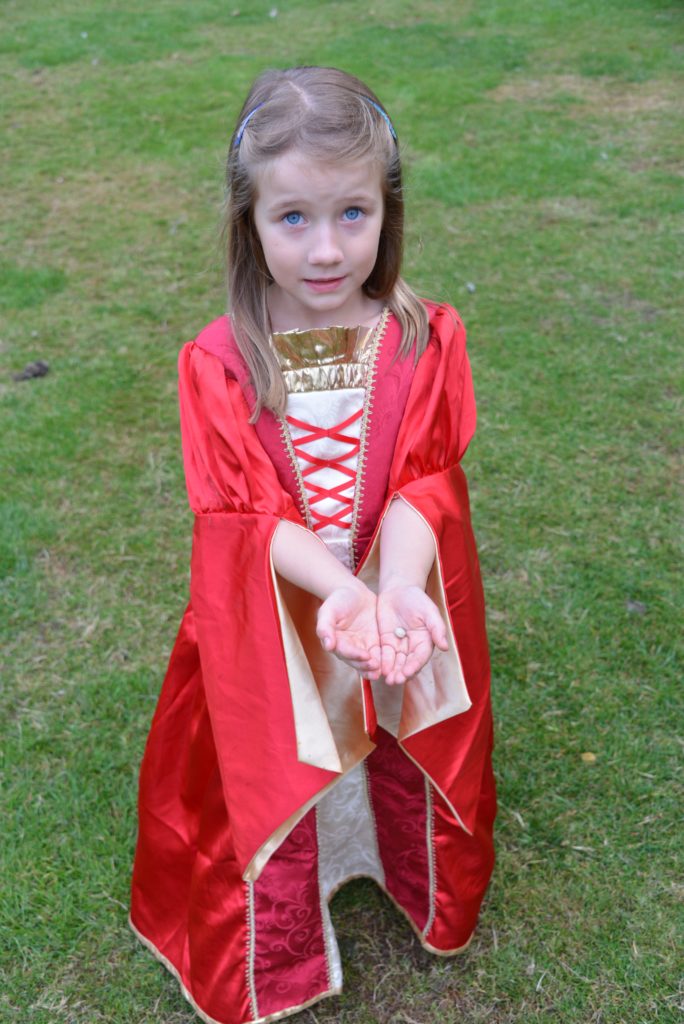 Breakfast
A hearty breakfast is available in the Banqueting Hall,  and is included in the sleepover price. We filled up on yummy pastries, cereal, fruit and traditional hot breakfast food ready for the day ahead.
As with the lodges the Banqueting Hall is brilliantly themed with weapons on the walls, tall wooden thrones at one end and flags hanging from beams.
Dinner
The Mediaeval Dinner Buffet is available for an extra charge, £18.95 for adults and £9.95 for children. There was plenty of choice, and free soft drinks as well as a reasonably priced bar. The menu includes items like roast chicken, beef and stout pie, fishcakes, breaded chicken strips and pasta with meatballs as well as salad and a selection of desserts.
Dinner and breakfast times must be prebooked.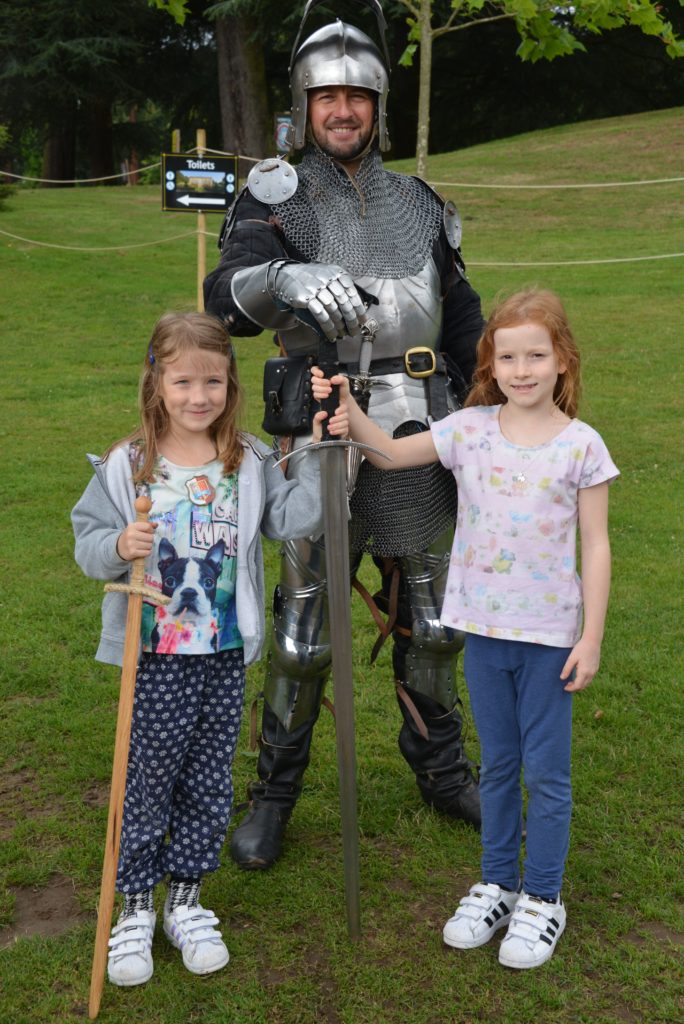 Knight's Village with a baby
Charlie was just over 3 months old when we visited, which initially I was a little worried about, but it was surprisingly easy with him. There are 24 hour bottle and food warming facilities available and we also used the microwave in the banqueting hall for sterilising dummies. Travel cots are available also, but you might need to request one in advance.
Guests at Knight's Village can enter the castle grounds through a special gate which saves you from potential queues at the main gate and leads to straight into the gorgeous landscaped gardens just a short walk from the main castle area.
Every member of staff we encountered was incredibly helpful and friendly, we felt very looked after throughout the whole trip.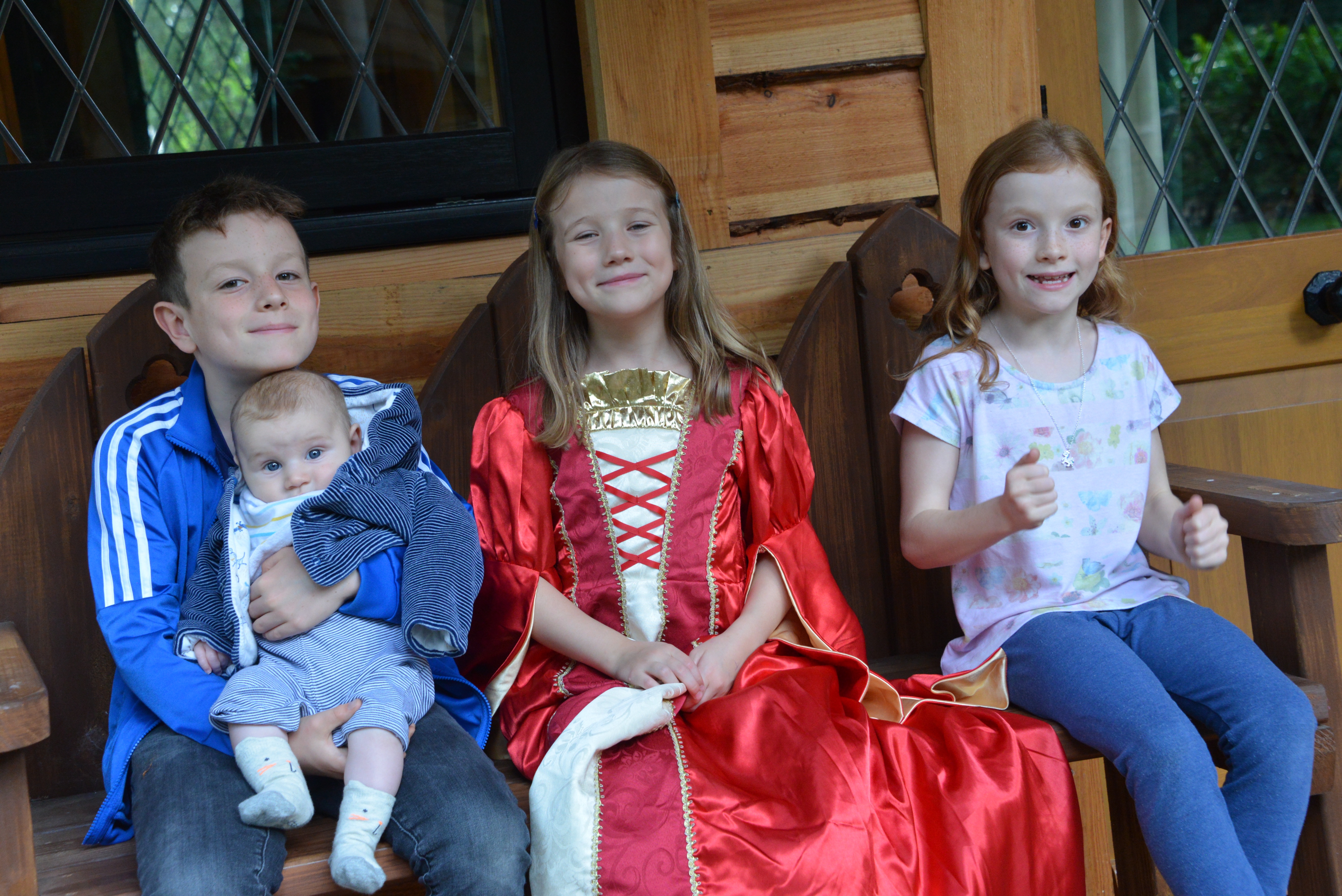 Parking
Parking at Knight's Village is a big bonus when you have a small baby and luggage. The car park is located next to the reception area and free for guests.
Our Favourite Attractions at Warwick Castle
Among Warwick Castle's top attractions are the Castle Dungeon, the Trebuchet, Horrible Histories Maze and incredible gardens.
Live actors and special effects help recreate "some of the darkest, bloodiest and most frightening times in the castle's history" making a visit not only incredibly entertaining but a great learning experience too.
Trebuchet
The Trebuchet is the largest working siege machine in the WORLD,  flinging a ball 150 feet into the air a couple of times a day. It's incredibly impressive. We missed the fireball at Halloween, but are hoping to go back in October to see it and also the dungeons which Zak is desperate to look around.
Horrible Histories Maze
The aim of the maze is to  unravel clues and get your free time passport stamped in each area. Little visitors can invade a Viking ship, survive the trenches, uncover secret plots, discover lost time periods and learn Horrible Histories facts before escaping to the gift shop to collect their prize. It's a great family adventure and one my three would happily do again and again.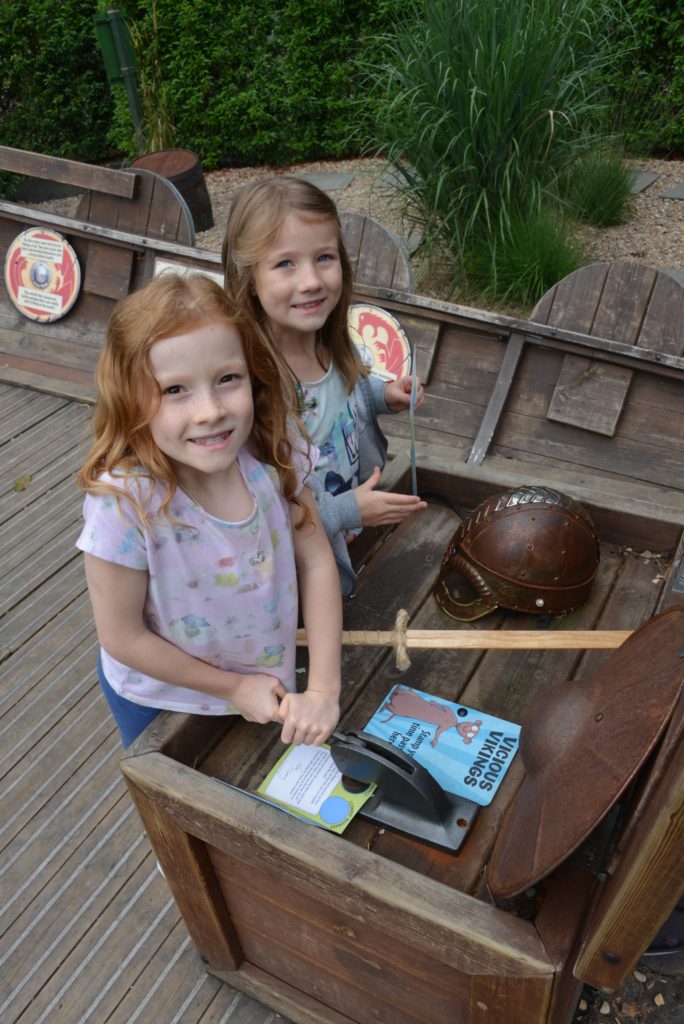 War of the Roses
Wars of the Roses is a fantastic new live action show, featuring stunt riders, jousting and exciting special effects.   The gates to the arena open about 30 minutes before the show starts but don't be daunted by the queue, it moves very quickly and the arena is huge! The show is quite loud, so possibly not suited for younger guests, but my 3 bigger children LOVED it! Definitely a not to be missed attraction.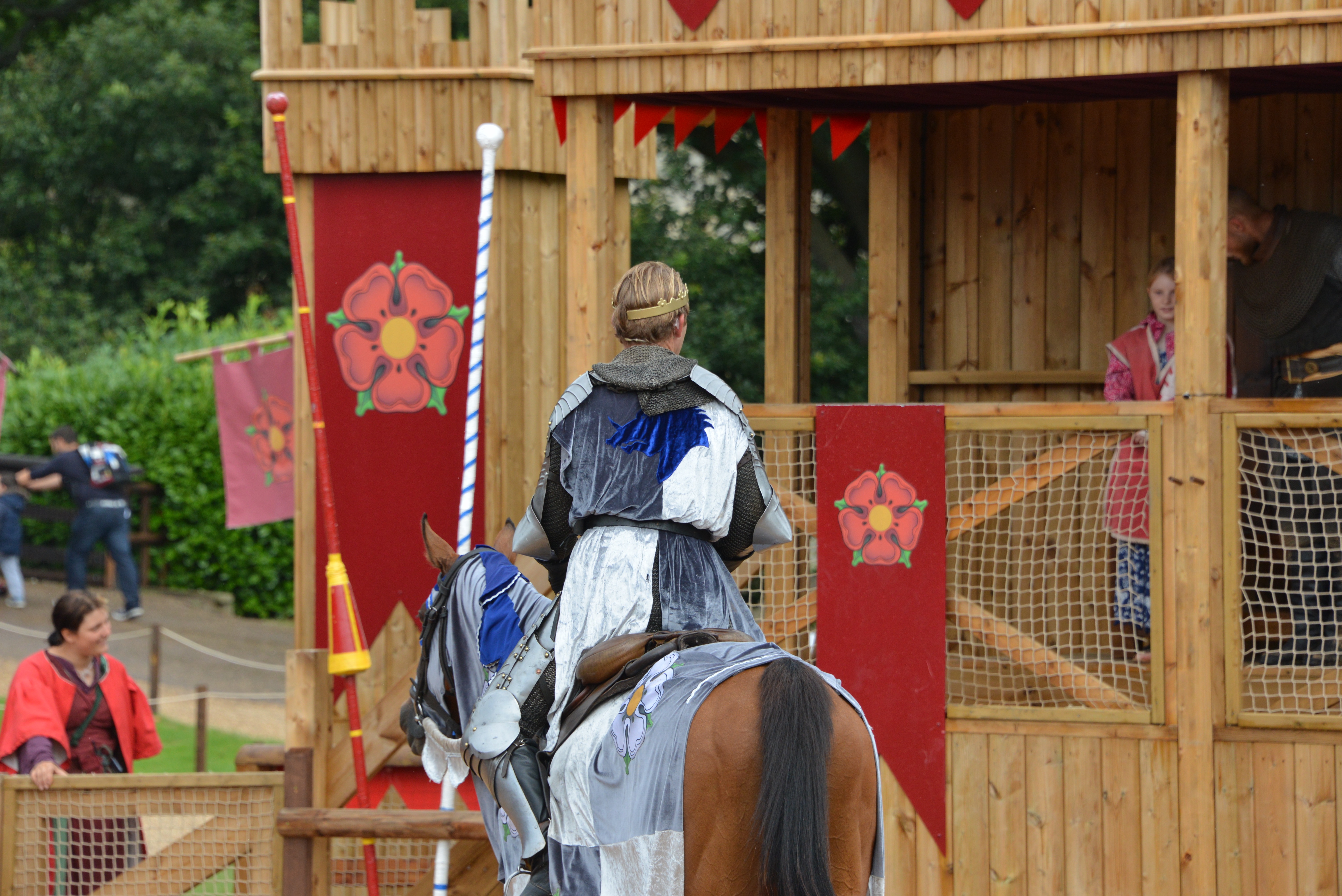 Zak ( aged 10 ) says:
War of the Roses is AMAZING with very skilled actors and actresses.
Sydney ( age 8 says ) says:
War of the Roses was the best thing I've ever seen! I loved watching the sword fighting and the special effects were BRILLIANT!
Most of the arena is undercover , so don't be put off if it's raining. We had a hilarious moment where we realised we'd parked the pushchair under a gap in the roof and water was pouring into the pram. Luckily we were stood close by so managed to squeeze Zak through the audience to move it, but poor Charlie had a damp pram till the sun came out again!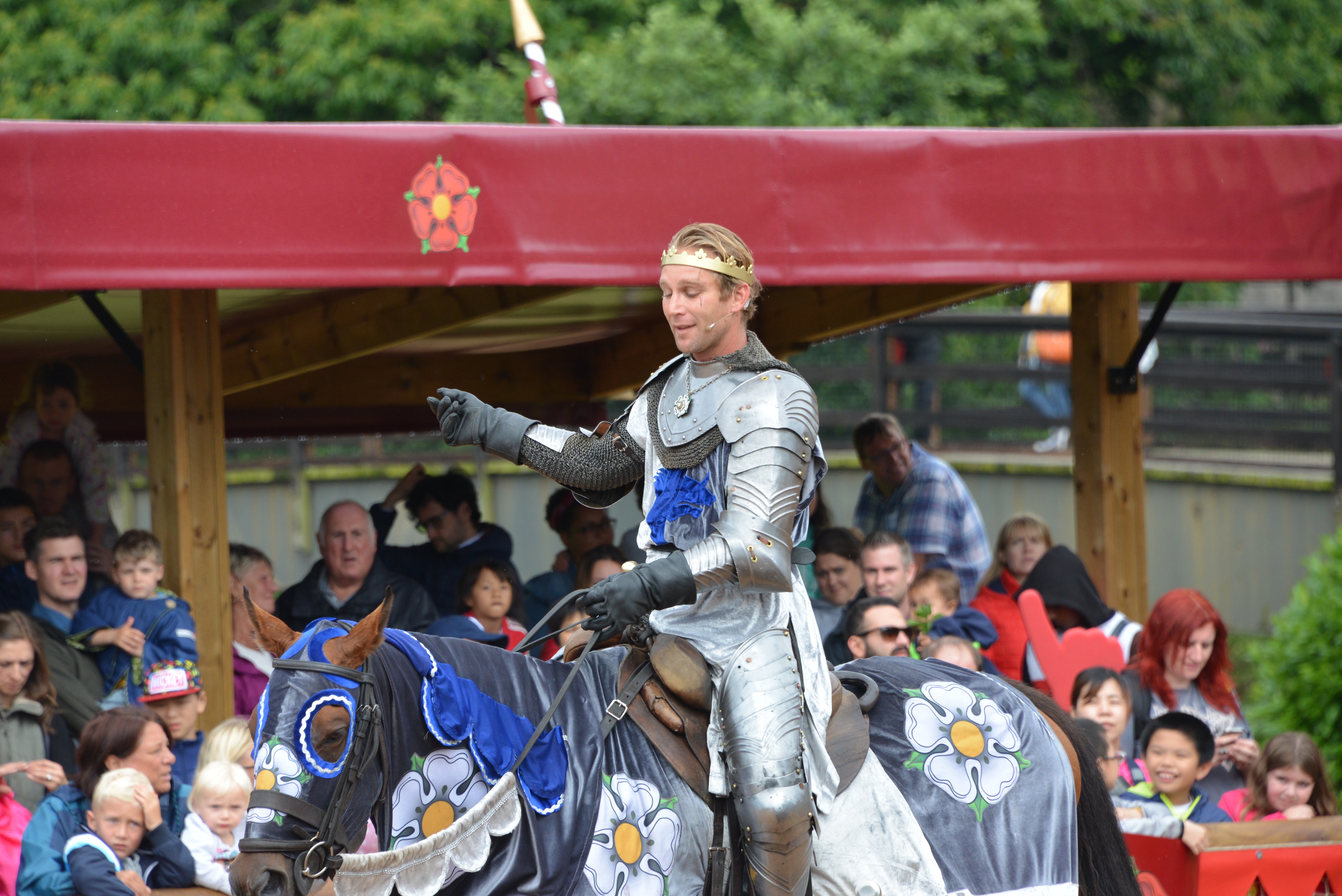 Towers and Ramparts
My children were desperate to do this again, the trail is a real insight into what life in the castle must have been like, with its narrow, steep staircases and amazing views from the towers.
We had a great couple of days at Warwick Castle and would love to go back one day. Knight's Village is a very special experience and one we'll remember for a very long time.
Read about our Halloween adventures at Warwick Castle.
How about a Santa Sleepover?
We are Ambassadors for Warwick Castle and stayed in Knight's Village free of charge for the purpose of this review.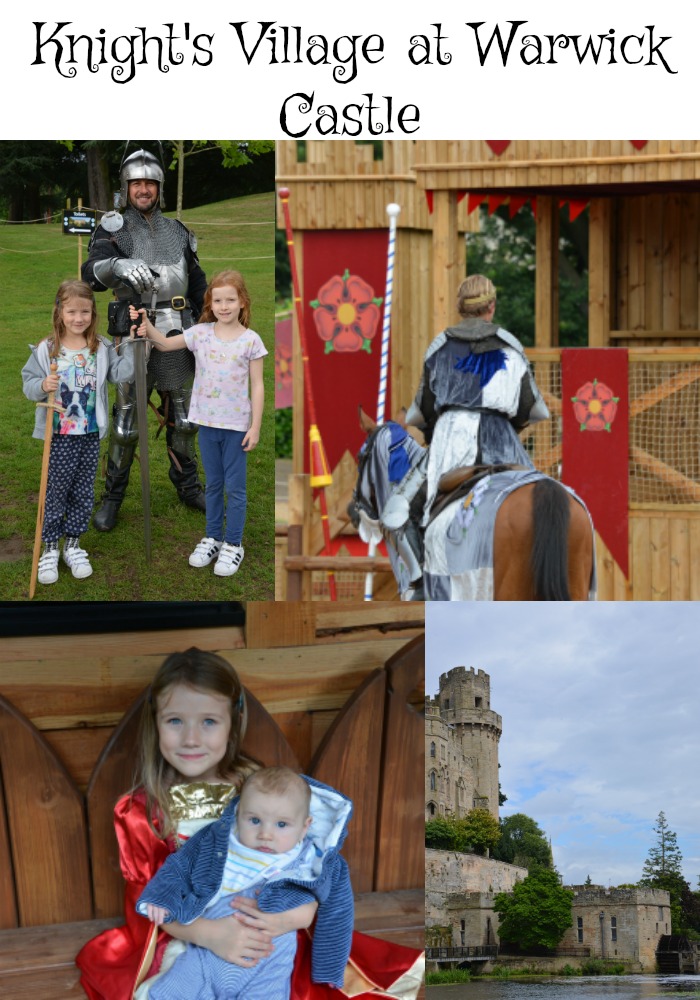 SaveSave
SaveSaveSaveSave
SaveSaveSaveSaveSaveSaveSaveSaveSaveSaveSaveSave
SaveSaveSaveSave
SaveSave
SaveSaveSaveSave
SaveSave
SaveSave
SaveSave