I know I've said it before, but we LOVE LEGO and DUPLO. Both are played with daily in our house, and I can't say that about any other toy. I was thrilled to be offered some DUPLO sets from LEGO Education to Review.
LEGO® Education sets are designed specifically for use in education so you won't find them in retail shops. They are a little more expensive than regular DUPLO sets, but are bigger to allow children to play at the same time and come in durable storage boxes with holes in the bottom so the bricks can be cleaned easily. Each set also come with activity ideas to help you get the most from the product.
The Creative Builder set is recommended for children aged 2+ and comes with 124 pieces including 2 base stations and 4 double sided Creative builder cards. The base station allows two children to work at one base. This would be great for the Guess Who game we made last year, and it has been lovely watching my children work closely together without arguing.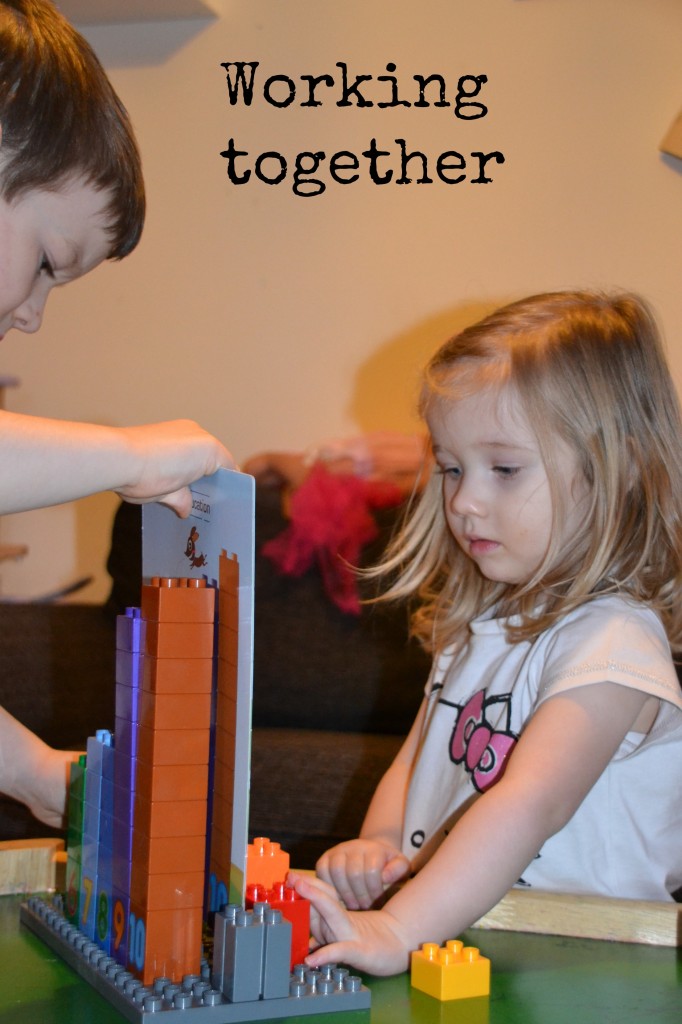 The number bricks have been brilliant for my 2 year old, who is just starting to recognise numbers. She had already made a great start trying to count, but seeing the DUPLO bricks stacking up in order has made her much more confident. For my 4 year old we took it a step further and put bricks together to help her recognise numbers between 11 and 19.
I asked Z what he though he could do with the number bricks and he came up with this.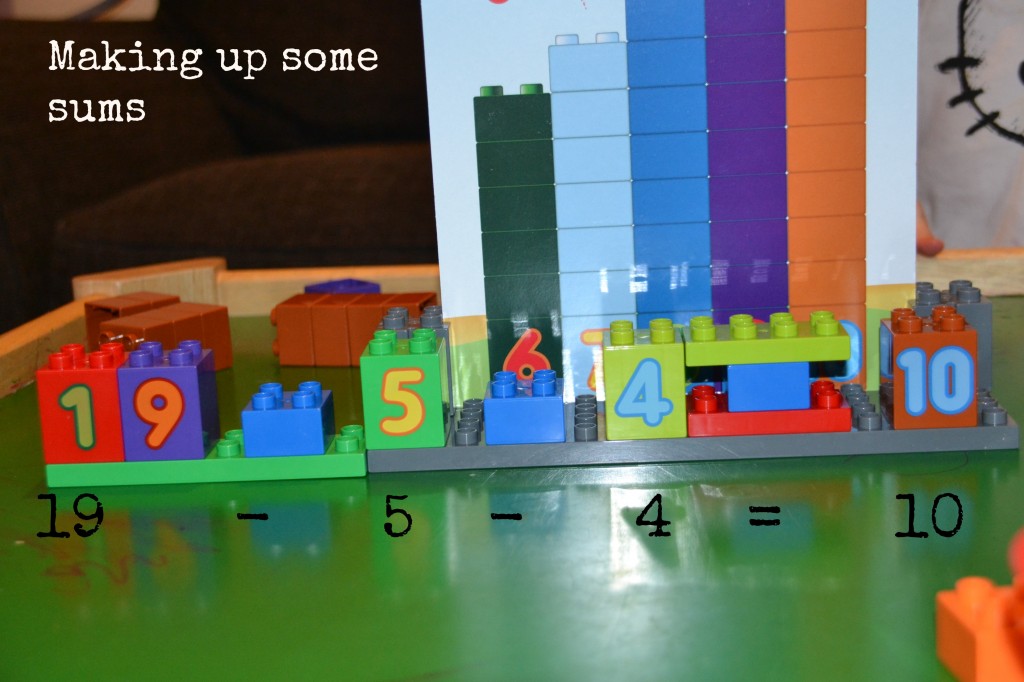 We need to work on the operator symbols a bit, but I think he got off to a good start. I might draw the plus and minus signs on some bricks for him to make it more understandable.
The Creative Builder Cards can also be used to build models.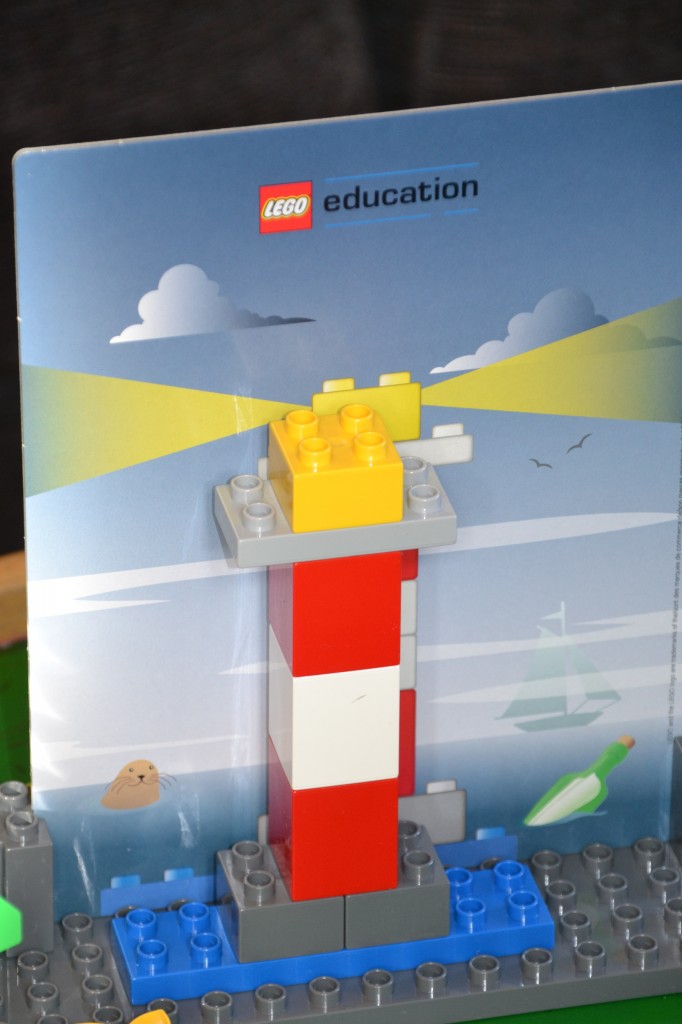 These cards are great for S who is 4, as she can't manage to follow the normal LEGO instructions easily yet, but can copy these easily.
H tried hard to build by matching the images with the bricks, but couldn't quite get it right. We did have some fun spotting the differences between the picture and what she had built though.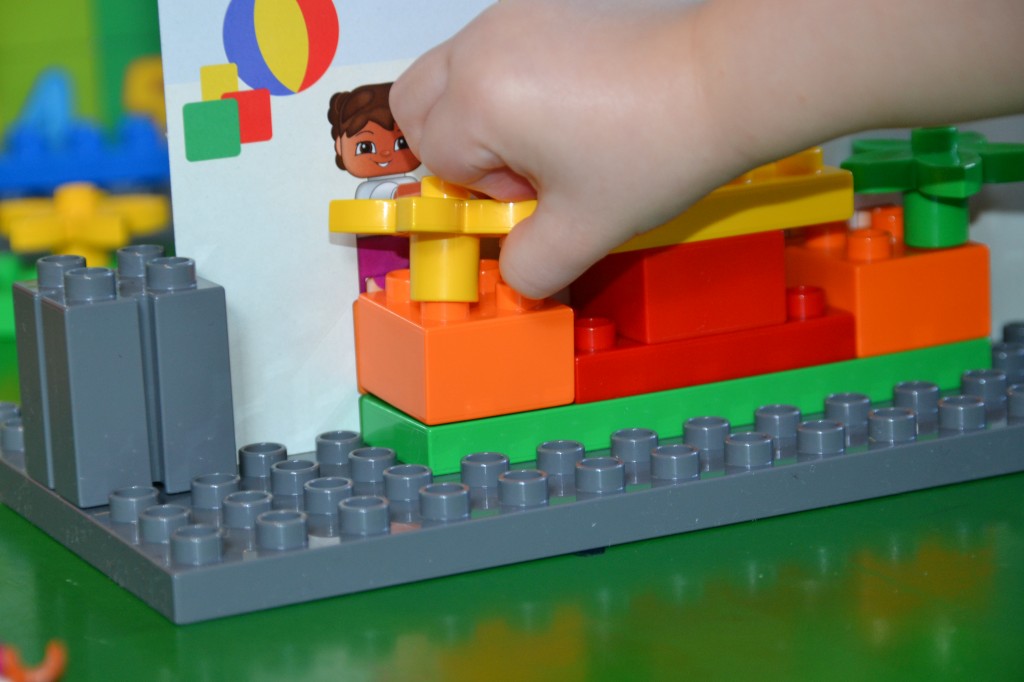 The models on the four cards vary in complexity, so you can choose the most appropriate for your child.
The possibilities with the Creative Builder set are endless. You can use the models and bricks to talk about colour, shape, size and space or sort the bricks by colour or size and even make up stories.
H is at the stage where she talks all the time when playing. The Creative Builder cards seemed stimulate her talking even more. She chatted about finding the 'same' brick as in the picture, and looked for both colour and shape. She talked about putting bricks 'on top of' or 'next to' other bricks and how some of the people were 'too small' and a rabbit from our collection was 'too big'. Building with the bricks is going to be great for stimulating her vocabulary further.
Z at almost 6 is an excellent LEGO builder and can build sets recommeneded for children much older than him by himself, but he will still happily play with DUPLO. I think it's because he can get good results quickly. He likes to make his buildings symmetrical as you can see in this post. Introducing patterns is something that this set would be great for as well.
Another activity we did was to try to guess how many bricks tall an object was and then use the Creative Builder card to check.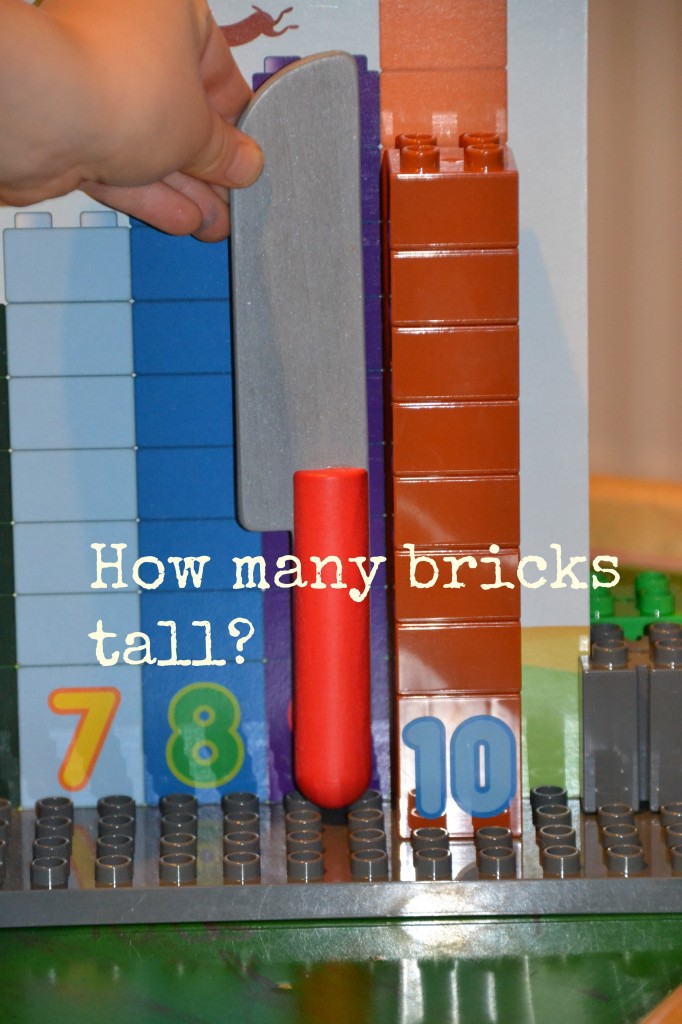 I'm sure you can tell that I thought this set was fantastic, and I'm so excited about the possibilities. Tomorrow H and I are going to try to make up stories, I can't wait to see what she comes out with.
You can also buy a pack of 8 more cards, and the LEGO education site has lots of great ideas for activities, such as a feely bag, and even colouring pages to download. You can find out more about the LEGO education preschool range here.
For more DUPLO play ideas from us see here.
I'll be using this set for lots of our activities in the future so do come back and see what we've been up to. Even though this set is designed for use in an education setting I would recommend it for anyone with young children at home. I know we will get years of play and learning from it.
We were sent the Creative Builder set for the purpose of this review.