Brushing teeth has become a bit of a battle in our house. Little S clamps her mouth shut, refusing to let anyone help her, and Z  insists on doing it all himself but he can't quite manage to get in between all his teeth. We've tried toothbrushes with glittery bits in, toothbrushes that stick on the wall and every character available, but nothing has worked.
I think its really important for children to establish good oral hygiene habits from an early age so have been looking for something to help. When I heard about the new Arm and Hammer Spinbrush, I was quite excited to try it out!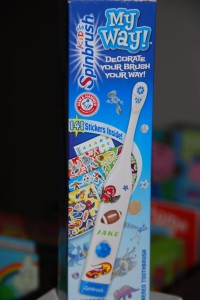 The Spinbrush is battery powered which makes getting to the bits in between teeth much easier and is designed to make brushing teeth fun! Each Spinbrush comes with 141 colourful stickers so it can be customised.
S who is almost 3 loved decorating her Spinbrush with stickers, and used the letter stickers to write her name. She could turn the toothbrush on and off easily and kept giggling as it was tickly.
Z is not a  fan of stickers so kept his plain, but he does love his Spinbrush. I have found that the kids are much more enthusiastic about cleaning their teeth, and are happier to clean them for longer. Their teeth also seem much cleaner than when they just used a normal toothbrush.
You can get boy and girl versions of the Spinbrush in blue or pink.
You can see it in action here!
[youtube=http://www.youtube.com/watch?v=C0s7vqvvxJw]
The Spinbrush retails at £5.99 and is available from Boots, Superdrug, Morrisons, Sainsburys, Tesco and Asda.
We were sent two toothbrushes free of charge, all words and opinions are my own.