LEGO DUPLO in conjunction with Dorling Kindersley have created a beautiful new range of story books which come with a set of DUPLO bricks. These sets are brilliant DUPLO for toddlers.
As you read the story you can bring the characters to life by building them with the DUPLO.
My children  who are aged between almost 2 and 5 love these books. H, my youngest likes Grow Caterpillar Grow the best as she has a thing for bugs! I've already read the book while she tries to build the caterpillar and his friends more times than I can count.
I did think the books would be a little young for my 5 year old, but he has really enjoyed reading the books by himself to his younger sisters and helping them build the DUPLO. Z has also been making up his own stories using the characters from the books, which has led to hours of entertainment, and been great for stimulating his imagination.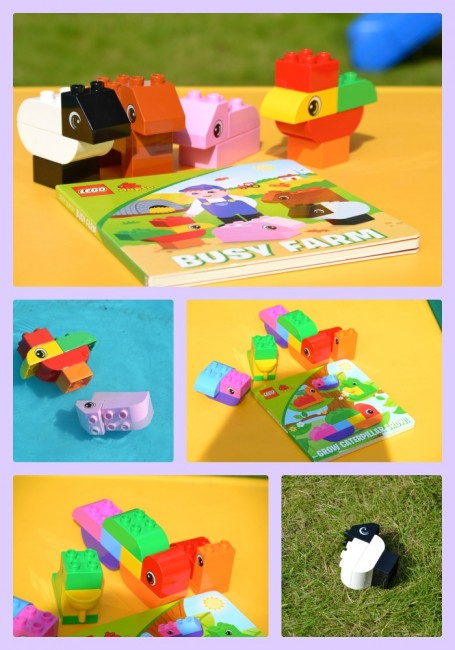 There are three books available:
Grow Caterpillar Grow, comes with the bricks to build a rainbow caterpillar and 3 friends.
Busy Farm, comes with the bricks to build a chicken, pig, cow and sheep. This book has been great for H to practise making the correct animal sounds when the story prompts.
Lets go Vroom comes with Pilot Penny and Racer Joe, and was secretly Z's favourite. Even though he is amazing at building LEGO he still loves DUPLO too, I think because he can build something big very quickly and of course DUPLO is compatible with LEGO.
LEGO DUPLO Read and Build come in plastic re-sealable boxes, although we have used the boxes for storing LEGO pieces as they were driving me crazy around the house.
The sets are recommended for ages 18months to 4 yrs and have an RRP of £9.99
We received all three books for the purpose of this review.