It's fair to say I am not naturally skilled at sailing, my husband did the Introduction to Sailing course on the second day of our holiday while I observed from the sidelines. We went out together a couple of days later and spectacularly capsized thanks to a rookie error on my part. I have a new respect for people who can actually manage to get a boat to go in the direction they want without ending up in the sea. I shall pass over to Rob to tell you his side of the story.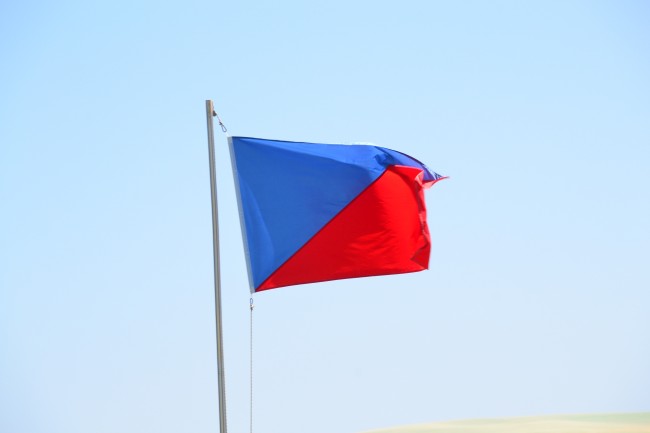 Green flag means everything is safe. Blue means things getting a little brisk, ok for intermediates. Blue Red means you need to be proficient and Red means the sea is shut for activities.
Today the flag was green, meaning there was little or no wind for our briefing. Everyone who intends to go in the sea on one of the numerous activities generally attends the waterfront briefing on the Sunday, given largely just to familiarise yourself with the layout of the beach, the dos and don'ts and to meet the team. Each of the guys did a talk on the different areas. Sailing, Windsurfing, Kayaking, Power (Wake boarding, water skiing, knee boarding and (of course) The Sofa!!!).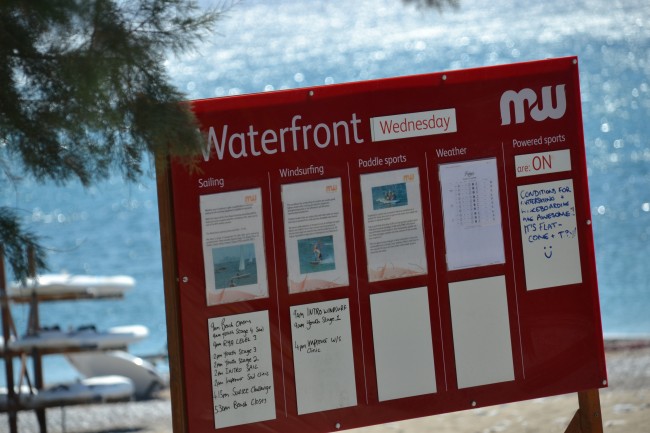 Again, I wanted to do it all. I booked myself on the Introduction to Sailing course, the Introduction to Windsurfing and eyed up the Wake Boarding.
Part 1: Sailing
First up on the Monday was Introduction to Sailing. I haven't sailed since I was about 15 years old (a good 20 years ago) and by the end of the on-land introduction and demonstration I felt pretty confident it would all come flooding back (pun not intended). It was a very light winded day and we pretty much all got our own boats (which makes things easier in terms of moving about inside them). Our first task was to set off and remember to put down the centre board and the rudder. Easy! (My complacency in this area would cost me dearly later in the week!)
Sailing in light winds was very relaxing, everything just takes a bit longer and you get more time to think about what you're doing. We just had to tack (steering through the wind to change direction) between two buoys which actually took quite a lot of practice to get right. However, with Matt's very able instruction we were all sailing figures of 8s very confidently. I was lucky, I did manage to stay in my boat though as a twisted knee will attest to, some of my tacks were very untidy. It never used to seem hard getting from one side of a boat to the other when I was a kid!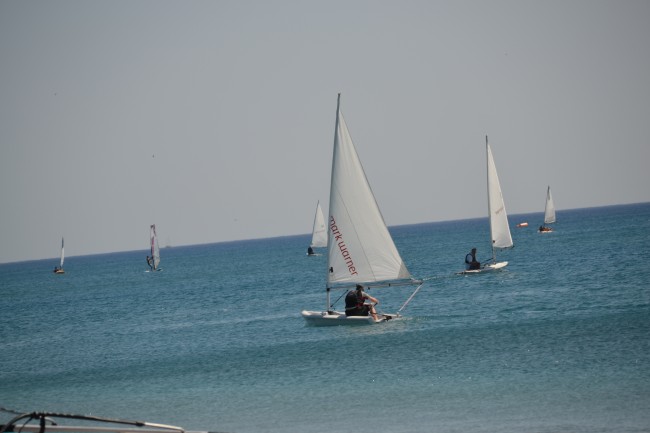 Later on in the week, proud of my reacquired sailing prowess I decided to take Emma out for a treat. It was a blue flag day and though I didn't think I needed to I took the advice to reef my sail a couple of turns (this means wrapping the sail around the mast twice to reduce the sail area). With Em partially instructed in the centreboard etiquette of setting off we started off. I immediately tacked and capsized the boat catapulting Emma into the sea. Journey time – 5 seconds.
I am quite comfortable in the water and was able to assist Emma, right the boat (this I remembered doing a lot from my youth – I did say it all came flooding back) and get us both back in the boat. However, my wife's confidence in my seamanship was forever ruined. It didn't help that the boom then detached itself from the mast and started waving around erratically. I signalled for assistance and we were very ably rescued by the power boat which took us back in, a little humbled by the wind. Post activity analysis showed a catalogue of failings.
1. The centreboard was not down (this might have helped a little with our stability.
2. We (Emma) panicked during the tack and ended up all over the place
3. The kicker (which applies a downwards force to the boom to keep it tightly in place) was not tightened.
So you see I was not to blame in the slightest 🙂
As if to prove the point, I took out a dinghy on my own and spent 20 minutes happily sailing up and down the shoreline. Nobody cared (but I had a great time).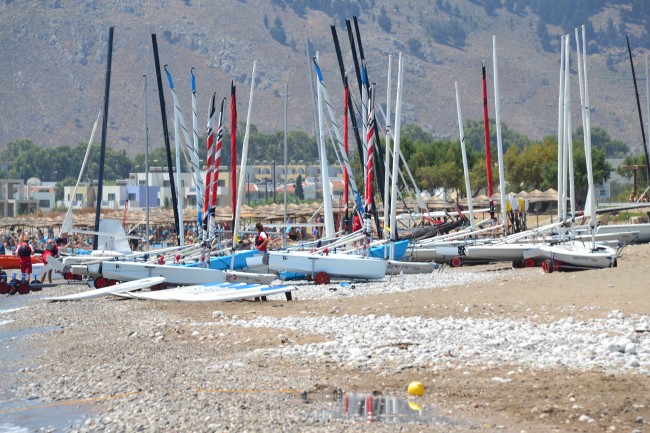 Mark Warner offer a selection of FREE sailing courses suitable for all abilities.  You can also complete RYA adult and kids courses for an extra cost. We'd definitely enrol Z in one of the kids course if we go back.
All our kids had a great time sailing in Mini Club and Junior Club. Mark Warner provide such a safe, fun environment for kids to learn/experience a new sport, I couldn't resist popping down to the beach to watch them. Sailing was definitely a big favourite for Z, he really wanted to try the parent and child sailing course one afternoon, but our last couple of days were a little too windy.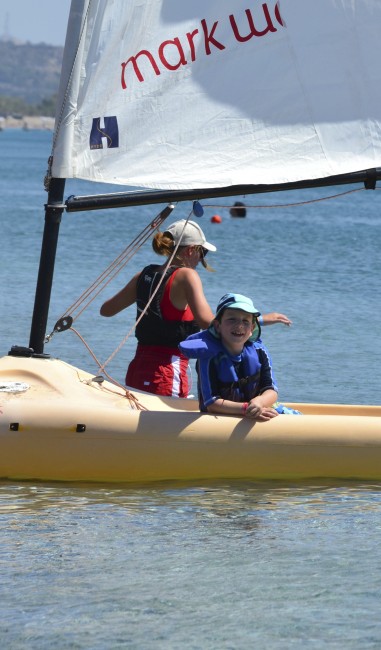 Have you tried sailing at Mark Warner?
Other Activities at Mark Warner
We are Ambassadors for Mark Warner
I'm really pleased to be able to offer my readers £50pp discount on all Summer 15 and 16 bookings made by 27th July. Just use the code EmmaBlog50.
Not valid for free child places and can't be offered in retrospect.