I'm continually surprised at how fast technology and especially mobile phone technology changes. It doesn't seem that long ago that phones had tiny screens and the most you could do was text or call. It would've been hard to believe back then that soon we'd be using phones as cameras, to watch movies and even as a remote control.
Did you know that you can control your heating through a phone app now too? Let me paint you a picture. We returned home from a lovely holiday in sunny Florida last year to a FREEZING cold house. I don't like to leave the heating on when we're away and it was April so I knew the pipes wouldn't freeze. It wasn't the lovely welcome home I had in mind.  If we'd had the Hive heating system we'd have been able to turn the heating on from the car on the way home from the airport and returned to a warm, cosy house. It seems like a small thing, but would've made a big difference to five, very tired, cold people.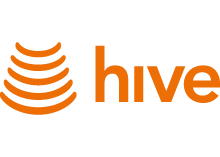 When I was young and living at home we went to Paris for a long weekend over New Year. It was freezing cold, colder than I've ever been in my life. I don't know whether the heating was left on at home or not, but I do know that the pipes froze, so when I had a LONG shower to warm up on our return, the shower flooded, leaked into the ceiling and ruined the living room carpet.
If we'd had the Hive Active Heating system, neither of those situations would have occured.
Hive Active Heating lets you monitor, alter and control your heating and hot water through the touch of a button on your smartphone or browser. You can adjust timings and temperatures when away from home and even set up alerts for when temperatures reach a certain level,
According to the website you could save upto £150 per year on your heating bills.
When you buy Hive Active Heating™ the kit is professionally installed alongside your existing heating system by a British Gas engineer. Then you can start controlling your heating and hot water on whatever device you choose. And there's no need to switch your energy supplier.
You can use Hive to turn the heating up or down or switch on and off. This can be done from wherever you happen to be as long as you have access to the app. You can not  only keep your home the perfect temperature for you, but save money at the same time.
How can I save energy?
Lowering the temperature of your home by 1 C to cut the cost of heating by 10% .
Heat the home for less time by turning your heating off or down when you're asleep or the house is empty.
Turn your heating off when it's not needed. Hive Active Heating will automatically come on to protect your pipes from freezing, so no more leaking showers.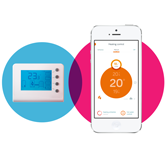 What do I get?
If you buy Hive you will receive a thermostat to manually use at home, a Hub that fits into your router and can be controlled remotely, a receiver which will sit near to your boiler and  the app which is available for Android and iPhone
The Hive Active Heating kit including installation is £199 but it's also available without installation for £159.
It seems like a bit of a no brainer to me. I'm very conscious that I don't want to be wasting energy for my own comfort and Hive seems like a good way to save energy and money while still maintaining  home at a comfortable temperature.
This is a partnered post with Hive