Flowers are an essential part of weddings, and they have been for centuries. They add beauty, color, and fragrance to the event. But with so many options available today, it can be challenging to decide which type of flowers is the best fit for your special day. The debate between artificial and real flowers has been ongoing for years – some swear by the authenticity of real blooms, while others prefer cost-efficient artificial ones that last longer. The choice even extends to confetti, which can be natural biodegradable confetti or traditional artificial one!  So which way do you lean? Let's explore the pros and cons of both options to help you make an informed decision on whether real or artificial flowers are ideal for your wedding!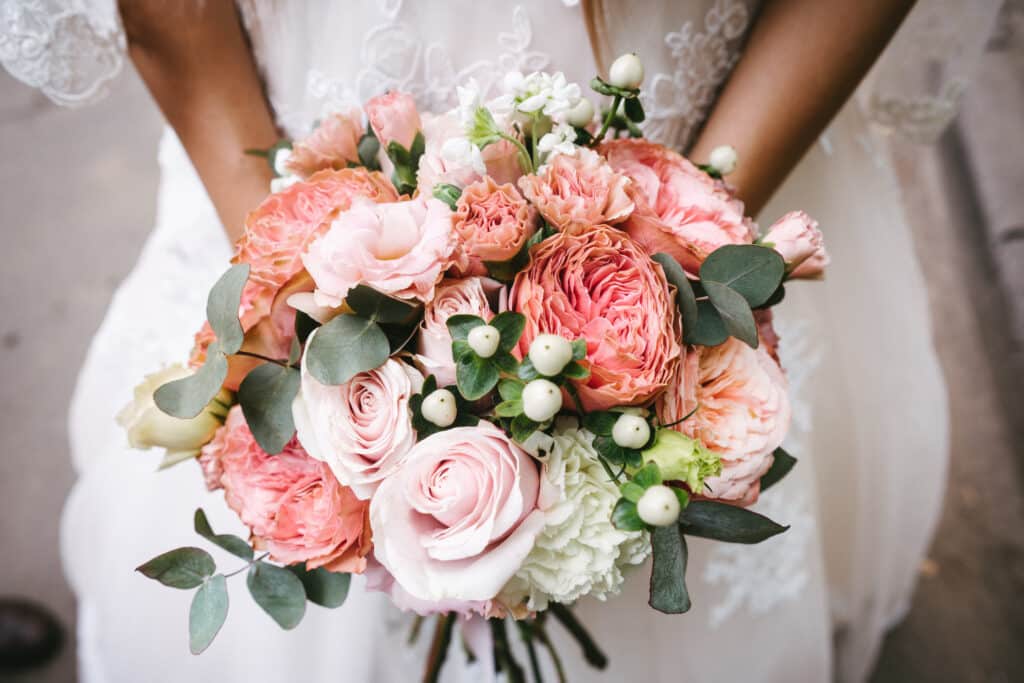 The debate between artificial and real flowers
The debate between artificial and real flowers is a long-standing one, and it's easy to see why. On the one hand, real flowers offer a sense of authenticity that cannot be matched by their artificial counterparts. There is something special about having freshly cut blooms adorning your wedding venue – it adds an element of freshness and natural beauty.

On the other hand, artificial flowers have come a long way in recent years. They are now made with high-quality materials that look almost identical to their real counterparts, without any wilting or drooping over time. Plus, they can be used again for future events or as home decor after the wedding.

One factor to consider when deciding between real or artificial flowers is cost implications. Real flowers tend to cost more due to their delicate nature and limited lifespan, while fake ones may seem more affordable upfront but take note that some quality options can also come with hefty price tags.

Ultimately, whether you go for fresh blooms or faux florals depends on your personal preferences and priorities in terms of aesthetics versus durability.
The pros and cons of artificial flowers
Artificial flowers have become increasingly popular in recent years, and for good reason. There are several advantages to using artificial flowers over real ones.

One of the main benefits of artificial flowers is their cost-effectiveness. Artificial blooms can be significantly cheaper than real ones, especially if you're looking for unique or rare flower types that may not be readily available in your area.

Another advantage is longevity. Real flowers only last a few days before wilting and dying, but artificial blooms can last forever with proper care. This means you can keep them as a beautiful reminder of your special day long after it has passed.

Artificial flowers also eliminate the need for refrigeration and careful handling during transport, making them much more convenient to work with. They don't require water or sunlight either, which means they won't wilt if exposed to extreme temperatures like real flowers might.

However, there are some downsides to using artificial blooms too. One major drawback is that they lack the natural fragrance that comes with fresh floral arrangements. Additionally, some people may argue that nothing beats the beauty and authenticity of real blossoms.

Ultimately, whether or not to use artificial versus real wedding flowers depends on personal preference and priorities – whether it's budget-friendly options or authentic beauty that matters most!
The pros and cons of real flowers
Real wedding flowers have been a traditional choice for weddings for years. There's something about their natural beauty and fragrance that adds to the romantic atmosphere of the occasion. However, just like everything else, real flowers also come with their own set of pros and cons.

One major advantage of real flowers is their authenticity. They are natural and unique, which makes them an ideal choice if you want your wedding to be personalized and one-of-a-kind. Moreover, they provide an amazing scent that fills the air with a pleasant aroma during your special day.

On the flip side, real flowers can be quite expensive due to seasonal availability or rare species being in high demand. The cost implications can sometimes exceed your budget, especially if you're planning on having several arrangements throughout your venue.

Another disadvantage is that, unlike artificial flowers, real ones don't last long after being cut from their stems which means they won't make it through the night or even past a few days after the event has ended unless kept in water all-time.

In addition, some guests may suffer from allergies triggered by pollen particles released by fresh blooms, thus making it uncomfortable for them while trying to enjoy themselves at your wedding reception.

Choosing between real or artificial wedding flowers will require weighing both options based on what suits your preferences best, including factors such as cost implications, the longevity of the flowers and flower aroma, among others
Which is the better choice for your wedding?
Choosing the ideal wedding flowers can be a daunting task for any couple. Both artificial and real flowers have their pros and cons, making it challenging to decide which is the better choice for your big day.

When considering cost implications, artificial flowers are often more affordable than real ones. They can also last longer without wilting or losing their shape, making them an excellent option for couples who want to keep their wedding bouquet as a keepsake.

On the other hand, real flowers offer a natural beauty that cannot be replicated by artificial ones. The aroma of fresh blooms is unmatched and adds to the overall ambience of the wedding venue.

Another factor to consider is whether you want your floral arrangements to be environmentally friendly. Real flowers are biodegradable and compostable, while artificial ones are not eco-friendly.

Ultimately, it comes down to personal preference when deciding between real or artificial wedding flowers. It's essential to weigh up all factors in line with your budget before making a decision that suits you both as a couple.

Each option has its advantages and disadvantages; therefore, careful consideration should be taken before choosing what kind of flower will fit best on your big day!
How to make the decision between artificial and real flowers
Choosing the flowers for your wedding is an important decision, and whether to opt for artificial or real flowers can be a tough one. Here are some factors to consider that can help you make the right choice.

Firstly, consider the cost implications of both options. Artificial flowers may seem more expensive initially, but they are reusable, while real flowers will only last for a few days after the wedding. It's also worth considering if you're able to source fresh blooms locally, as shipping costs can add up quickly.

Consider how long you want your floral arrangements to last; artificial flowers have no expiration date, so they won't wilt or die during your big day, while real ones may not look their best by reception time.

If flower aroma is important to you, then real blooms should be top of your list – nothing beats their natural scent!

Another thing to think about is aesthetics; artificial flowers tend to look perfect at all times with a uniform appearance, whereas real blooms come in different shapes and sizes, which adds character and uniqueness.

Ultimately, it comes down to what's essential for you on your big day – do you value sustainability over authenticity? Or perhaps longevity over fragrance? Take into account these factors when making your final decision between artificial and real wedding flowers!
Conclusion
After weighing the pros and cons of both artificial and real wedding flowers, it's ultimately up to you to decide which option is best for your special day. If cost is a major factor or if you have allergies that make it impossible to have real flowers, then artificial may be the way to go.

However, if you're looking for natural beauty and fragrance on your big day, then real flowers are definitely worth considering. Keep in mind, though, that they do come with their own set of challenges, such as wilting and limited longevity.

It's also important to consider factors such as availability, seasonality, and colors when choosing between artificial and real wedding flowers. Whichever option you choose, just remember that the most important thing is that your wedding reflects your unique style and brings joy to everyone involved!

Whether you opt for fresh blooms or stunning silk arrangements, whether pink roses or white lilies catch your fancy – whatever choice makes sense for you – there's no denying flowers play an integral role in weddings!