Has having kids stopped you doing the fun, adventurous things you used to do? Or, have you managed to carry on as before? Before we had kids we were fairy spontaneous, went on a few city breaks, did an awful lot of snowboarding and many an adventurous holiday. Since having kids we haven't done a lot, money and the logistics of taking three children somewhere always seems to get in the way. I was super brave ( for me ) earlier in the year and we went to Florida, which is possibly the easiest holiday ever with small children, it was 'almost' stress free and a wonderful, much needed break for everyone. I would like to take the kids adventuring nearer home as well though.
My top places to take the kids if we spent a weekend in London would be:
The Science Museum
Theatre – maybe Wicked or Charlie and the Chocolate Factory. I know Hotel Direct offer some great deals on Theatre and Hotel bookings.
Hyde Park
Buckingham Palace – Z would love to see it
St Jame's Park
I have to admit I am a bit of a worrier, so even a weekend break in London with the kids would freak me out a little bit. My husband however, would go in a heartbeat. It wouldn't occur to him that it might be a complete nightmare dragging three small children around on the tube, or what if we lost one, or what if they starting crying in the museums or if we all got no sleep in the hotel room? He'd pay for the theatre visit without thinking it might be too long for them or not suitable for little H.
I'm a different story, I'd run round every possible eventuality in my head in the weeks coming up to the visit, worrying myself silly and then it would probably all be fine, and even if it was hard at least we'd all have had an experience, which is better than staying at home, surely?
I would actually love to have a semi grown up weekend away, visiting museums and theatres with the kids. It'd be so different to our usual weekend antics that I really think everyone would have a great time.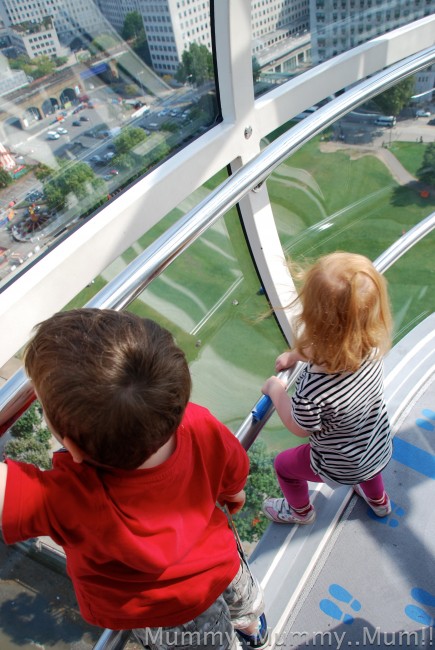 So, what would make a visit to London with kids easier?
A nice child friendly hotel, I've heard about a few that have special children's menus and play areas, maybe even located near a park for burning off any excess energy, that would be perfect!
The hotel room would need to have a separate area for the grown ups to sit and watch TV/drink wine while the children slept, as obviously gallivanting around London in the evening with three kids in tow wouldn't be appropriate.
Activities planned in walking distance from said hotel, therefore avoiding any potential tube/lost children/falling down escalator issues.
A posh afternoon tea, again somewhere child friendly. I've only ever had afternoon tea once and that was with the kids, they LOVED it.
What do you think? Would you take the kids on a weekend break to London and where would you take them?
This is a collaborative post