We love BEAR snacks in our house. Z and S generally take a yoyo to school when they have a packed lunch and Z always brings the cards home to add to his collection. I like to imagine the fun facts add some extra giggles to the lunch table.
Last year we were sent the MANGO flavour to try, which everyone loved, so were super excited to hear about the new Blackcurrant flavour.
Have you spotted the new round-the-world collector cards recently too? Z is loving the new facts and we're all learning things we didn't know.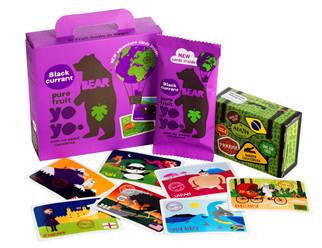 With the new cards you can sail the seven seas with perilous pirates, try not to lose a leg to chomping crocs, and growl hello in 80 different languages as BEAR sets off on a grrreat adventure around with the world. There are also specially illustrated world adventure maps, super suitcases, and stickers available to reward the hungriest collectors on their journey.
Our Yoyos are made from 100% pure fruit picked in season that is then gently baked, with no added nonsense. They contain absolutely no added sugar, sulphites or stabilisers, and are never made from concentrate. Packed full of fibre, they also count as 1 of your 5 a day.
If you'd like to win a selection of BEAR goodies including the new blackcurrant yoyo and all the collector rewards such as stickers and an adventure map, just complete the rafflecopter form below.
Terms and Conditions
Closes midnight 22nd March 2014
UK Delivery Addresses only
Winner will be e-mailed on the 25th March 2014
If the winner does not provide their address within 2 weeks of the e-mail being sent the prize will be redrawn.
Delivery of prize is the responsibility of BEAR nibbles not Mummy..Mummy..MUM!!
Available in-store from early January the new Blackcurrant flavour joins the existing rainbow fruit range of Strawberry, Raspberry, Pineapple, Mango, and Apple.
Current BEAR Yoyos stockists: Tesco, Asda, Sainsbury's, Waitrose, Ocado, Morrisons, The Co-op, Wholefoods, Holland & Barrett, Planet Organic and lots of small chains & leading independents