I've always loved wooden toys, especially as role play accessories. We still play with ( and love ) wooden food and pans that my 12 year old had when he was 3! One of my favourite toy brands for role play ( and trains ) is Hape as the quality is fantastic and there are always little details that make them stand out over similar toys. We hadn't had any of their food sets before though, so I was intrigued to see what they were like. I wasn't disappointed!
Firstly,  I love that there's no plastic in the packaging and nothing fiddly to remove before you start to play. The food comes wrapped in a reusable paper bag, which we thought was a great touch and has been super handy for keeping the bits for each set together.
Secondly, the quality is fantastic, everything fits together nicely, the velcro bits are strong and it's all just generally really inviting.
Thirdly, after playing with the three sets below, I now want all of them and the All-in-1 Kitchen too!
Hape Cupcakes
The cupcake set is super cute. We love that the toppings and cases can be changed around making it perfect for creative play. I can imagine Charlie making menus and cupcakes to order when he's a bit older. The cupcakes have also been great for helping to teach colours and numbers.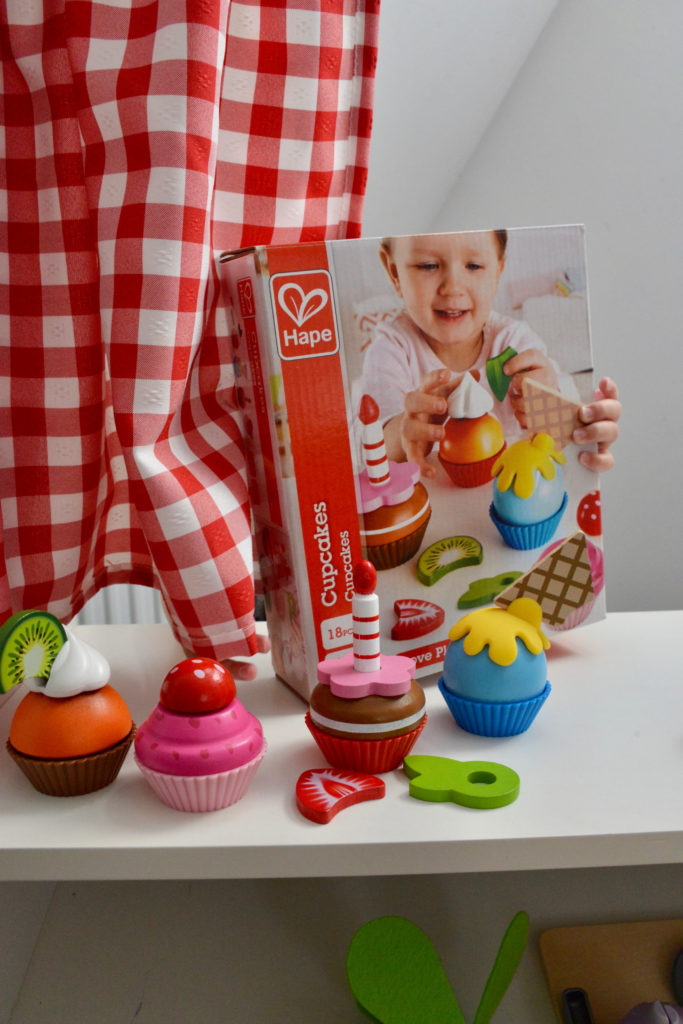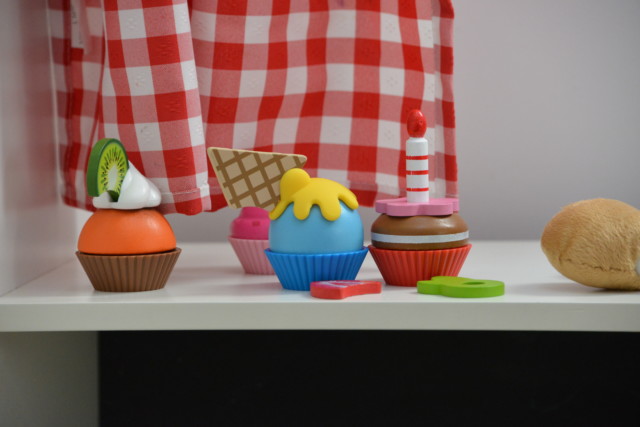 Hape Tasty Proteins
The equally gorgeous Tasty Proteins set comes with a chicken leg, a steak that can be sliced into three parts, a fish, two slices of bacon, a knife, cardboard trays and a lemon. 
The lemon and bacon are felt and the fish and knife plastic. Charlies favourite thing to do is cut the fish. The parts that slide off are magnetic so it feels very satisfying to slice through. The steak pieces are held together by sturdy velcro.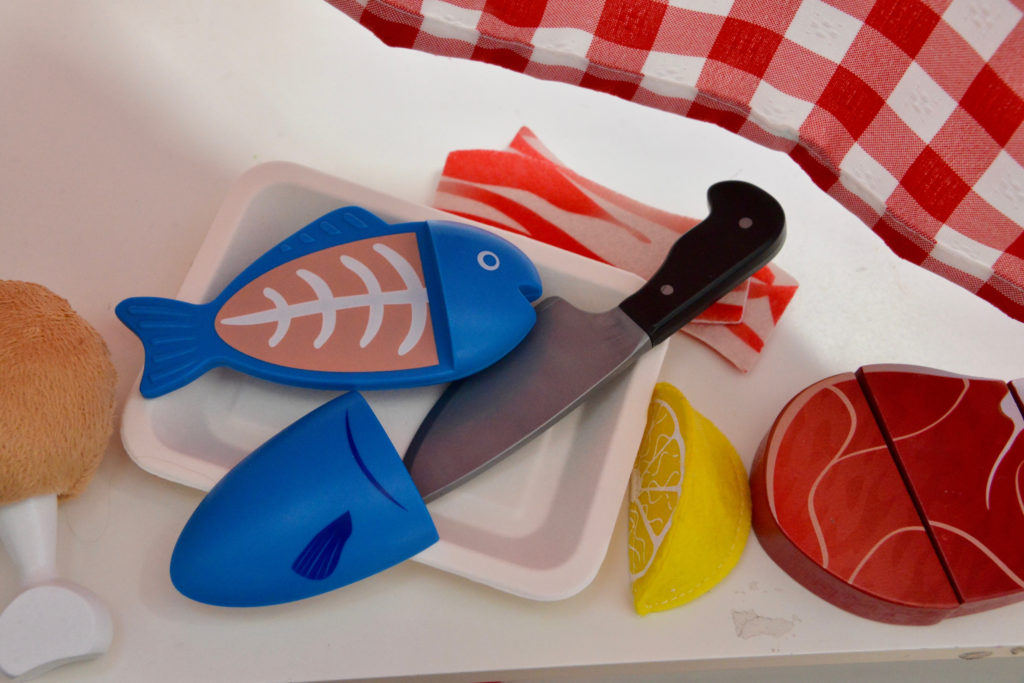 Cooking Essentials
The Cooking Essentials set (bottom shelf) comes with a chopping board, knife, grater and peeler as well as tomato with a removable stalk, an onion, a carrot, a white radish, a potato and a piece of cheese. The ingredients are held together by velcro along the slicing line. Charlie's favourite thing to do with this set is to pretend to peel the potato. One edge is bumpy so when you run the grater over it, it makes a noise. The whole set is great fun and we have giggled a lot as we've sliced and pretended to cook together.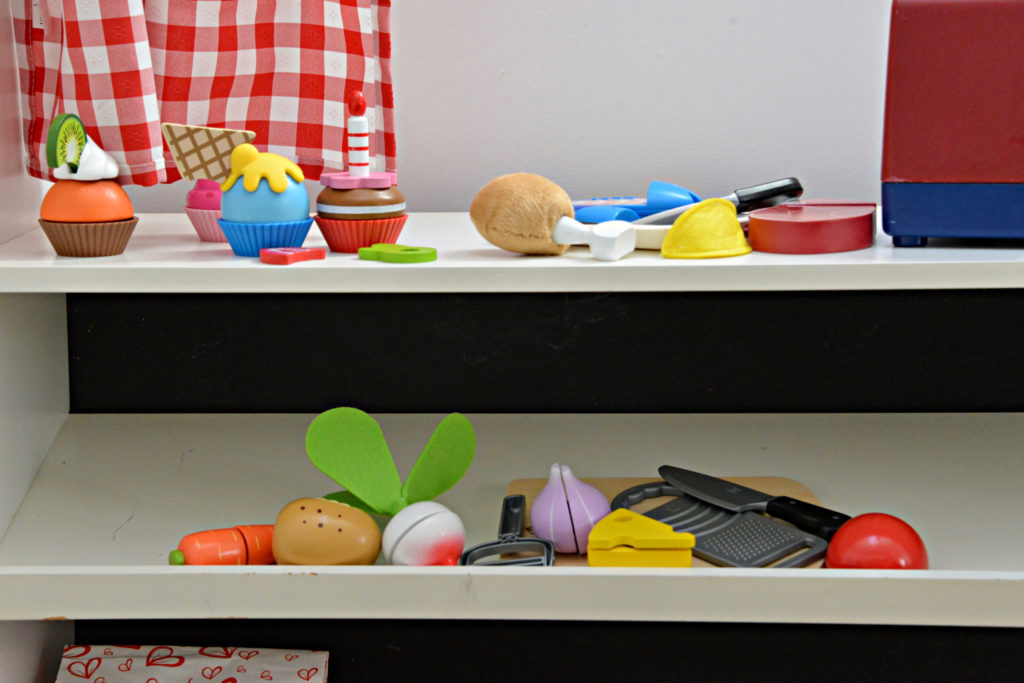 All three sets are brilliant quality. I'm sure they will be played with for many years to come. I've already had many plates of strange food combinations offered to me this week, which never fails to make me smile. I've seen with my older children how valuable role play is to development and how it can stimulate lots of learning through play as well. My little girls spent years making packed lunches for dolls and bears as well as creating menus for restaurants and even takeaways. I'm really looking forward to watching Charlie play the same way and these food sets are the perfect starting point.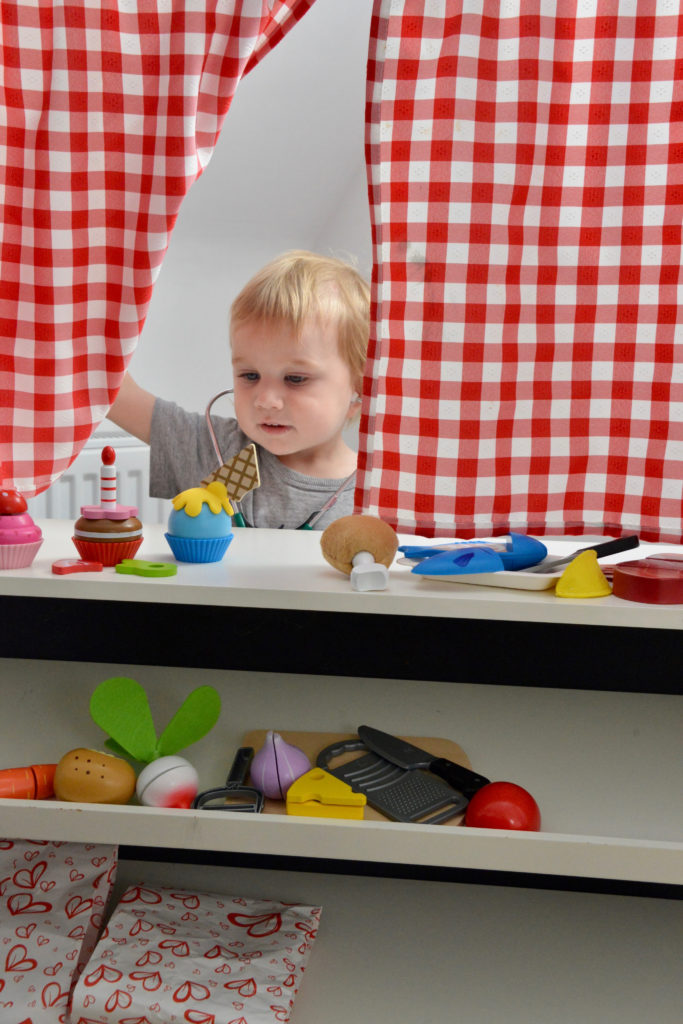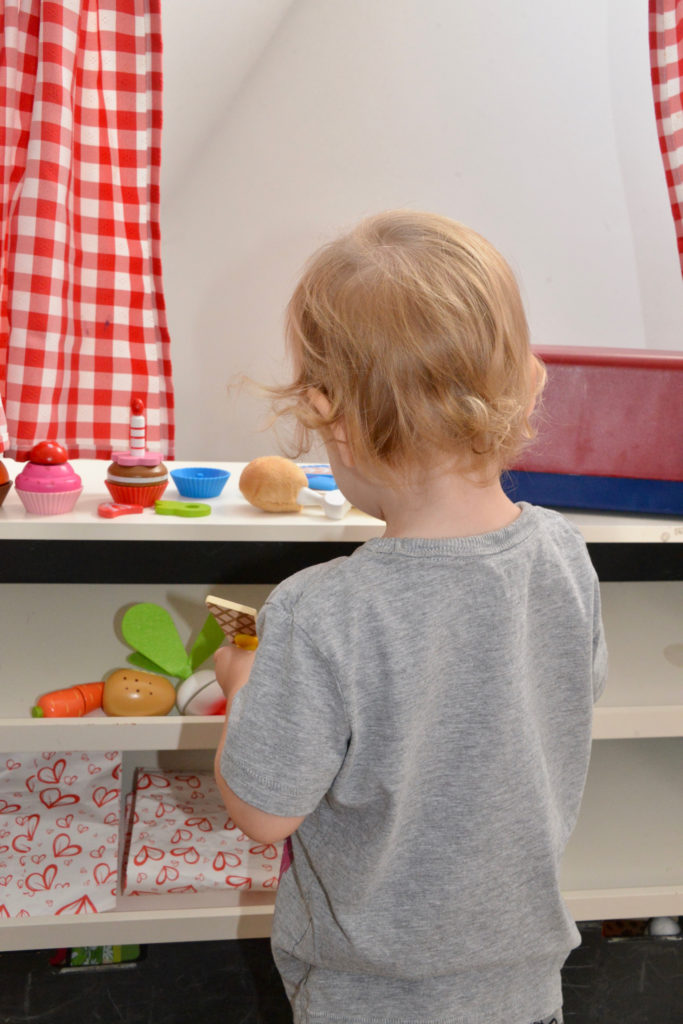 We were kindly sent the sets above to review.