This is my baby girl in hospital at the start of the year. She had a high temperature all day. I phoned my GP at 2pm, and got her an appointment for 4pm. We were then sent straight to A and E. This is an example of the kind of access to healthcare every child in the world should have.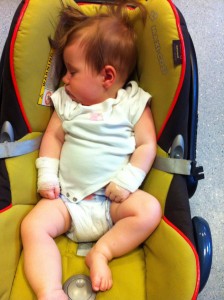 Save the Children is fighting to raise awareness so every child in the world has access to healthworkers.
Did you know Pneumonia kills one child every 20 seconds? That is 1.5 million children under 5 each year, which makes it the worlds biggest killer of children under 5. 98% of those deaths are in the developing world, yet pneumonia is an easily preventable disease. Early diagnosis, breastfeeding, vaccines, hygiene and access to nutrients can all help prevent pneumonia.
Save the Children are working to raise awareness of this across the world, and calling on governments to ensure there is a healthworker within reach of every woman and child.
November 12th was World Pneumonia Day, aiming to raise awareness and save lives. Save the Children wants to ensure vaccines are available at a low cost and promote the use of low emission cookers. I was horrified to read that children cooking with their mothers are exposed to pollutants which make them more vulnerable to Pneumonia.
We are so lucky in this country to have free healthcare, medicine and vaccines, but we CANNOT  just sit back and let millions of children suffer. We CAN make a difference.
What you can do.
1. Write a blog post today promoting World Pneumonia Day and spreading the word. If you write a blog post, link it to the GAVI Blog Carnival. I wrote blogs for GAVI from Mozambique, it was their conference, held in London, when we got back where all that money was pledged for vaccinations.
2. Post this on twitter: Pneumococcal disease is the #1 vaccine-preventable cause of death in children under 5. http://ht.ly/7iQOjOn Twitter tweet using #WPD2011 the official World Pneumonia Day hashtag
3. Post this on Facebook: Pneumonia kills a child every 20 seconds, making it the number one killer of children under five. The vast majority (98.5%) of those deaths occur in developing countries. The good news is that we now have a vaccine against pneumococcal disease, a major cause of pneumonia, which could save seven million children's lives by 2030.http://ht.ly/7iQOj