I meant to write this update at 24 weeks, but the last few weeks have been busier than usual, so here I am at 28 weeks pregnant just sitting down to gather my thoughts together. So far, it's been a thankfully uneventful pregnancy. I was quite worried after my 12 week combined blood test and nuchal fold measurement as my PAPP-A levels were 0.24 which is very low, but we paid for a Harmony DNA test to rule out chromosome abnormalities which came back fine and then after a conversation with a consultant decided it would be worth scanning me at 24 weeks as a precaution. My 24 week scan was perfect showing a healthy baby boy, slightly above average in size, which was reassuring as one of the consequences of low PAPP-A is growth restriction. We're not out of the woods yet, and I am still braced for the possibility of problems later, but so far everything is looking good, which is all I can ask for.
I'm not entirely sure the fact that we are having a FOURTH baby has sunk in yet, the spare room is full of boxes from the loft, I've hardly bought anything, we have no idea what to do about a car. I'm generally not feeling very prepared, but I think part of that is me generally feeling a bit anxious after the 12 week test results.
I am still hoping to have the baby at home. My home birth experience with my current youngest was amazing, and one I would very much like to repeat, but again requires a a bit of organisation which I'm not quite ready to do. I have sort of started to look into car seats. We used a Maxi Cosi car seat for my first three babies with an isofix base, which I loved as it felt so secure and was easy to take in and out, which is really important when you have other children to be watching. I need to do a bit of research but I am hoping to get the same again. Looking at the website I was intrigued to read about the #DriveLikeAParent campaign for Road Saftey Week, did you know that in a survey of 1,000 parents, most admitted to significant improvements in their driving with a baby on board? A third (36%) follow safety precautions more closely, almost half (45%) pay more attention to other vehicles and 34% are more aware of road signs! I remember vividly the first car journey with baby Zak and being terrified we'd have an accident and then the sense of responsibility I felt driving three small children around. Using the correct car seat is so important for children of all ages and something I feel very strongly about.
The kids are very excited about our future new addition and affectionately refer to the baby as "Baby Charlie" I can't think of a better name currently, so it might stick ( no surprises in this house! ). Sydney spent 10 minutes earlier this week laughing at my huge tummy, while Hannah takes every opportunity to kiss and talk to it. She is very, very sweet.
Pregnancy products I love
Bump and Glory – Omega 3 Supplements from Bare Biology
I always take Omega 3 supplements anyway, so was really pleased to come across these fish oil tablets for pregnancy from Bare Biology. They are very easy to take and leave no after taste. Each capsule contains ideal balance of Omega 3s for healthy mums and growing babies, with 560mg DHA – the same amount you'd get from eating a large tin of sardines, which I would definitely struggle to eat!
EPA & DHA may help to balance hormones, reduce inflammation in the womb and aid fertility in the pre-conception stages. During pregnancy, DHA supports brain development for mum and baby; as a result, it may help prevent postnatal depression.
There's also a Super Hero Omega 3 version for kids, which mine do refuse to take neat ( it comes with a syringe and is not in tablet form ) but I have been able to hide it in food and drinks!
Mama Mio Tummy Rub Cream
I used this in my last pregnancy too and as my Midwife nicely commented recently I have no stretch marks. I'm sure some of this is down to luck, but I wouldn't be without this luxurious tummy rub butter, which has also been brilliant for helping to reduce the irritating itching I have been experiencing.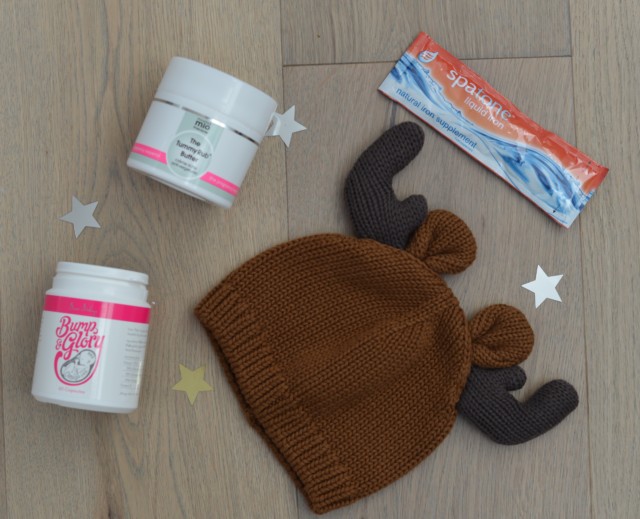 Great Pregnancy Clothes
My wardrobe consists mostly of Isabella Oliver ( I'm a bit in love with their leggings, they are SO comfy ) and the stretchy tank top ( pictured below ) feels so lovely to wear. I don't know what I'd have done without them. I also have a couple of lovely dresses from Seraphine and am eyeing up a coat from Yummy Mummy Maternity as my current one is bursting at the seams!
What are your must have maternity products?