Now longer days and warmer weather have arrived, it's time to get your family out into the garden. Getting some fresh air is beneficial in so many ways – psychologically, it lifts the spirits, it's the chance for some exercise, whether it's weeding or bouncing on the trampoline and it's also vital for replenishing depleted vitamin D levels. But how exactly can you entice the kids away from their screens and really make the most of your outside space this summer? Here are five essential tips to get you started:
Plant low-maintenance but attractive plants
If you want a beautiful garden but lack space or time to weed beds, our advice is to plant in containers. Leafy plants such as hostas add structure and interest throughout the year, while bright annuals such as petunias and busy lizzie's can be bought very cheaply and never go out of fashion – well, that's not strictly true, but they always look cheerful! Climbing plants such as honeysuckle and clematis help to make small spaces look bigger by blurring boundaries. Plant vegetables and herbs in raised beds or containers and eat them – gardening can be a frugal hobby! Tomatoes and runner beans are great for beginners.
Encourage wildlife by letting a section of the lawn grow
This year, 'No Mow May' was huge, but if letting your lawn grow wild was a step too far, why not compromise and designate a patch of lawn instead? Encouraging flowers with a packet of wildflower seeds is optional. Get the children involved by planning a 'before and after' time-lapse activity or taking them to count how many species of plants and insects they can find.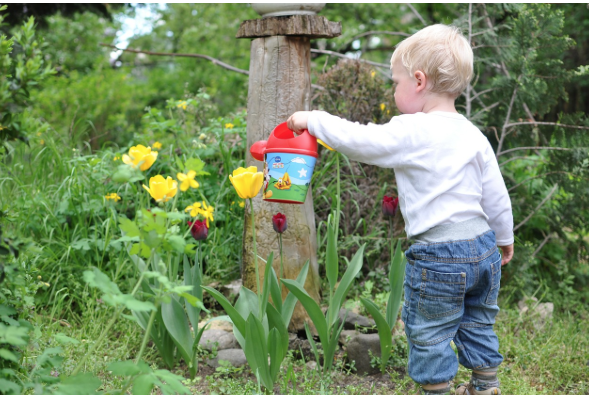 Invest in outside furniture
Choose the best-quality seating you can afford – cheap outside furnishings are often a false economy as they quickly deteriorate when exposed to the elements. Attractive garden furnishings are also a quick way of making your garden more accessible and inviting.
A garden can obviously add considerable value to a property, but how much depends on many factors. If you are interested in up-to-date and realistic assessments, companies, such as Spring, for example, offer a free home valuation.
Treat your family to a steel frame pool
A 10 or 12-foot steel-frame circular pool is the perfect choice for the summer, especially if you have kids who love the water. Relatively low-maintenance as long as you keep the chlorine topped up and clean it regularly, these pools offer hours of entertainment and will make your garden the number one choice for your children's friends! These pools are easy to dismantle for storage over the winter months and will last for many years with care.
Future proof your garden
When planning to redesign your garden, we recommend thinking ahead for a few years. A lawn with a large trampoline, for example, could be used for sunbathing in the future. You could convert a space used for a playhouse into a potting shed or summerhouse in a few years. A well-tended garden with obvious multifunctional spaces is also very appealing to prospective buyers if you are planning to sell your property. Climate change is also something to consider. Experts predict that British summers will become hotter and drier while also being more prone to extreme wind and rainfall, leading to soil erosion or waterlogged plants. Raised beds and tough species of plants and trees may be a better choice and easier to manage in the future.