Z's bedroom is a typical boy room. LEGO all over the floor, bits of paper and pens everywhere and clothes strewn wherever he happened to take them off. Until recently, he had a wardrobe, desk, bed, play table and set of drawers in his room, which left him very little space to play and as a result it ALWAYS looked messy. We'd tried the room in every configuration we could think of, but nothing made a difference and every bit of furniture was used. Even the space under his bed was full of boxes. Everytime I looked in his room it made me want to tidy and reorganise.
We spent a long time looking for the perfect storage solution. Shelves with boxes were no good and toy boxes wouldn't help either. Eventually we decided a cabin bed would be the way to go. The girls already had bunk beds from Room to Grow, which is an amazing online store for every kind of bed you could ever want, so that was my first port of call. I spent ages trying to pick the best bed, but eventually chose this one, from Kids Avenue.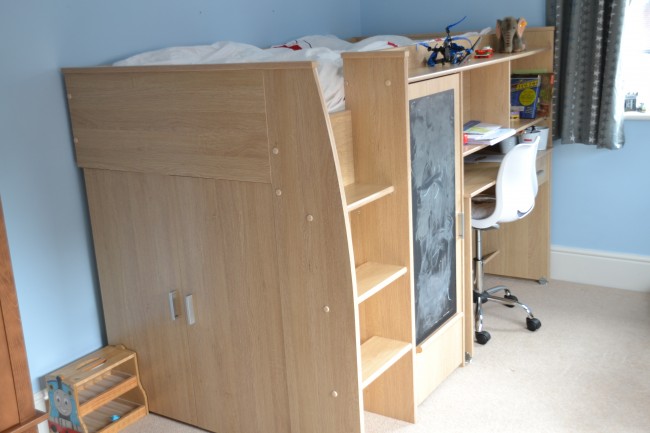 When it first arrived, I was a bit shocked by the number of boxes, but once we'd got everything out and read the instructions it was actually very straight forward to put together. The quality is excellent. We are all really happy with it, especially Z, who has always been jealous of his sisters bunk beds.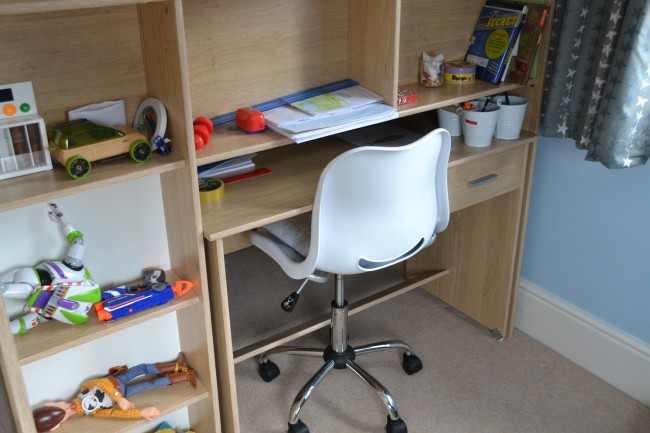 The cabin bed has a pull out desk, cupboard with small shelves, shelves over the desk and a wardrobe on the end, which meant we've been able to lose Z's old desk and chest of drawers and still have the same amount of storage, but in a much more compact format.
The desk is fantastic. Z can pull it out himself, and when it's not in use it slots nicely back under the bed. What you can't see from the photo is that there is so much room under the bed, we've  managed to hide a separate box storage unit which holds Z's board games all neatly out of sight, and even with that hidden, there's still loads of room to make a den.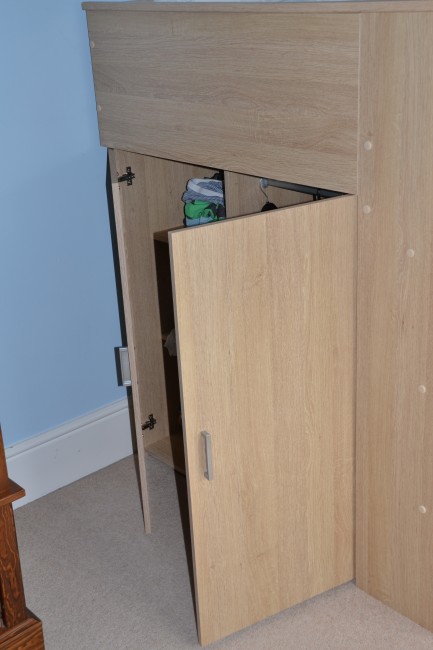 This is the wardrobe on the end. Half is shelves and half has a rail, as a bonus there is even enough space for two children to fit. Not that they ever hide in there, obviously.
I would definitely recommend this cabin bed, and Room to Grow, their website, telephone service and delivery are all impeccable.
Features * Manufactured from high density particle board with Oak effect foils * Low Cabin Bed frame, only 1340mm high with integrated shelving * Cupboard with 3 shelves and blackboard on door * Free standing pull-out desk on castors * Compact wardrobe with shelving and hanging space. * Ladder with wide steps for comfort. Ladder in fixed position to the Left. * Requires a mattress, size 90 x 200cm.
I was given a discount on this bed for the purpose of this review. I bought the chair at full price.