When we found out I was pregnant with H, one of the first things we panicked about was how we would fit everyone in the car. Z was only 3 and half when H was born and I didn't want him in the front or jammed between two car seats in the back. I wanted all three children to be as safe as possible.
We knew this meant we'd need three full size seats in the back. My Astra was no good, and even our old BMW estate wouldn't fit everyone in. After a lot of research we found that not many cars could give us what we wanted. At the time, there wasn't much choice apart from people carriers or the FORD S-Max. Not having the best parking skills, I wanted the smallest car possible so we opted for the S-Max. I have to admit, that at first I was terrifed of driving such a big car, but it's amazing, and doesn't feel any different to driving something much smaller.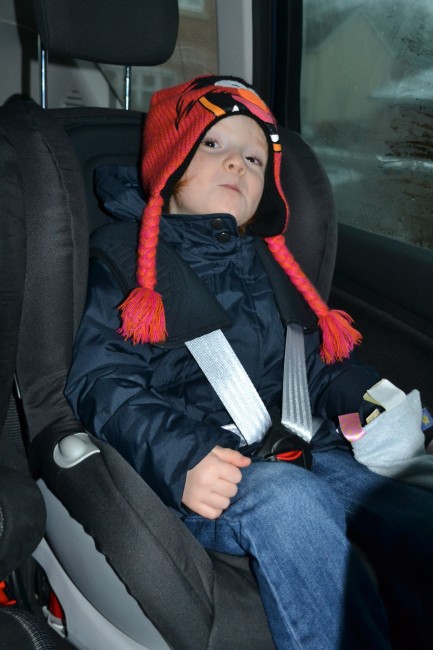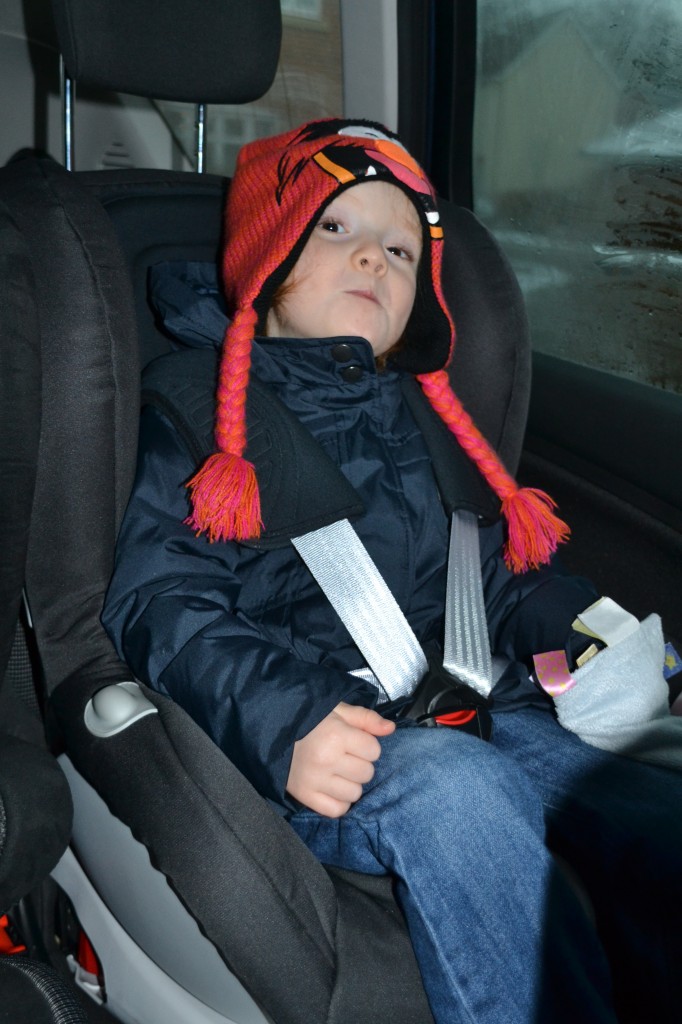 We have easily fitted two stage 1 car seats and a full back booster in the back. It is just perfect. I am an Ambassador for Britax so have been lucky enough to review some of their car seats with the girls. We have been hugely happy with the Versafix and the Trifix , both have isofix and top tether, so I know my girls are as safe as possible.
I've been looking at the new KIDFIX XP SICT for Z, and possibly S when she eventually reaches the minimum weight. KIDFIX XP SICT, is a new Group 2/3 car seat for children from 15 to 36kg, which is roughly between 4 and 12 years old. 
The KIDFIX XP SICT has a revolutionary energy absorbing seat belt pad and a new adjustable side impact cushion technology (SICT) system for superior side protection. In the event of a frontal collision, the XP-PAD ( a cushioned seat belt pad ) works to take the energy of crash forces away from the child's chest area as well as supporting the neck. Britax say this reduces high neck loads by up to 30% in comparison to a normal 3-point seat belt.
I really like the look of the seatbelt on the KIDFIX XP SICT, especially because Z's seatbelt is always coming out of the part on his booster seat where it's meant to slot, so I am forever putting it back. I'm also conscious that because S is so small, when she moves into a booster, the seatbelt fitting on a standard booster might not be very comfortable for her. I'd be MUCH happier with her in the KIDFIX XP SICT with the cushioned strap.
So, thats my take on cars and car seats, but to be fair, I'm not big on cars, as long as it doesn't look too awful and doesn't break down I'm happy. This is my husbands view… 
We have three wonderful kids, all of whom are growing up fantastically.  We are very safety conscious and we try to make sure that each of them are as protected as possible by using appropriate car seats for their age and size.  We have found the Britax range to pretty much have everything we need as they get bigger and more active in the car.  What we never really thought about was that most cars do not cater for 3 car seats on the back seat, in fact the space between the two side car seats barely fits a child, let alone a safe seat for them.
We looked at a lot of options ranging from minibuses to using the front seat of cars.  We have never felt very comfortable with either of those options, having our little one right at the back (effectively in the boot) never seemed right, and we were always worried about air bags in the front.
Step up the Ford S Max.  This awesome car has 3 full sized independent seats in the back as well as a further 2 in the boot.  All of the SMax seats fold  very flat and so you can convert a normal family car into a minibus or a "van" in next to no time.  These aren't flimsy seats either, they rear side seats both have ISOFix and TriFix mounting brackets (and the latest models have this in the center seat also).  In the car mode the SMax has an enourmous boots, which could even fit 3 pushchairs if we needed to, as it happens we typically have a number of children's bicycles and scooters in the boot.  When Nan and Grandad visit we can flick up the rear seats and get everyone seated, it's truly awesome and we love it.
Our Britax seats love it too!  They take about 15 seconds each to clip in and make use of the trifix mounting point.  They are very easy to check visually if they are in correctly thanks to their colour coded visual aids.  Also since the seats are all independent we can shift them back and forth to get the right legroom/proximity for each of our children individually – which is great, because they all behave "individually" in our long car journeys!  One day if we upgrade our SMax our eldest's booster can make use of the ISOFix mounting points to stop the bottom from sliding forward – giving us further peace of mind.
I am an Ambassador for Britax, but received no financial compensation for this post.