We had a lovely family wedding a few weeks ago which involved a night away and a huge amount of research beforehand. Do you know how hard it is to find a reasonably priced hotel when you have three children? Luckily for us Premier Inn came to our rescue and offered us a complimentary stay at the Crewe West Hotel. Located on the outskirts of town in beautiful gardens, Crewe West is quiet enough for a relaxed family stay and well enough located  for easy access to Cheshire. It's been a long time since I've stayed in a Premier Inn, but I was very impressed with the cleanliness, size of rooms and extremely comfortable beds.
We needed two rooms, which were handily located close to each other, both contained a double and single bed with an extra bed set up ready for us in one of the rooms. The bathrooms were spotlessly clean, we couldn't have asked for more for such a reasonable price. Cold water was available at reception and there were tea and coffee making facilities in the room as well as a lovely flat screen TV and hairdryer.
I was very happy to discover free, fast wifi in the rooms, perfect for keeping me busy while the kids slept and my husband caught up with his family before the wedding,
Premier Inn Breakfast is served in the adjoining Beefeater restaurant and consisted of an impressive array of hot options cooked to order and an excellent continental buffet including cereal, Yeo Valley yoghurts, fruit, croissants, crumpets, toast and preserves with unlimited tea, coffee and orange juice, even my picky children were spoilt for choice. My husband asked for stronger coffee and was very impressed to be made a fresh cup with no fuss at all.
The staff were exceptionally friendly, ready with a cheery "Hello" as we walked past and speedily found us an iron when we needed one. Checking in and out was easy and fast, it really was a completely stress free hotel stay and very family friendly.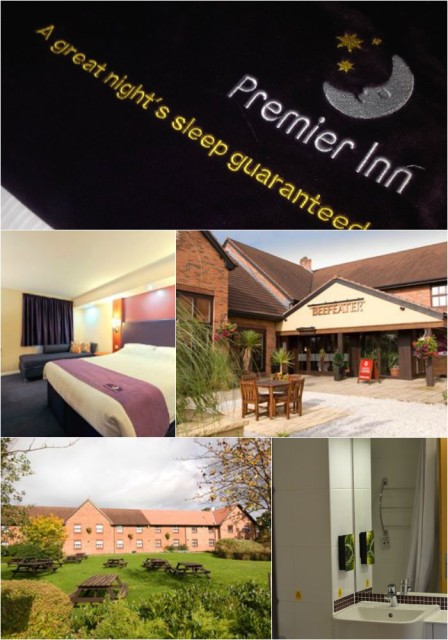 A room at Crewe West for two adults and two children including breakfast is around £90. We were very impressed and would definitely stay in a Premier Inn again.
Premier Inn kindly gave us a complimentary stay for one night at Crewe West.