Have you heard of Rummikub? Zak was given it for Christmas last year and while it did take us a bit of time to get our heads around it, we now play it quite often, although even with Zak's super gaming skills  we're a way off being good enough to compete in the Rummikub UK Championships.
To win players lay down "Sets" of tiles on the table made up of either 2 or 4 tiles of the same number but a different colour or consecutive numbers of the same colour. My younger children struggled to play so I'm really pleased to discover Rummikub  Junior, Prime, Xpress and Word versions have been launched.
Did you know the first Rummikub World Championship took place in 1991 and the winner of The Rummikub World Cup wins an amazing, once in a lifetime, trip around the World!! I might have to practice harder this year.

If you fancy your chances register by visiting www.Rummikub.com, going on the Rummikub Facebook page, Google Play or downloading the app. The heats take place between 26th July – 1st August, 9th – 15th August and 23rd – 29th August. The highest scoring eight UK finalists from the Online Championships will be invited to take part in the Rummikub UK Final taking place in September and the highest scoring player  will represent the UK at the World Championships in Berlin!!
Rummikub Junior (SSP £17.99) is aimed at children aged 4 years and over with a more simple game format where payers collect stars when hey make a run of tiles or add to an existing run.
Rummikub Word (SSP £19.99) looks like a lot of fun. Players must try to form the longest possible words to score the most points  while manipulating and moving any of the word on the table. The winner is the person with the highest score at the end of the game, but watch out the the joker tiles!
The Rummikub range also includes Travel Rummikub (SSP £9.99) for game play on the go, or step it up with Rummikub Prime (SSP £27.99).
For a head to head battle with just two players, try Rummikub Xpress (SSP £7.99). This version uses dice instead of tiles. The object of the game is to have the most points at the end of six games. During each round, players put as many of their dice as they wish into the shaker and roll with the aim of getting a set. A set is as a group of three or four identical numbers in different colours, or a group of three or more sequential numbers in the same colour. As with other Rummikib games players can  manipulate sets already on the table by adding dice to create new sets.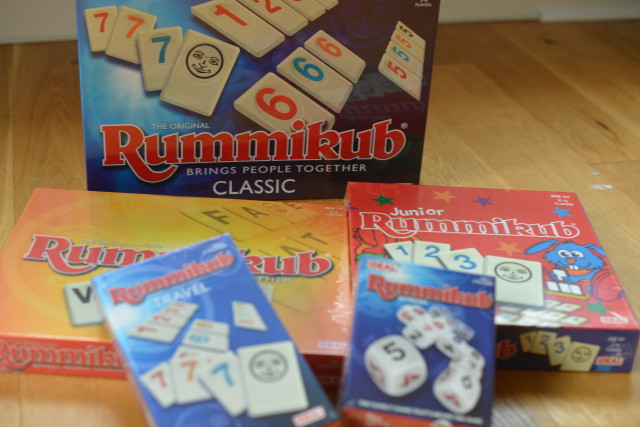 We can't wait to get testing these fab new games out, which do you think would be your favourite?
We were sent the games above for the purpose of this post.