We've always played a lot of board games, I find they're great for keeping the kids off a screen for a while and perfect for spending time together as a family.
We were kindly sent four games from SpinMaster to try, which have definitely helped keep everyone entertained during lockdown.
With a three year old and 3 older children to keep happy we do often struggle to keep everyone happy, but Baby Shark and Hedbandz have been perfect. Otrio is great as it's quick and easy so we can just about get a game in without Charlie destroying it and we love the movies so Jumanji has been fab just for that reason!
Otrio
Otrio is like tic tac toe, but with more layers. 2- 4 people can play and there are multiple ways players can win which means you have to be extra vigilant. It's easy to understand great game for when you haven't got  long to play, or alternatively if you want to make an afternoon of it, set up a tournament!
Each player has 9 pieces of one colour and as you can see from the board each piece type can be used in every space! Players win by getting three in a row of one type of piece or the pieces in size order!
Otrio is a great game for kids ( and adults ) who love a quick thinking strategy game. This one has definitely been a winner in our house, and my favourite of the selection.

Baby Shark
My youngest child shrieked with delight when he saw this one. It's a fun game for little ones, I just wish it wasn't quite so loud! Each player races to catch the most fish with a fishing rod while the board spins around. It's great for hand eye coordination and perfect for little Baby Shark fans.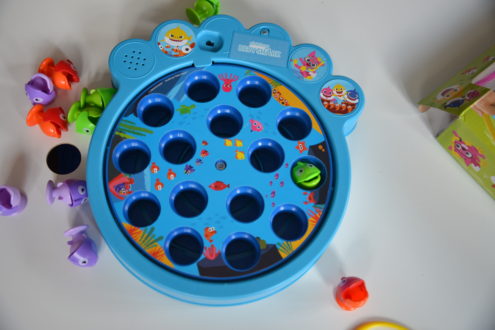 Jumanji
My 11 and 9 year old worked out how to play this one by themselves and have played daily since. The game comes with spinning board, tokens, a pack of cards, dice and token boards. The winner is the player who fills up their token card first, but it's not always easy to win. You can end up in battle, losing a token, gaining a token, getting an extra life  or even changing character when the board spins. I especially loved the collaborative aspect of this game, which led to a few less arguments than usual.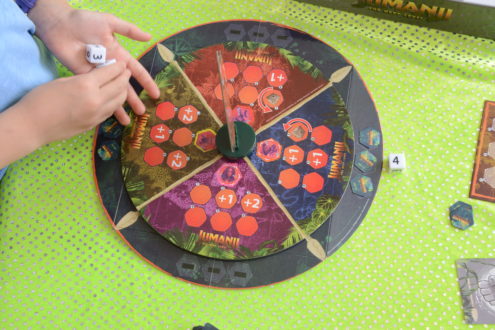 Hedbandz
Everyone loves Hedbandz, and this always leads to lots of giggles from my children, Players place a card with an object into a band on their head then have to ask other players questions so they can work out what the card is.
We've also found Hedbandz to be great fun for adults after a few drinks!
Huge thanks to SpinMaster for the great games