I love a good roast dinner, but I'm definitely not a fan of the clearing up afterwards. When I was growing up we had a proper family Sunday roast dinner every week, but our house just has too much going on for us to be able to take the time out to prepare a really good Sunday roast. Zak has swimming in the evening and Sunday afternoons are generally spent frantically catching up on washing and homework.
As we're a family of 6, going out to eat is very expensive and not something we can do very often, so we were very excited to be asked to try our local Toby Carvery restaurant last weekend.
I haven't been to a Toby Carvery for about 15 years so wasn't sure what to expect. I ended up rearranging the booking twice, but the restaurant were very understanding and changed the booking easily even on a busy Sunday evening. We arrived at 6pm after an afternoon seeing Santa at the Science Museum to a bustling restaurant that smelled amazing. We were seated immediately and a high chair delivered within minutes.
We ordered drinks which were brought to the table and went to choose our food. The kids were thrilled to find huge yorkshire puddings and perfect roasties as well as a choice of four tender, slow cooked meats. I chose turkey, Sydney went for pork, Zak beef and gammon and Hannah turkey. Daddy went king size which got him an extra Yorkshire ( which he claimed was for the kids ) and more meat. I'm the only one of the family who likes parsnips so we don't make them at home, so I was pleased to see them as well as lots of other veg.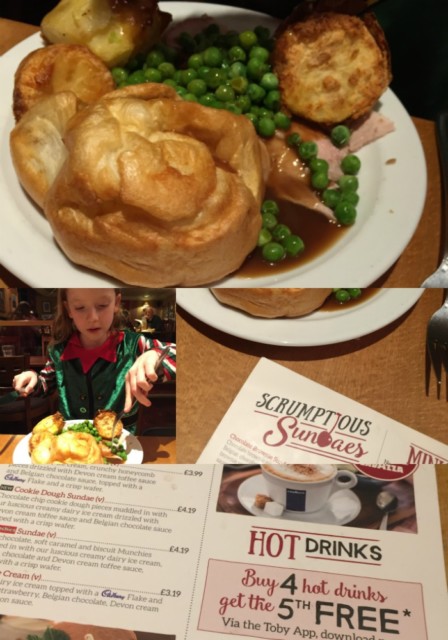 Everything was hot and perfectly cooked, fresh and delicious. Sydney is a very picky eater, but even she cleared her plate at double speed. I have never seen her eat so enthusiastically.
We all chose the carvery, but there is an extensive menu including amazing sounding yorkie wraps, Toby Tasters such as  chicken wings and lamb koftas as well as starters, vegetarian and vegan options and even a superfood salad.
We'll definitely be back soon.
Toby Carvery meat is UK sourced, farm assured from grass-fed or free range farms that meet Red Tractor standards.
All Toby Carveries offer the same classic menu all day, Monday to Saturday.
Also available are:
• Baps filled with our tasty roast meats
• Glorious puddings including dairy ice-cream sundaes
• Vegetarian choices, salads, starters and a range of drinks
We were gifted a meal at Toby Carvery for the purpose of this review.
SaveSaveSaveSave
SaveSave