I know it's still September, but it seems Christmas is weighing on the mind of my two eldest children at the moment who have already started writing lists.
This cute little letter is from my 7 year old daughter, who I'm very pleased to see has also mentioned her big brother in her letter as well as sharing her love for "Santer".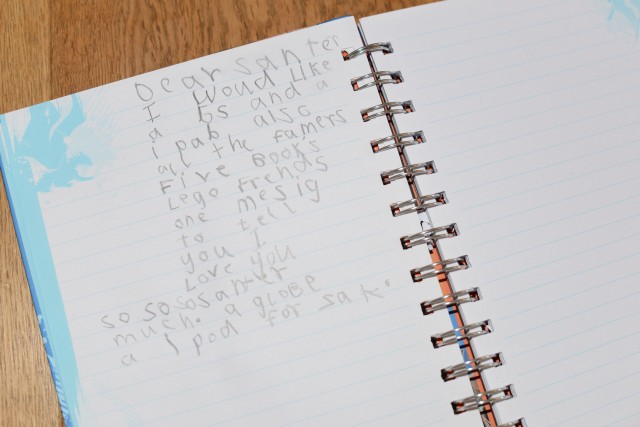 I suspect Zak's list is aimed at me rather than Santa, but I am rather liking the idea of a Stepometer!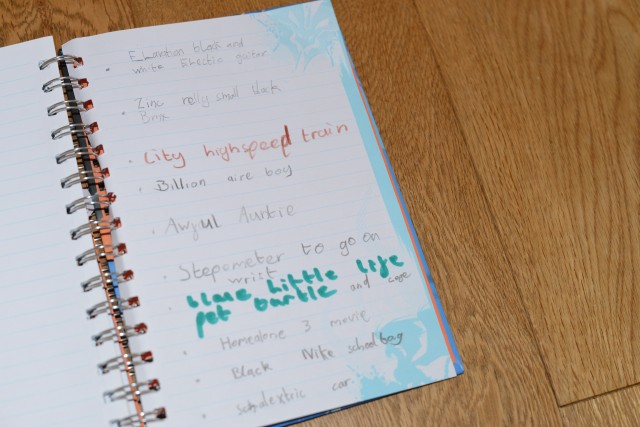 My youngest daughter has decided she wants the new LeapPad Platinum or the just released LeapPad Epic, she can't decide. I'm very pleased Hannah mentioned the new LeapPads instead of an iPad, because not only are they much cheaper, but I know the web browser is completely child friendly and they are going to stimulate her imagination as well as allowing her to learn along the way.
LeapFrog say:
"The LeapFrog Epic tablet is age-appropriate right out of the box, but grows with a child. Children expect technology that's more like their parents' – sleeker and faster, whereas parents want technology that has been designed with kids in mind and safely delivers educational and development benefits, not just another TV screen. The LeapFrog Epic tablet is a perfect balance – a unique, full-featured kid's tablet experience with the learning content and controls that parents can trust and all the play, creativity, and exploration children will love."
I love that you can customise the home screen and it shows the weather and a clock, it's these simple things that seem to fascinate my children.
Built with unique features made just for kids, the LeapFrog Epic tablet comes with all the features expected from a full-featured adult tablet. Using an operating system based on Android™ 4.4, the LeapFrog Epic tablet features a quad-core processor, brilliant seven-inch multi-touch capacitive LCD screen, front and back camera, video recorder, 16 GB of expandable memory and six plus hours of battery life, to deliver amazing performance perfect for a child's every adventure.
I can't way to see this innovative new tablet!
Speaking of LeapFrog, did you know they have partnered up with Annabel Karmel to launch a kid's kitchen campaign. Mums and Dads are challenged to bring cooking role play to life for pre-schoolers. Personally I love baking with my children, it's such a great way to spend time together and chat, while counting and exploring new textures and tastes. If you've got younger children the Number Loving Oven looks like a great toy to encourage a love of the kitchen as well as developing an understanding of numbers and parts of a whole.
To find out more and sign up for your Kitchen Kids Guide, see here.
What are your children hoping for for Christmas this year?
We are Ambassadors for LeapFrog.