Oliver Jeffers is without doubt one of my favourite children's authors. I love the kind and thoughtful stories, the sweet illustrations and the way the books appeal to children and adults alike.
I cannot tell you how many times we have read Lost and Found, how our hearts break for the boy and the penguin when they are separated and how happy we are to see them reunite. Receiving the DVD and book from a kind Uncle was one of the loveliest presents S received for Christmas a couple of years ago. We even decorated our Easter eggs with a Lost and Found theme last year.
When we sat down to read How to Catch a Star, the girls were mesmerised from beginning to end. The boy wants to catch a star and so waits up all night, but finds he can't quite reach, then he spots a reflection of a star in the water…..I won't spoil the ending, but it is a lovely story and a definite must have for any book loving little one's collection.
It's humbling to think and hope that the book has been, and will be seen and loved by children all over the world. Children may read it again and again, possibly draw over it and perhaps get marmalade stuck in the pages. Maybe, if I'm really lucky in another 10 years they'll regret the marmalade part…
Oliver Jeffers
I have to tell you Oliver Jeffers that our copy of How to Catch a Falling Star has been lovingly put back in the gift box after each read, so is currently marmalade/jam/chocolate free. There are a few books that as a mother I will be keeping safe once my children outgrow them, in the hope that one day I can pass them onto grandchildren, How to Catch a Falling Star is definitely on that list.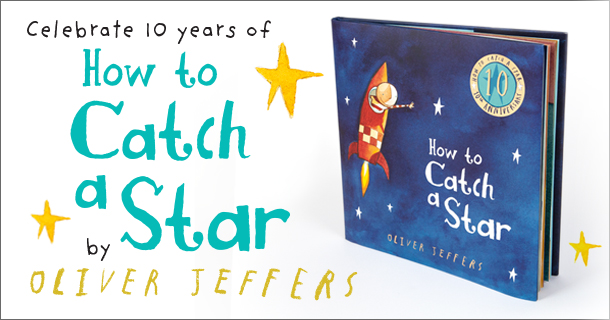 How to Catch a Star was first published 10 years ago, the Special Anniversary Edition is available from Amazon for £12.99.
We were sent a beautiful package containing How to Catch a Star, glow in the dark stars and a lovely set of printables for he kids to use.
S loved the spot the difference.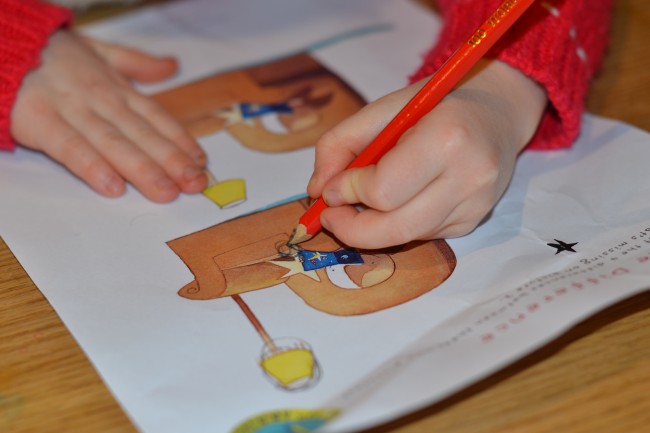 Little H had great fun making puppets and then a background for them, she hilariously tries to retell the story with her own little embellishments.
It's safe to say that How to Catch a Star will not disappoint, and the printables are the perfect addition to really bring the story to life.
You can download your own set of How to Catch a Star printables here.
We were sent How to Catch a Star and the printables for the purpose of this review.