Read with Me Violet is a new interactive toy from LeapFrog. Violet is soft to touch and cuddle, as well as wonderfully engaging and educational.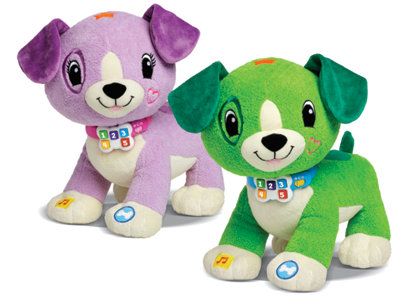 Violet comes with 5 little hardback books, that she reads to the child, stopping every now and then to ask questions, which is great for helping develop comprehension skills. The child selects the story by choosing one of the 5 buttons on Violet's collar, each of which correspond to a book. S and H are 4 and 2 and both absolutely adore Violet, I've actually been very surprised at just how much they enjoy just sitting down together and letting Violet read to them. They very quickly got the hang of how to press the corresponding button to the book, and can easily follow the story ( you pat Violet's head so she knows you've turned the page ) without much input from me.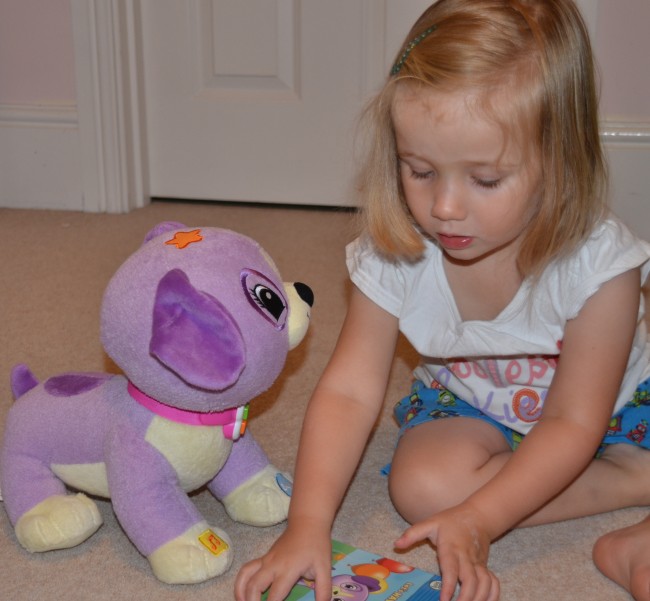 Violet and Scout  have 4 more interactive spots on their back, cheek and both paws. Violet asks questions if you pat her back, tells you she is your best friend if you kiss her cheek, sings songs if you press her left paw and asks for a 'high five' or a different interaction if you press the  right paw.
The books are perfectly sized for little hands, and just the right length to keep attention focussed for the whole book. Each book has a different focus, for example one is all about rhyming, one about numbers, colours and shapes, and another is about the world around us. There is also a handy parent tip on the back of each.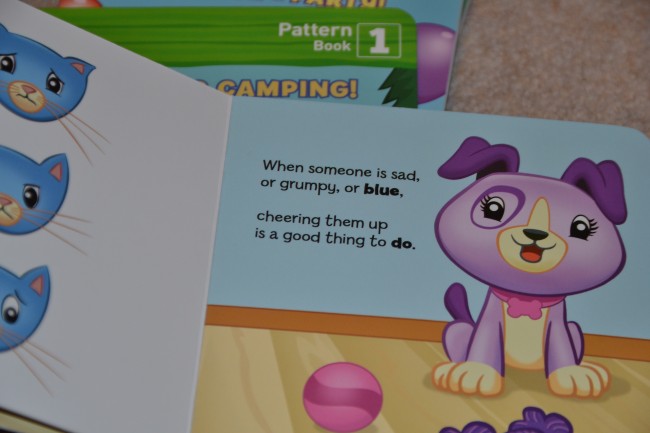 I've been super impressed with Read with Me Violet, the girls have interacted with her much more than I expected. They bring her food, and even made her a house from a big cardboard box.
They will both quite happily sit through 2 or 3 stories with Violet, and have the patience to wait for her to finish each page and answer the questions together. They also love to sing the songs, and know all the words off by heart.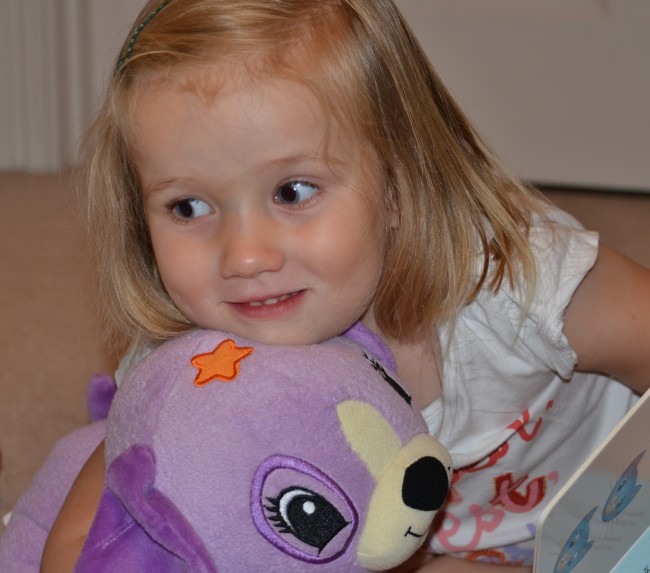 One of my favourite features is bedtime mode, with just a flick of a switch on the collar, Violet starts to sing lullabies and wishes the children Good Night.
We would absolutely recommend Read with Me Violet, it is a great first introduction to reading, comprehension and rhyming for older children and colours, numbers and shapes for younger children.
Violet features:
Features 5 interactive touch points, 70+ comprehension questions and 5 illustrated board books.
Teaches comprehension, early vocabulary and book and print basics.
Ages 2-5 years.
 We were sent Read with Me Violet for the purpose of this review.