Z loves numbers. Many, many times a day I get asked something along the lines of, 'whats 77 + 89 Mummy?'. He also likes to make me 'worksheets' to complete, but has been struggling to write some of the numbers properly. He doesn't hold his pen very well either which is quite frustrating for him.
I jumped at the chance to review the new 'Count and Draw' from Leapfrog, hoping it might help with pen holding and number writing.
A 'worksheet' Z made for me
The 'Count and Draw' is a really nice size for little hands to hold, and comes with a pen attached, so there is no danger of losing it. There are 3 options on the left hand side to choose from, shapes, numbers and games.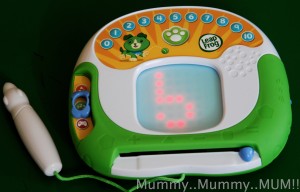 The shape and number sections guide the drawing of the shapes and numbers with the lights. You press the paw button when you are done and get told if you are wrong or right. With the numbers you then have to pat your tummy a number of times, or count your fingers, which Z actually did, much to my surprise. I have also noticed that since using the 'Count and Draw' he has stopped doing the number eight as two circles and is now doing it properly.
Little S has been very interested in it too. She is just 3, so can't yet follow the lights properly with then pen, but she has managed some of the shapes.
Here she is in her 'pirate ship' playing with it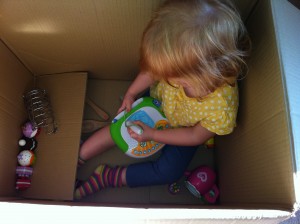 We think the 'Count and Draw' is fantastic, I can already see after just a few weeks an improvement in Z's writing of numbers, and it is giving Little S a real interest in trying to write. I think it is brilliant value at £14.99.
This video shows the 'Count and draw' in action.
[youtube=http://www.youtube.com/watch?v=t9hyJPFgIws]
You can also go online with Leapfrog and track the learning and play progress of your children with their Leapfrog toys.
Leapfrog also make a letter version, the 'Scribble and Write' which will be on our Christmas list!
I received a Leapfrog Count and Draw free of charge, all words and opinions are my own.