We're really enjoying being LeapFrog Bloggers this year and have tested some fantastic toys. Our favourite so far is the new LeapReader and I've ordered little S some LeapReader flashcards for Christmas to help with reading. S decided last minute that she wanted a laptop for Christmas, so was thrilled when the LeapPad Ultra arrived as she saw it as her very own tablet, which is way better than a laptop.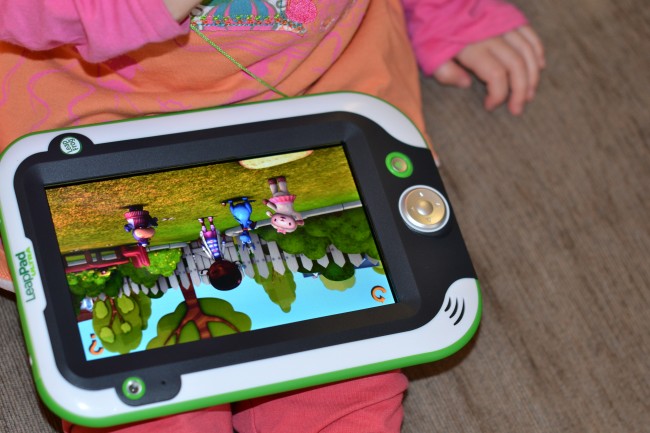 My first impressions of the LeapPad were good. It feels solid and substantial, light enough to hold comfortably but heavy enough to feel good quality. The LeapPad Ultra is WiFi enabled which means you can update the software and download apps without plugging it into a computer, this seemed to  save us so much time. In less than 5 minutes the LeapPad Ultra was ready to be played with. I would still recommend doing the set up before giving it to your child as even 5 minutes felt like a long time to S, who just couldn't wait to get going.
The LeapPad Ultra is very intuitive and easy to use with a tough reactive screen, S and H were able to use it immediately with almost no instruction from me. The LeapPad comes pre loaded with 11 apps and cool features like making videos and editing photos, a drawing game and Pet Pad which is S's favourite. She loves adding items to her pets house and  giving it a bath, I've also seen an improvement in her maths skills after playing.
The camera is quite basic and quality not amazing, but saying that the girls have still loved using it and giggle a lot when they add funny features to each others faces.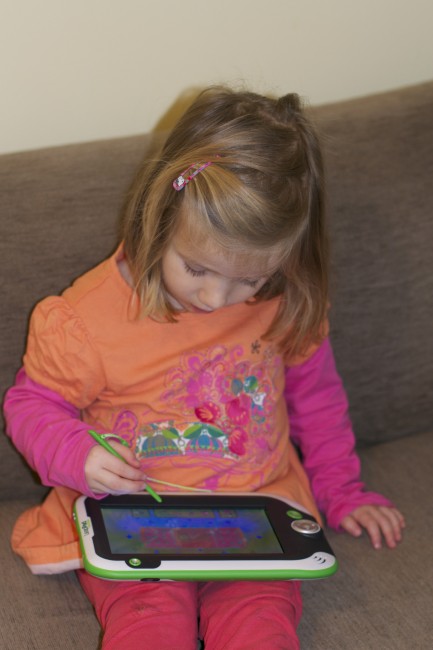 Features
Connect by Wi-Fi to kid safe sites, the  browser has access only to approved content.
Parental controls
7 inch hi res screen
Backwards and forwards camera
A library of over 500 games, apps and eBooks
MP3 player
Built in 9 hour rechargeable battery
RRP £119
My only negative points about the LeapPad Ultra are that we have found it quite slow at times, but upgrading has made it speed up a little.
The games and apps are quite expensive, starting at around £3.50 and going up to £20, but they are all educational which makes them worth paying for. We bought the Doc McStuffins game, which H and S have really enjoyed. They love using rescue Rhonda to find the toys and making special plasters. It's great for improving logic and problem solving skills, trying to find out what's wrong with the broken toys.
All in all, we do like the LeapPad Ultra and it's perfect for S and H at ages 5 and 3. It's great that they can explore the whole thing, store their own music and feel like it's their own which they don't get when they use our tablet.
From a parents point of view, I like knowing that everything the girls can access is safe and I don't have to worry about what they are up to.
 We were sent the LeapPad Ultra for the purpose of this review.