We've owned a much loved LeapFrog Tag Reader for a few years now, and over time collected lots of books. I have spent many a happy hour playing games and reading the stories with all three of my children. Now Z and S are a bit older they are happy to sit with the books and especially the World Map on their own. I've been astonished at how much they have all learned. Thanks to the map game Z has a wonderful knowledge of the the world. The pen tells you how many countries you find in the alloted time, which appeals to his competitive nature. This is our LeapReader review.
The LeapReader comes with an Activity Read, Write and Listen book, which is a great introduction to all the different types of books you can buy, ranging from Get Ready to Read to Reading on Your Own and Learning through Reading. The LeapReader Reading and Writing system caters for children at all stages of their learn to read journey.
Listen
The audio books are great for helping with listening and comprehension skills, I love that the LeapReader asks questions on some of the pages. I know Z's school concentrate a lot on comprehension so it is definitely  a useful skills to develop early.
We were sent the new Monsters University book to review, part of the Read on Your Own series, which includes more advanced vocabulary and more complex sentences than the Early Reading series. Everyone's favourite feature of this book is the section on the first page where you get given a Monster nickname, such as Three Eyed Furball. You can imagine the little giggles. The game at the end of the book where you create the perfect scare using nouns and verbs has been great for introducing Z to that concept. I've been really impressed that all of my childre ranging in age between 3 and 6 have been able to enjoy and learn from this book.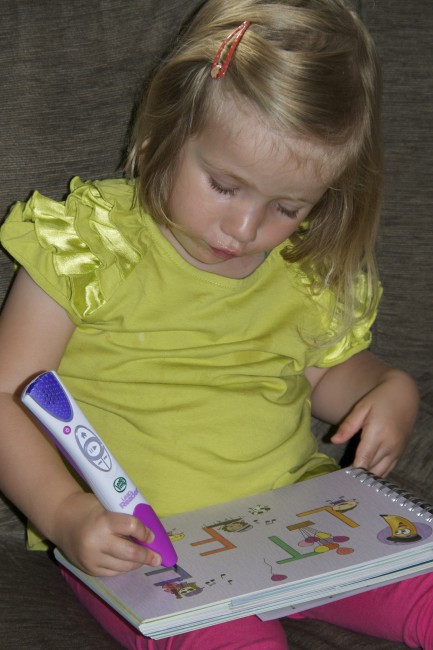 Read
The LeapReader doesn't just read the word on page aloud, in some books words can be sounded out letter by letter, and each page is interactive not just with the text but pictures too. We find something new almost every time we read a book.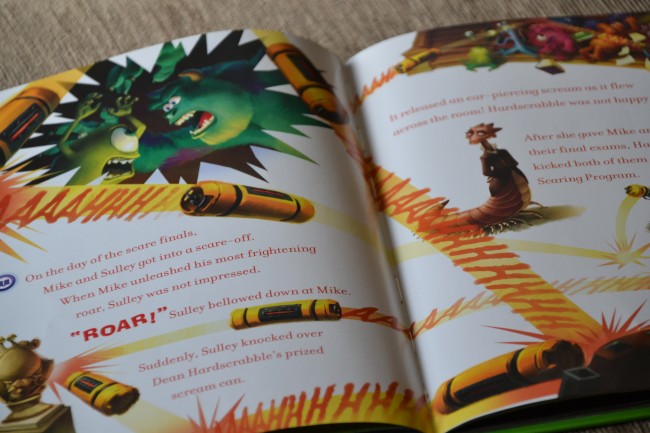 There are even Flash cards  available as part of the Early Reading range, which I'm thinking of buying for S. Especially if she can work through them by herself, as I'm a bit worried about how I'm going to manage helping two children with school work come September.
Write
S has been using the Learn to Write Letters book, which is amazing, we've sat together and read the story and then you can use the LeapReader to practice writing letters on special paper. The LeapReader even tells you how to form the letters correctly. I was a little concerned to start with as S is left handed, but it hasn't caused her any problems at all, and most importantly she really enjoys the writing. The book is full of interactive games and music too which kept her attention brilliantly.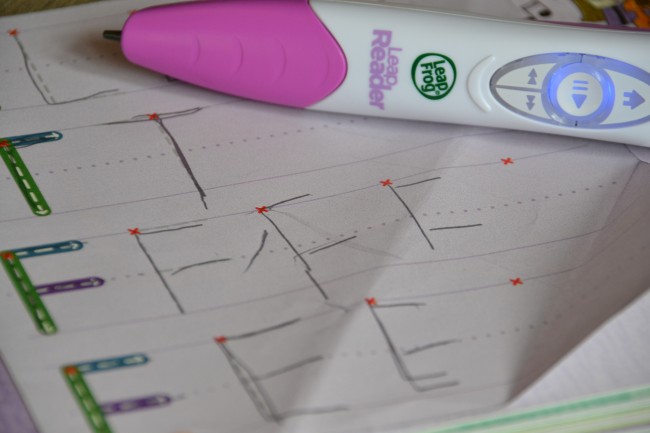 The deluxe activity set comes with extra writing paper and over 700 interacive trace and write letters. Z at 6 is a bit past this stage, but I know we will use it a lot with S and H. It's been especially helpful for getting S ready for school in a few weeks. I'm now confident she can recognise all her letters and write most of them as well.
The Read and Write range also offers Learn to Write Words, learn to Write Numbers and Learn to Write Science.
Why is the LeapReader so good?
It works with most Tag books.
USB rechargable – no batteries needed
Brilliant for learning to read, write and listen whilst having fun.
Helps with all the stages of learning to read.
Helps teach how to recognise and form letters and numbers correctly.
LeapReader even caters for older children with the Solar System, World Map and Human Body
We were sent the LeapReader, Learn to Write Letters book and Monsters University for this review.
We have in the past bought the World Map and Human Body Sets and they are wonderful, especially for slightly older children who can already read.
For another LeapReader review check our Mari's blog.