If you like Lego you've probably seen or heard about the new range for girls. I've read lots of negative things about it and I just don't get why people think it is so bad.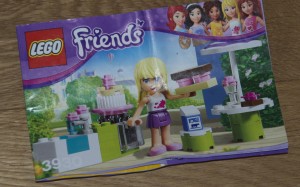 Anyone who reads my blog knows we love Lego in our house. I am not a girly pink girl, I am a science IT geek. My 3 year old currently hates pink and wants to be a boy, I don't push her towards girlie things. She would probably choose pirate lego over the girls lego anyway, but if she did want the pink stuff? Would I mind? Not at all.
Lego have not taken away any lego that girls would have played with before the new range came out, they have just given us a choice. Why is it ok to have ranges clearly aimed towards boys and not have an equivalent aimed at girls? If you have a lego town with a police station and fire station why can't you have a bakery or a cafe?
Yes one of the characters likes giving makeovers, but another loves animals and being green, one even likes inventing things.  There seems to be a good balance of different types of people in the characters.
I haven't seen the big sets, but we bought a small one and it didn't seem dumbed down, it was just as hard to build as anything else we have. The mini figure wasn't the best, I do prefer the traditional lego man, but thats a small issue.
Most importantly, and I do find this hard to believe coming from a house where all we play with is lego, but some girls just wouldn't be interested in traditional lego and so miss out on all the benefits that come from Lego building, such as fine motor skills, logic, following instructions and imaginative play. So if this new range gets those girls playing with lego isn't that a good thing?
Yes, it is a bit excessively pink, but it is giving Lego a bit more balance and there are still probably hundreds of 'traditional' sets for every pink one.