Minilini is a beautiful soft doll perfect for small children. Both my little girls love her. Although H tends to discard her clothes and carry her around naked as it the case with all our dolls.
You can see from the photo's how much H loves Minilina, she has been kissed and cuddled constantly since she arrived.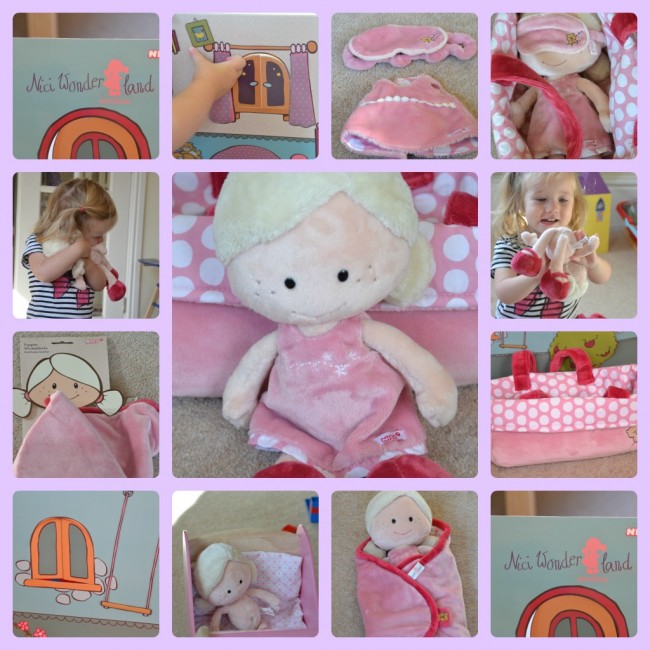 Minilina comes with a very cute little bear who sits adorably in the  pocket of her dress, and there are lots of additional accessory and clothing options. The clothes are even reversible, giving you two outfits in one.
The swaddling blanket is definitely a must have accessory, it is lovely and soft and wraps beautifully around the doll with a little velco fastener, so even the smallest of hands can wrap her up.
We especially loved the little moses basket, which is also very soft and perfectly sized for Minilina.
The only thing we were disappointed with was the cardboard house. It comes with a large selection of re usable stickers, but they kept falling off, which was quite frustrating, but on a positive note, they did provide a lot of stimulation for H as she discussed which stickers to use where.
The nightgown and sleeping eye mask have an RRP of £10.95, and the swaddling blanket £14.95. Minilinia herself is £24.95. They do seem expensive, but the quality is fantastic, and I know H will get a lot of use from all the outfits and accessories. Minilina is most definitely an extra special doll, and in my opinion worth every penny.
Another doll from the same range is Minilotta, who can even be taken in the bath. Minilotta's accessories inclide a scuba mask, arm bands and shower cap. She sounds brilliant!
We were sent the above items for review.