We've had our loft conversion for about 2 years now and it's been an amazing addition of space to our house, but as usual we didn't plan very much so are lucky it all worked out so well!
If you're planning a loft conversion I would be very thorough with your initial planning so there are no surprises along the way. I'd also recommend keeping a little money to one side for any unexpected expenses.
Really take the time to think about how you'll use the space. Will it be a playroom, a bedroom or an office area? Remember the height may be limited in places so check you're going to get the space you need. Choosing a perfect spot in your home for your office or playroom might sound like an easy task, but there are so many factors to take into account that it really will need some planning before you commit to anything. The last thing you want is for the work to get underway only for you to discover that something just isn't quite right. 
A loft conversion is a big job so you'll definitely want to call in the professionals. The first step is to check what you need to do from a planning permissions and building regulations standpoint. Once you're sure you are in a position to get the work done, you'll need an architect or building surveyor to prepare drawings and designs.
We used a specialist loft conversion company who pretty much handled everything for us, which made the whole process very straightforwards and almost stress free. Remember to get several quotes as ours differed a fair bit and different companies had different ideas of how to get the job done.
My dream was a beautiful space full of natural light from lots of glass windows where the kids could chill out and relax with their friends away from nosy parents.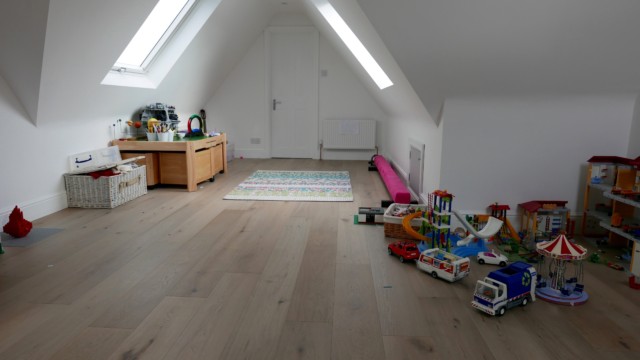 Things to think about with a loft conversion
Talk to the neighbours
While a loft conversion is fairly low on the disruption front, it's always good manners to speak to the neighbours. We had scaffolding around the house for months and probably a fair bit of noise too.
Stairs
There are lots of regulations around staircases so check you have the room and it's not going to feel too claustrophobic. Our stairs actually look like they've always been there, but I was worried they would look very "stuck on" if that makes sense, but that's not the case at all.
Fire Regulations
Things may have changed but we had to install either fire doors to all floors or smoke alarms in every room. We opted for the cheaper smoke alarm option, which seems crazy as our house now has about 12 smoke alarms ( can you imagine how loud it is when we burn the sausages? ).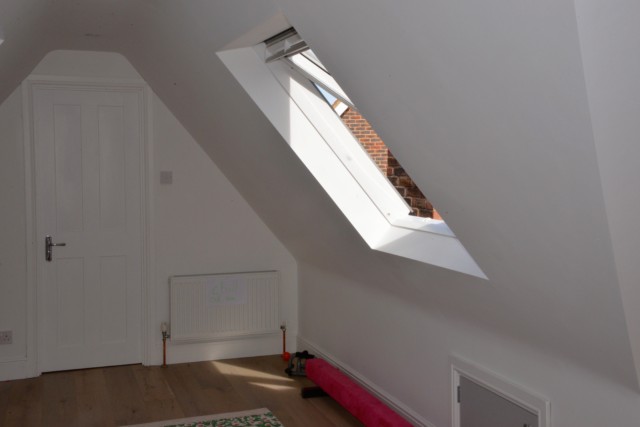 Windows
Light is everything when it comes to a loft conversion so you'll probably want as many windows as you can fit in. We ended up with a request to have some of our windows frosted which was fine in the end as the frosted glass still lets a lot of light through. One of the frosted windows is actually in a room we might turn into a bathroom one day too. If we ever get around to doing that ( it's currently an office ) I might replace it with sandblasted glass with a pattern instead of just plain frosting.
My final tip would be to check how the builders are going to leave the loft area. Ours didn't paint the walls or do the flooring which meant we were left with a rather messy brown walled space rather than the wonderful "wow factor" once they left that I'd expected. I was completely wrong to have that expectation, but even just a simple whitewash of the walls would've made a huge difference to my first impression.
Collaborative Post