Having a new baby in the family is an important time for most, and there are lots of lovely ways that you can make those special moments and important memories last much longer. It is also a great time to create keepsakes and mementoes that will become even more special with time. Everyone has their own ways of doing things, so sharing ideas is a great way to discover wonderful keepsake and memento ideas you may not have considered.
Photobooks and Albums
Possibly the most obvious one on this list, a photo book or album is a keepsake that has been around for many years. Whilst the earliest photo albums spanned generations, as photos were an expensive thing to print, each photo was stored preciously in a photo album which would be a treasured item in the family home. In today's times, photos and videos are much more readily available, but that doesn't make them any less special. Capturing moments on camera can make them last a lifetime, and there is no doubt that your child will have some curiosity about what they looked like growing up. They are something to treasure, and family and friends will also cherish seeing your baby grow up. Compiling your favourite snapshots into a book can make it much easier to share your baby's journey with others.
A photobook is a beautiful keepsake for you and your child to look back through as they grow up, and creating one can be done easily and affordably. There are plenty of options to suit your taste and needs, whether you prefer to make your own with a creative DIY project or choosing your favourite digital photos and getting them printed into a book by a photo company. Many photography companies now offer to do this for you, so there are plenty of options available when it comes to design and price.
If you are struggling with the choices available, then it might be worth consulting a comparison site like Photobook Deals UK, which will make comparing photo book deals from top providers like Asda and Jessops much easier and simpler. Most photo companies that offer photo books will also offer to print regular photos out for you, so if you do opt for the DIY option, it may still be worth comparing which companies offer the best deals and prices. No matter which option you choose, your photo book will be treasured.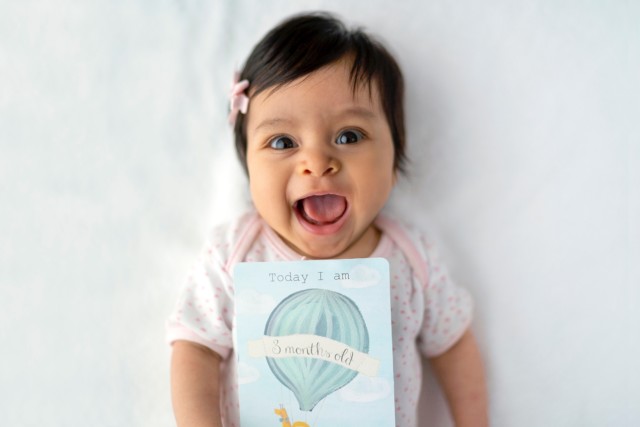 Documenting Growth
A popular keepsake of your baby's growth is to take a print or make an ornament from their handprints and footprints. When they get older, they will be amazed to see just how small their hands and feet were! The simplicity and beauty of a print of your baby's hands and feet will be something you treasure, but don't be afraid to seek more creative inspiration from others, as there are some wonderfully imaginative ways people have incorporated baby handprints and footprints into works of art or amusing imagery. You can even incorporate the handprint idea into a family print, so the whole family can get their hands dirty! Children are often encouraged from an early age to get stuck in with painting using their hands, so once your baby grows up to start exploring the arts and crafts world, look for ways to encourage them to use their hands to make their own exciting prints too.
You can find lots of fun ideas online, and as long as you follow guidelines about safe paints and materials to use on your baby's delicate skin, let your imagination run wild.
It's All in the Details
Following on from both of the previous ideas, you could try to combine creativity and recording those important or fun details by creating a fun photo-series or an infographic. If you are digitally creative, combining some facts and figures about your baby into an infographic print makes a great postcard idea to pop into a memento box or their photo book or album. Another adorable idea for combining photos and information is to use a baby milestone blanket. In the style of a back-drop, these brilliantly detailed blankets come with a numerical design so you can place your baby lying down on the blanket and circle the correct number. This makes a great way to capture both an adorable photo, as well as record how many months old your baby is. You can find milestone blankets in various online gift shops, but there are also DIYs available to help you make one yourself.
A more traditional method for recording all of your baby's milestones is with a 'My first…' journal. A quick browse in any stationery shop will show you various baby journals and diaries for keeping a record of all the little things you don't want to forget. They often come with a title page too, so you can make sure all of their details from their day of birth are recorded safely. Fans of journaling or stationary in general will definitely appreciate the many beautiful and well-designed journals that are available to purchase so that every bit of info can be recorded in one place.
There are, of course, tons more ways you can make important keepsakes and mementoes for your baby, all of which your baby will grow up to appreciate and the whole family can enjoy looking back on. Whilst all of these ideas come from images and information you have recorded, treasured keepsakes can come in many different forms. Every family has their own brilliant story to tell, and having keepsakes and mementoes can be a brilliant aid to retell those stories and look back on the memories fondly as your baby grows up.