First impressions of the Samsung Galaxy Note 10.1 are that this is a top quality product which from it's price tag (£349 for the 16Gb version) is positioned to rival the Apple iPad.  Even when unpacking the Samsung Galaxy Note 10.1 (from now on I'll just refer to it as GalaxyNote) we were impressed by the quality of the presentation and the clean crisp packaging.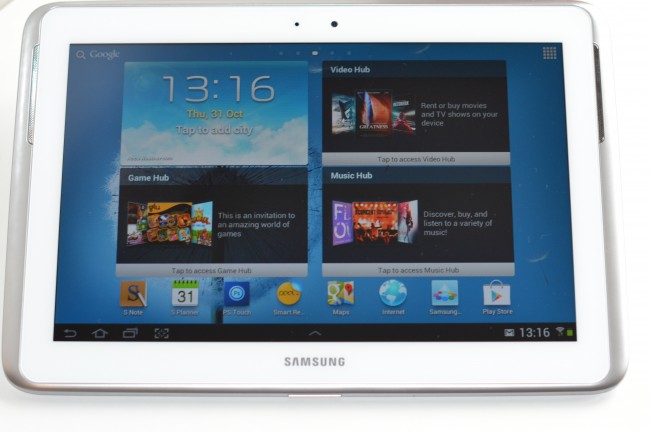 Features and Specifications
Physical
The tablet itself feels very good quality.  The aluminium border and the hard plastic rear give it a cool solid feel.  It weighs about 600g which is quite hefty, but for me that's a plus, it adds to the feeling of quality but I guess if you're trying to read it lying down it could feel a bit heavy after a while.
Its dimensions are 80 x 262 x 8.9mm and as its name implies has a 10.1″ diagonal length screen with a resolution of 1280 x 800 pixels and the display does look very crisp and bright.
It has two cameras; a rear facing 5 Mega Pixel full HD video camera and a 1.9 mega pixel front facing camera.
Speakers are mounted on the frot side faces (and they are pretty good actually given their size, the sound quality is very good for a tablet).
It has a quad core 1.4GHz processor which is plenty fast enough for the apps shipped with the GalaxyNote and has 2Gb of RAM and this one has 16Gb of storage.
Additionally (and this might be a differentiator for you) it comes with the Samsung S-Pen.  More about that later.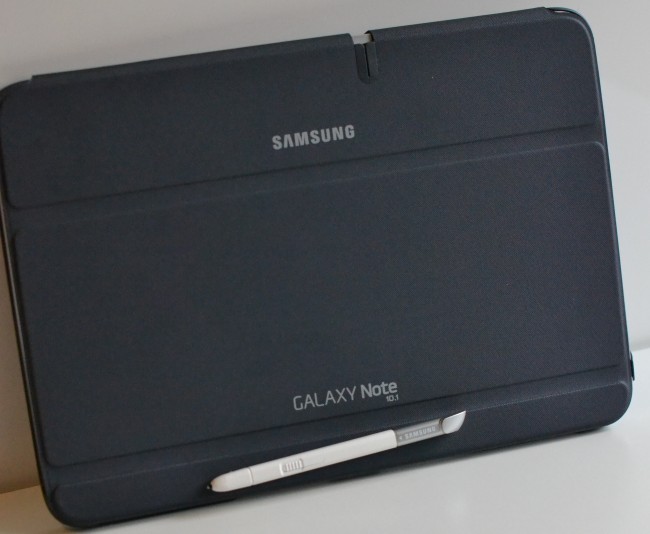 User Experience
Many of the versions come shipped with Android 4.0 IceCream sandwich, but there is an immediate update to the latest Android 4.1 Jelly Bean.  In addition Samsung have their own User Interface over the top of the base Android which in my opinion is a big value add.  In the latest version many applications can be run in their own window (which in the tablet world is very rare currently).  This is proper multi-tasking.
With the S-Pen a whole world of copying, moving and drawing is opened up to you, combined with the aforementioned multi window display you can quickly become a master of pulling together beautiful articles with hand drawn images rubbing shoulders with copied and pasted images plus edited photos of your own.  I think from a blogging perspective this could open up a producivity door (which I admit I have yet to exploit) because at your fingertips you have good camera, video recorder, sketch book and smart tablet.
You have your choice of keyboards when using the onscreen version, you can customise them to allow swiping (this is android thinking).  You can position the keyboard just for thumb presses on each side of the screen too.
The battery life is also impressive.  I have used it extensively for a number of days and I probably charge it once every two days (depending on what I am doing).
Cool Stuff
The GalaxyNote comes preloaded with Photoshop Touch which for a tablet is a very comprehensive photo editing suite.  If there was a card reader type slot for taking your photos off your camera it would be perfect, however I personally upload all my photos to some cloud or other (pretty much all of which are accessible to the GalaxyNote) so it's not a huge problem.
In addition to this excellent software you obviously have your pick from Google's Play store as well as a more exclusive Samsung endorsed store.  In the latter there are recommendations for applications suited to using the S-Pen.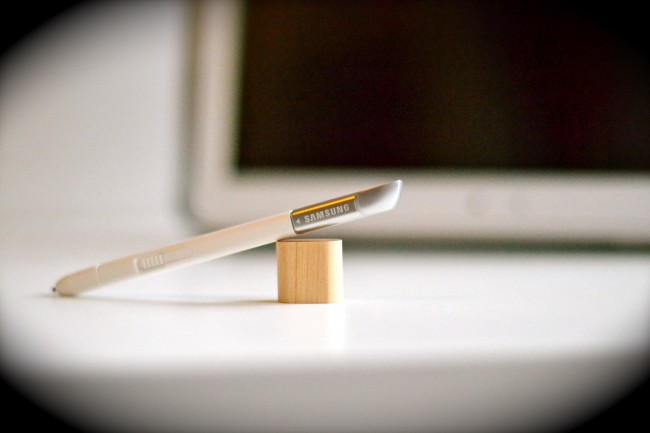 The S-Pen is obviously cool, and the bundled S-Pen ready applications (such as S-Note) take full advantage of it's capabilities.  While I would not go so far as to say it's like drawing with a real pencil, it is pretty sensitive (and can allow you to vary the heaviness of a pen stroke) it can be slow sometimes.  There are features for ignoring non s-pen touches to the screen, recognising handwriting (which is excellent for note taking).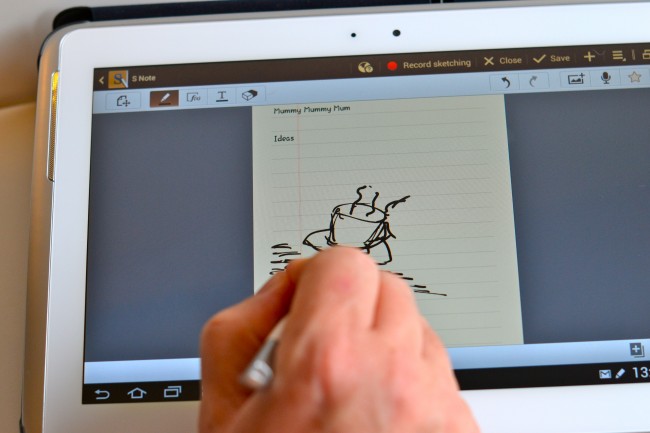 The S-Note application is amazing.  It comes bundled with loads of templates and ideas for presenting your thoughts and is heavily adapted for the S-Pen.  It has started to make me think more about how I present myself and some of the built in tools (such as handwriting recognition, sketch recording (which you can use to play back a sketch you've built up) are really quite neat.
It also has in built infra red "blaster".  This device allows you to send infra red signals which can be used (for example) to control televisions.  Your tablet can also become your Sky/Virgin/TV remote control – cool!
Accessories
There are loads of cases and other accessories to choose from, in addition to the Samsung branded keyboard and case shown in this review.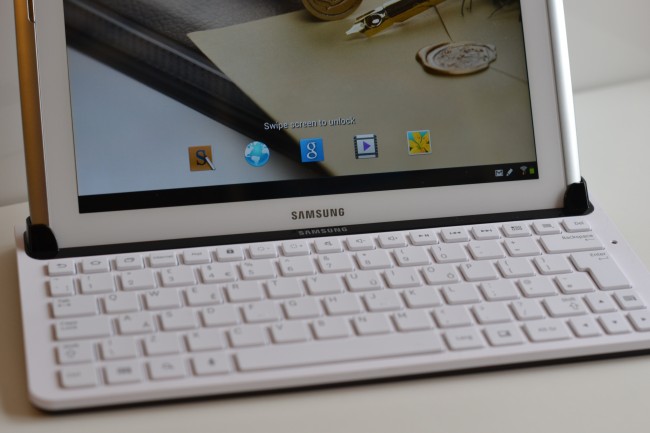 Verdict
I'll be honest here (no surprise there I hope), I love the Samsung Galaxy Note 10.1.  A tablet definitely has it's place, it's not a desktop computer replacement, but it is increasingly starting to compete with laptops.  A lot of my work is photography based and the more I become familiar with the Samsung the more I can see it has a place in my hectic life.  If I need to do things fast when I am out and about I can.
It isn't cheap, that's for sure and I think the price tag will cause people difficulty in choosing it over the market leader.  For me the combination of the much more customisable Android OS and the very carefully considered look and feel from Samsung mean that I would buy it.
I have also glossed over some of the intricacies of using the apps and the s-pen, it is by no means perfect, but the s-pen is definitely a game changer for me.  Far more precise than my fingers I am seeing I can do more sophisticated edits every day.  The user interface layered on top of Android is also very impressive.  This is important for me, I am not much of a geek and if something takes too long to figure out I move on.  The familiarity of my laptop is a major comfort blanket, but, perhaps now there is a new one!
I have a way to go, but perhaps I can start to look at tablets in a new light, and I think the Samsung Galaxy Note 10.1 is the reason.
The Samsung Galaxy Note 10.1 was provided to us for the purpose of this review from Currys,  for a full range of tablets see here.