I was about 24 when we went on our first ski holiday. I think it's fair to say I wasn't a natural. Midway through the week I got scared at the top of a slope and left a lesson half way through!
The year after I tried snowboarding instead which I was slightly better at ( mostly because I could slip down any slope on an edge which isn't as easy to do on skis ). I desperately wanted to be able to keep up with my skier friends though so we did a few trips to Snozone that summer to get my confidence up. By the third holiday I finally mastered turns on an empty slope in New Hampshire, it was the BEST feeling. If you're not a skier you really should give it a go, there is nothing better than the feeling of skiing or snowboarding down a mountain covered in fresh snow.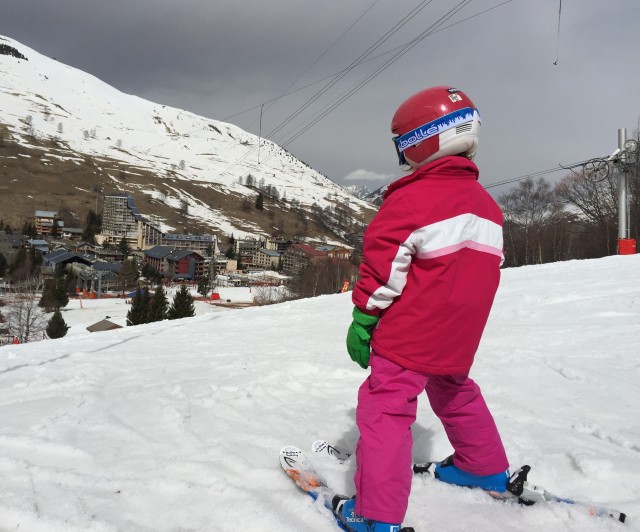 Fast forward about 14 years and we found ourselves back at Snozone, Milton Keynes with four children in tow. We took the three big children on a ski holiday three years ago which they really enjoyed, but the girls were very young back then and I didn't think they'd be able to hop back into skis and be safe on the recreational slope so we booked them on a snowboard lesson ( at their request ) while Zak and my husband had a recreational session on skis. I was a bit worried about Zak initially, but he found his ski legs almost immediately and was soon happily turning down the slope safely. I wish I had even a tiny bit of his confidence.
I spent a happy hour sat in the soft play with Charlie watching through the windows enviously. My 10 year gap in snowy holidays has made me quite a nervous snowboarder, but I'm determined to get my confidence back one day soon!
Recreational Sessions at Snozone, Milton Keynes
We had an hour on the slope, which Zak said wasn't enough time, but I noticed on the website there are special 3 hour pass offers, so do check for current information.
The slope was much bigger than I remembered and was plenty big enough to get lots of turns in before reaching the bottom.
It was pretty quiet when we visited so Zak had lots of slope time with only a short wait for the button lift each time. He had a great time going up and down.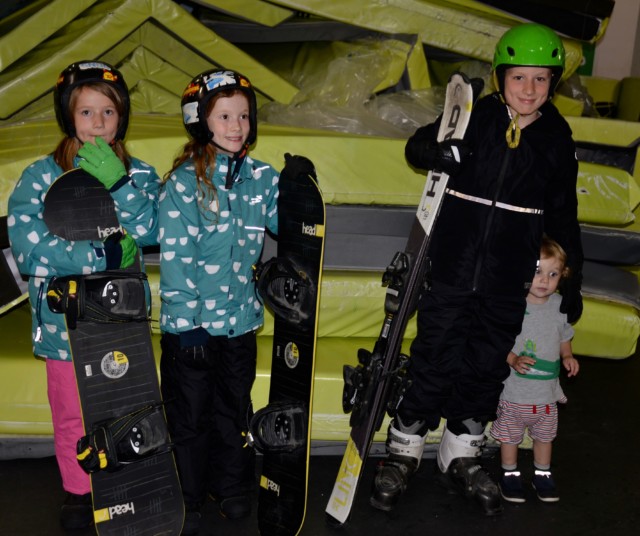 Private Lessons
Sydney and Hannah ( age 10 and 8 ) had a shared private lesson for an hour. The instructor was brilliant with them and they both came our rosy cheeked and very happy. Sydney can get quite scared ( she hates rollercoasters, for example ) but she said she felt very safe and wanted to immediately get back on the slope to learn more. Both said snowboarding was hard but great fun.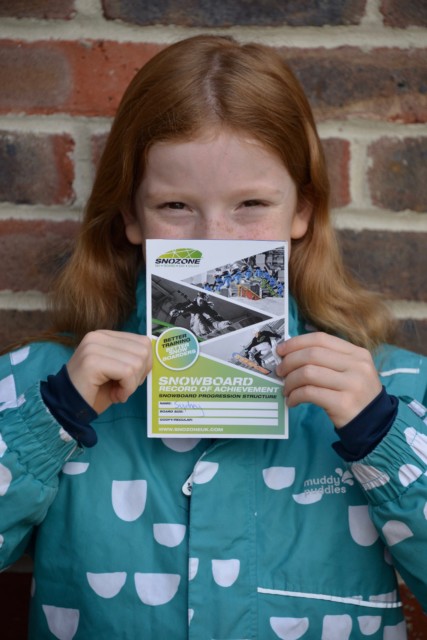 The girls were given a booklet to track their progress. If we were closer I would definitely book them on more lessons, especially if we had a holiday booked. When we took the kids skiing last we didn't really manage to get beyond the nursery slopes, which was a real shame, so next time I'd like to make sure they're all confident enough to at least get down a blue run safely before we go.
More information
Ski, snowboard and boot loan is included in the price at Snozone. You do need to take your own gloves and clothing ( sallopettes and jackets can be hired ).
To use the main slope visitors must be able to link turns, control their speed and use a button lift.
Children under the age of 12 years must be accompanied on the slopes by a paying adult.
Lessons and Family Zones are available for all levels of experience. My girls were complete beginners at snowboarding.
Sledging and sno-play sessions are also offered.
School holiday camps run for children aged 7-15, and are a great way for keeping kids busy in the holidays. If we were closer, I would definitely do this.
Children's parties, team building sessions and Christmas parties are also offered.
Thanks to Snozone, Milton Keynes for hosting us. We had a lovely afternoon.