I have three small children so am always looking for products to save me time and money. One of my all time favourite products is the fitted sheet from B-Sensible.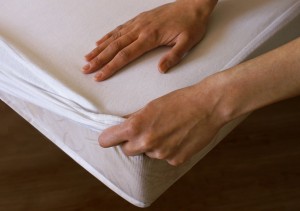 When Z was little I bought mattress protectors that did the job, but felt horrible, they made him hot in bed and of course needed a sheet on top.
The 2 in 1 sheet from B-Sensible is a protector and sheet in one, it is wonderfully soft and breathable, yet still very waterproof. If you sprinkle water on top you can see that the droplets collect on the surface and do not penetrate, protecting the bed and child brilliantly.
The sheet is so soft and comfortable I would actually consider buying one for myself.
B-Sensible sheets are made from a natural fibre called Tencel. Tencel is made from wood found on Eucalyptus trees which has natural cooling mechanisms to control the temperature and humidity.
You can machine wash and tumble dry B.sensible sheets too! I washed the sheet as recommended before using it and it dried very quickly, I was really impressed with it.
Two of my children have Eczema, the B-Sensible sheet has not irritated them at all, in fact I think Z find it quite soothing.
I would most definitely recommend B-Sensible sheets. Prices start at £8.00 for a pillow case.
B-Sensible sheets are available in all sizes from moses basket to Super King size.
We were sent a single fitted sheet for the purpose of this review.