Did you know July is National Berry Month?
In order to celebrate, Kelly's of Cornwall have created a brand new flavour Clotted Cream and Raspberry.
We made a banana split to try out the new flavour. Z thought it was amazing, and was most disappointed to have to share with his sisters.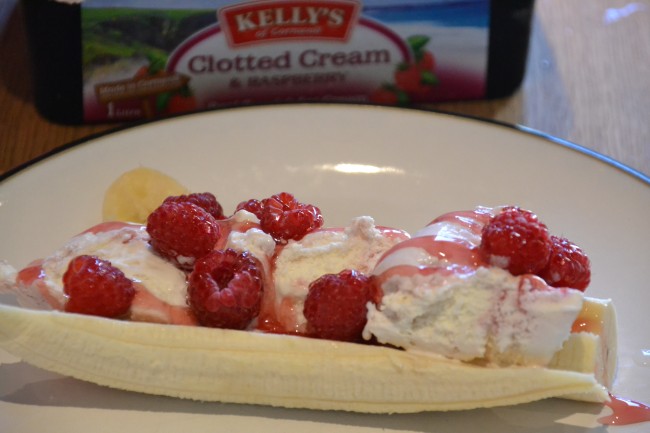 Sadly the raspberries in the banana split are not home grown although we have been trying hard this year. So far it's going quite well. Hindered mostly by children who keep trying to pick things before they are ready.
This is our first strawberry. Fingers crossed no one picks it before it turns red.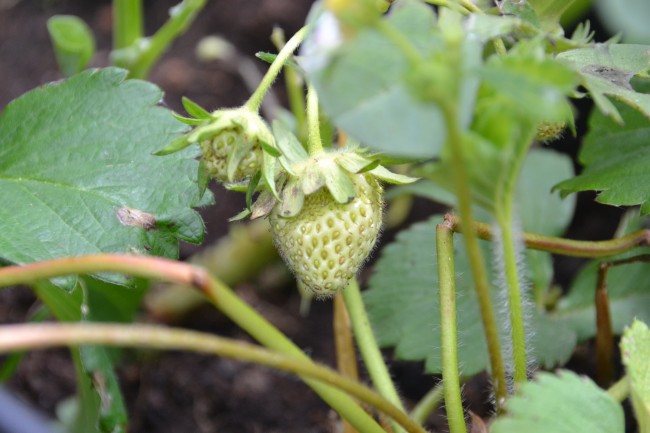 Kelly's kindly sent us some top planting tips for berries.
Containers
Plant in a bright and sunny spot with plenty of shelter.
If you forget to water, use bigger containers with draining holes.
Use a tray underneath to re absorb water
Look for string crowns on strawberry plants to establish a good root system
Planting in beds
Ensure the roots are moist by standing in water for half an hour.
Plant Blackcurrants two inches deeper than soil level
With Raspberries, ensure the hole is big enough so the roots can spread.
Dig a bucket of garden compost with each plant.
Use wire or trellace to tie to the canes for support.
If you've been growing your own, Kelly's have a great competition running  where you can win a years supply of ice cream or £500 in garden vouchers.
Kelly's of Cornwall is the only genuine Cornish ice cream that is made in Cornwall and available nationwide. My mother in law lives in Cornwall and it 's definitely her ice cream of choice!
Kelly's of Cornwall also comes in 8 other yummy sounding flavours. I am hoping to try golden syrup next. Delicious!
We were sent a strawberry plant and a voucher to buy some Kelly's Ice Cream.