When my eldest child was young, building train tracks around the house was a daily task and our wooden train track has definitely been one of our most used toys over the years. When Zak eventually grew out of his much loved trains I kept a bit of track back and gave the rest to school and nursery. Charlie is showing the same love of cars and trains as his big brother so when Hape asked if we'd like to review the  Mining Loader Set and Battery Powered Rolling Stock I couldn't wait to give it to him. Big brother set it up and Charlie got straight to work loading the coal into the trucks and pushing the trains around the track.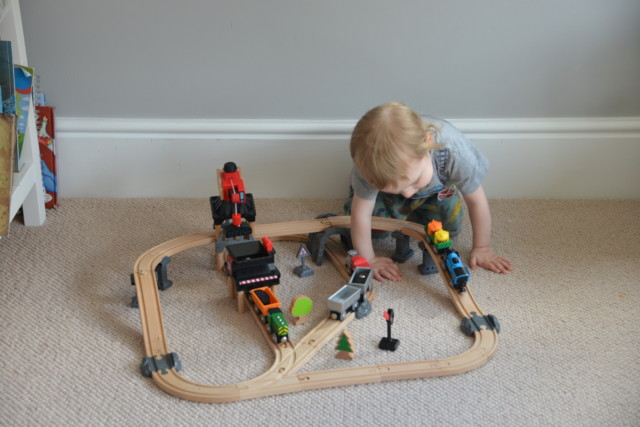 Hape Mining Loader Set
The set has 64 pieces and includes a magnetic crane and signals. I like that it's quite compact when set up, so doesn't take up too much space. We tend to build it, leave it in place for a few days and then take it down for a bit and rebuild a few days later.
The battery powered rolling stock train has also added a lot of extra fun to our play. Charlie likes to see how many trucks he can add to the train before it stops being able to climb the hills. It's been great to see his critical thinking skills improve as he tries to work out why the train can't get up the hill.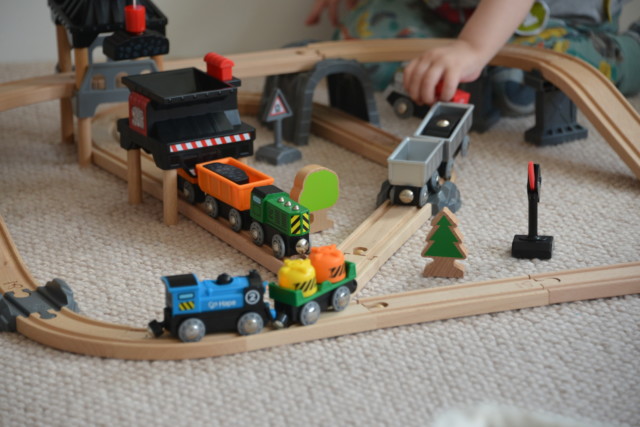 The set is great quality and so much more than just a train set as children can drop coal into trucks and then move the coal with the crane. It can be set up in the compact form shown above or any other arrangement of the tracks. It's brilliant for inspiring lots of fun, creative play and for playing alone or with friends.
The set is recommended for ages 3+ and Charlie is just a little under 3 so he was carefully supervised at all times when playing. I know he will play with this set for years and we'll definitely be buying another battery powered train so we can race them!
The track and trains are compatible with other wooden train tracks so you can add to existing collections of wooden train track or this would make a great started set too!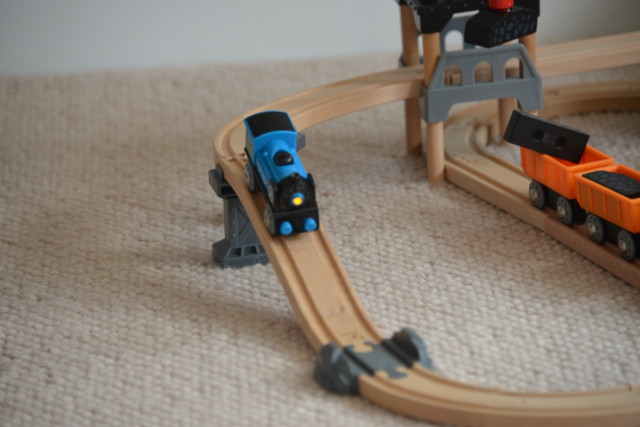 We were sent the sets shown for this review, but all views and opinions are my own.