I have to admit we don't really do Valentine's Day. We don't buy cards, or gifts or go out for dinner. In fact this year it's barely been on my radar at all. My husband did just offer to go an buy me some chocolate as tomorrow is Valentine's Day, but I think thats as romantic as it will get. I'm sure when we were younger there were cards and gifts. I have a vague memory of buying love heart cufflinks once, I'm not really sure when we stopped? Maybe when we had kids and got all old and tired.
In our house there's no need for excuses on Valentine's Day as we're both as bad as each other, but for everyone else out there, I hope you have a fab day, get totally and utterly spoiled and most of all stay healthy. There are an awful lot of bugs  going around at the moment. Touch wood, we've managed to stay healthy so far, despite lots of friends and colleagues coming down with flu like viruses and stomach bugs. I hope our good luck lasts as I really don't want everyone to be poorly in half term, we've got lots of exciting things planned.
What do you do on Valentine's Day? Is your partner an old romantic?
We all know that Man Flu is a myth, but don't give your other half any excuses for a poor show on Valentine's day! Thanks Vicks!'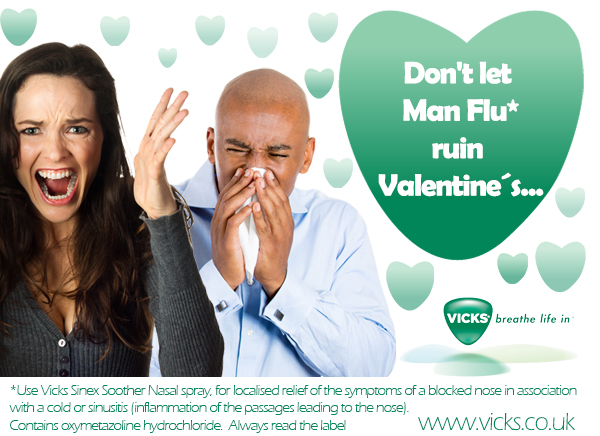 This is a collaborative post