I'm VERY excited to let you all know that I am part of a team of bloggers hosting a Zack & Quack TWITTER party this Friday, 7th February, from 3.45 – 5.45.
Who are Zack and Quack?
Zack and Quack are a duo of best buds. Zack, is an inventive boy, and Quack is his  duck best friend. The BRAND NEW TV show is set in a fantastical pop-up book world, and the TV series follows their adventures as pulling pop-ups triggers unexpected wonders and causes exciting new worlds to unfold before their eyes.
The Twitter party coincides with the VERY FIRST episode, on Friday 7th February at 4.30pm on Nick Jr.
During the party we'll be playing games, crafting and generally having lots of fun. You can join in using the #zackandquack hashtag, be sure to follow @UKMumsTV and you could even win some prizes!
We'll see you there.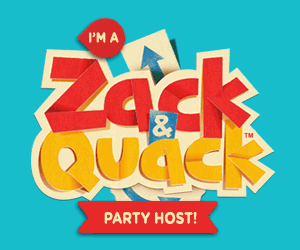 For more on Zack&Quack, take a peek here!