365 Days of Happy  is out this week and it is a brand-new activity, affirmation, and quote book for kids by psychotherapist Becky Goddard-Hill who you can also find blogging at emotionally healthy kids. 
365 days of happy is one of a trio of books newly launched including 365 days of calm and 365 days of kind – now available in all good bookshops.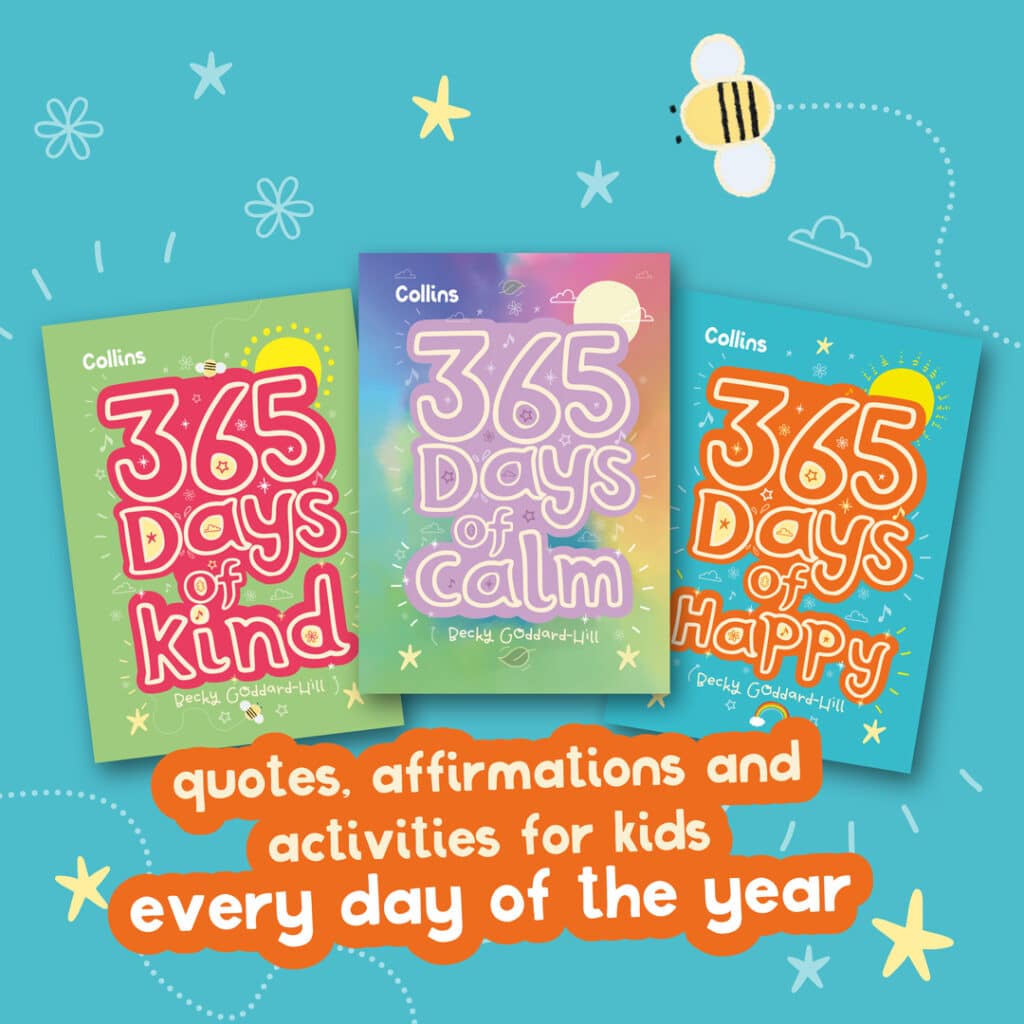 The books are pocket-sized, colourful, and motivational delivering bite sized chunks of wellbeing advice and prompts for each and every day of the year. They are designed for kids age 6 -12.
These books are packed with quotes, affirmations, and activities and every week of the year is themed so kids can really focus in on an area.
Here is an example form 365 days of happy and the week themed around happy bodies (the activity, quotes and affirmations)
Happy Body*
Activity: Can you work your way up and down your body valuing and giving thanks for all it can do for you?
Maybe you could wriggle your fingers and thank them for holding a pen, or flutter your eyelashes and say thank your eyes for the beautiful things they can see, maybe you can touch your knees and say cheers for being so bendy or perhaps you want to scrunch your nose and appreciate it for smelling fresh grass and strawberries.
Our bodies are just incredible.
I stand in awe of my body. – Henry David Thoreau
EveryBODY is beautiful
Happy people are always beautiful.
A smile never goes out of style.
There's no-body quite like my-body – Becky Goddard-Hill
My body is amazing
I am thankful for my body
 Any kind of learning works best when it is part of each day rather than just an occasional occurrence so this is the best way to teach emotional wellbeing . A daily dose of happy really does help grow robust and resilient young minds. And an appreciation and respect for their bodies goes along way toward having a healthy mindset
365 Days of Happy  is out now
365 days of calm, kind, and happy book tour
To follow the rest of the 365 days book tour and see more extracts from the books take a look at the following blogs:
29 /9 We're Going on an Adventure www.goingonanadventure.co.uk
30/9 Thrifty Mum thriftymum.com
01/10 Down Side Up www.downssideup.com
2/10 Emma and 3 www.emmaand3.com
3/10 Mummy Mummy Mum  www.mummymummymum.com
4/10 Rainy Day Mum  www.rainydaymum.co.uk
5/10 What the Red Head Said www.whattheredheadsaid.com
6/10 Growing Family  www.growingfamily.co.uk