My 8 year old has been asking for a styling head for a very long time. I spent a long time looking just before Christmas but couldn't find one that looked good enough for her to actually practice styling hair and the one we had previously just didn't have enough hair to do anything with. When Britmums asked if we'd like to review the I'M A STYLIST Styling Head I knew Hannah would love it and it sounded like just like what I'd spent a long time searching for.
As you can imagine Hannah was just thrilled when Lucy arrived. Lucy is a 33cm tall, great quality styling head which comes with earrings, hair accessories, self adhesive gemstones for the face and magnetic eyelashes.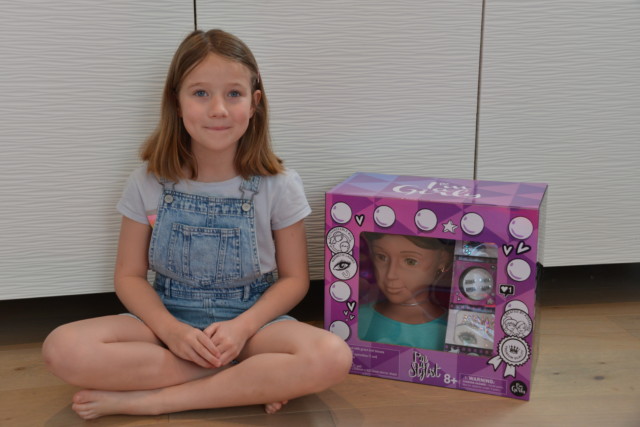 We were also sent an I'M A GIRLY interchangeable wig. Both my girls were beyond excited at the thought of having spare hair so therefore able to cut hair as well as styling it, although we haven't tried that yet. The hair is super soft and very thick, so lovely to brush and great to style.  The wigs are available in different colours and lengths, Hannah is hoping to get the blue one for her birthday!
I was concerned that once we'd changed the hair it wouldn't be as secure as when we first used the doll, but changing the hair is very easy and our wig was just as secure as the original hair when attached.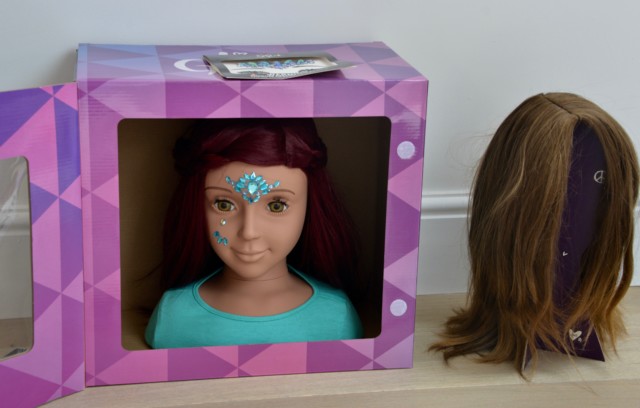 The I'M A STYLIST styling head includes the following fun features.
Magnetic eyelashes that are easy to apply and come in a special keepsake box.
Interchangeable excellent quality wigs available in different colours. New wigs are on the expensive side at £39 though.
Earrings
Removable top.
Suction cups on the bottom of the styling head for extra stability when styling.
Reusable packaging which can be used to store the styling head neatly.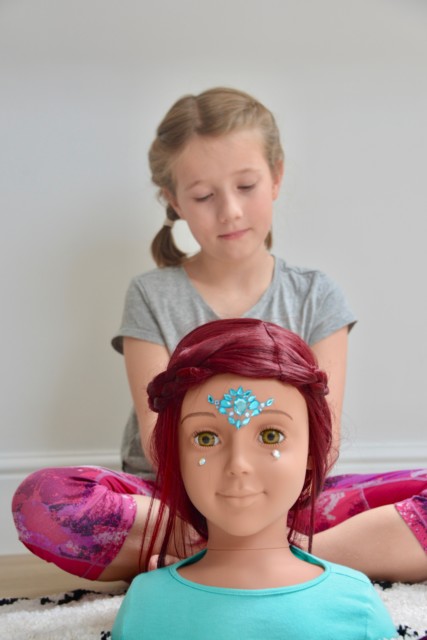 Lucy is fantastic quality and both my 8 and 10 year old have already spent many happy hours styling her hair with a bit of help from YouTube videos. It's been super helpful for me too, as I have to do french plaits in both my daughter's hair next week for a tap exam and thanks to Lucy I realised that I have being doing french plaits wrong for years, and they are actually much easier than I thought.
Cut Hair, Don't Care
We love that the hair can be changed, and as I mentioned before my girls are very excited about giving Lucy a real haircut. I am less excited about that, but it'll be interesting to see what they create. I suspect cutting hair is harder than any of us imagine!
The I'M A STYLIST styling head  ( recommended for children aged 3-15 ) is currently available at Harrods and Hamleys with an RRP of £89 and also on the I'M A STYLIST website. It is obviously much more expensive than products with a similar function, but the difference in quality between Lucy and any other styling head we have seen is just huge. I'm so impressed with it, the larger size and broader face make it easy to decorate and as I said before the hair is fantastic.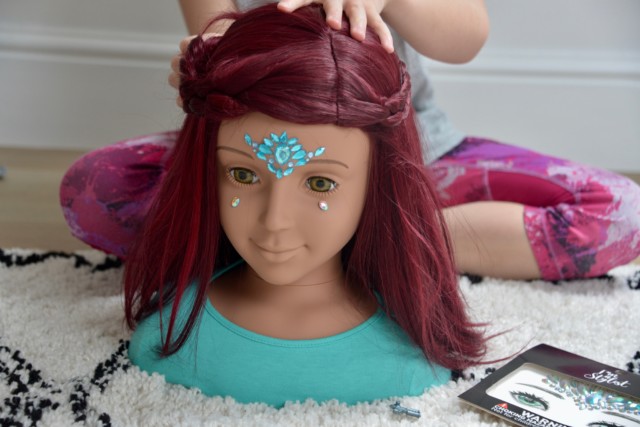 I hadn't actually heard of the I'M A GIRLY brand before seeing the I'M A STYLIST Styling Head but tthe brand promotes inclusivity and diversity and is aimed at both girls and boys. There are also  fashion dolls available which come in a different of styles, all with natural proportions and varying skin tones and hair colours. The I'M A GIRLY products are designed by girls and boys aged 9 to 13 on its KIDS4KIDS panel. I wouldn't describe either of my girls as especially girly, but they both think the I'M A STYLIST Styling Head is great, so I think it will appeal to kids of all ages and interests. I'm looking forward to my children become expert hair stylists and helping me with my hair!
Competition – Your child could be part of the KIDS4KIDS panel
Do you have a child aged 9 to 12 who's creative and interested in design and fashion?
If so, this is the perfect competition for them. They can win a place on the KIDS4KIDS design team designing clothes and accessories for the product range. The winners will have the opportunity to meet with the I'M A GIRLY team in London and design clothes for the Fall Winter collection. It will be an afternoon full of drawing, playing with fabrics and brainstorming outfits!
Let your little designer show their creativity by entering. Here's how!
Download this sheet with an illustration of the I'M A GIRLY doll: IAG _ Drawing Template
Your designer can draw on it, create a collage from images, fabrics and colours etc. to create their very own and individual outfit
Once their creation is finished, take a picture of it and send it to 

[email protected]

Competition ends 21 May 2019
The KIDS4KIDS design team will choose the best designs and winners will be announced 24 May 2019
The winners are invited to take part in the design session in London on 15 June 2019 2-5pm*
*travel not included
The project is sponsored by I'M A GIRLY.
Read the Terms & Conditions
DISCLAIMER: This post is part of a paid project with I'M A GIRLY and BritMums, promoting the I'M A STYLIST styling heads, that just landed in Harrods and Hamleys. They are hip, cheeky, trendy and a bridge between childhood and teenage years. See the styling heads, the fashion dolls and accessories at www.imagirly.com/uk/