Innocent drinks are once again supporting Age UK, 25 pence from each smoothie with a funny little wool hat goes to the charity.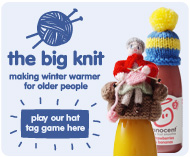 The money funds home visits, befriending and practical workshops giving older people new skills to cope in the winter weather. Innocent is hoping to reach over 350,000 people this winter who desperately need help to keep warm.
To help raise even more money, you can join in the hat game.
Take your hat, hold it between your fingers, take a funny picture and upload to the Innocent Facebook page. Innocent will give another 10 pence to Age UK for each photo uploaded. You can then vote for your favourites, to give yet another 5p to Age UK.
There are prizes for the photos with the most votes each week, and £500 of Amazon vouchers for the three photos with the most votes overall.
Here are some I made earlier.
The windmill needed a bit of warming up

You can see more details on Innocent's Facebook page. Smoothies with hats are available from Sainsburys and Boots now.
Innocent sent me a lovely little hat for the purpose of this post. All words are my own.