I treated myself to a Sage MultiCooker™ over Christmas after seeing one in action at Mummy Barrow's house. First impressions are it's pretty awesome.
Sage's Multi Cooker™ is not your average slow cooker, it also makes amazing risotto, gorgeous fluffy rice and the best steamed veg I've ever tasted. I love that there aren't too many bits and pieces so it's super easy to clean and the non stick pan is a dream come true after my last slow cooker which always ended up with me scrubbing away at the pot for ages to get it clean.
I'm terrible for leaving pans on the hob cooking as I am so easily distracted so the fact that the Sage Multi Cooker™ turns itself off is another big benefit.
I also LOVE the  sauté/sear setting which you can see in action in my little video below.
This recipe isn't the simplest, but does show what the Sage Multi Cooker™ is capable of.
Slow Cooked Curry – Lamb, Spinach and Butternut Squash with Black Beans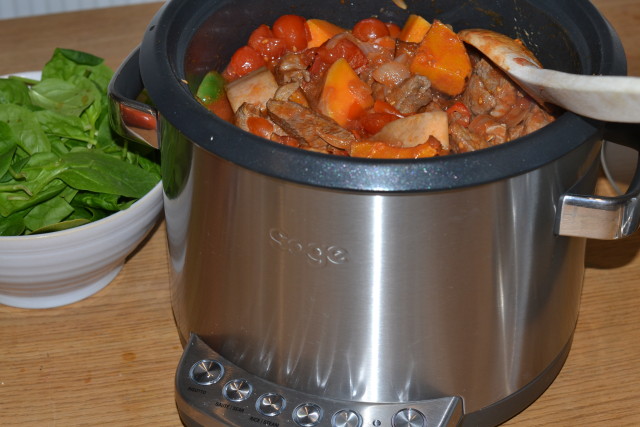 Ingredients
1 butternut squash
700g diced lamb leg
1 green pepper
3 medium onions
3 cloves of garlic
2 red chilles
thumbsize piece of ginger
2 bay leaves
salt and pepper for seasoning
1 tin of organic cherry tomatoes
2 tablespoons balti curry paste
3 large ripe tomatoes
Handful of spinach
1 tin of Black Beans ( optional )
Instructions
Start by using the Multi Cooker on Saute mode and brown off the butternut squash (seasoned) in a some olive oil. Once they have coloured nicely transfer them to a bowl and then brown the lamb.
Again, transfer the browned lamb to a bowl and saute the onions, chillies and garlic.
After about 5 minutes add the ginger, some seasoning and the bay leaves, after a couple more minutes add the peppers.
After a further five minutes add the butternut squash and lamb back into the pot and switch to Slow Cook (FAST) mode.
Add the tin of organic cherry tomatoes and the curry paste and leave to cook for about 4hours which will make the lamb very tender.
About 10 minutes before you're ready to serve, add the tomato chunks, spinach and black beans.
We're trying not to eat too much rice which is why we added the black beans.
I was so impressed with the Multi Cooker that I also bought a Sage kettle, which I love as well, it's so quiet and the soft grip handle is lovely to hold. I'm now saving madly for one of their awesome looking coffee machines and maybe a waffle maker!