Tesco kindly challenged us to cook along together to one of their great recipe videos on the Eat Happy Website. I chose the Chicken Rogen Josh hoping it would be something all my kids would enjoy preparing and eating. It's not the kind of dish they usually eat, but I hoped that by being involved in the whole process they'd be happier to try something new.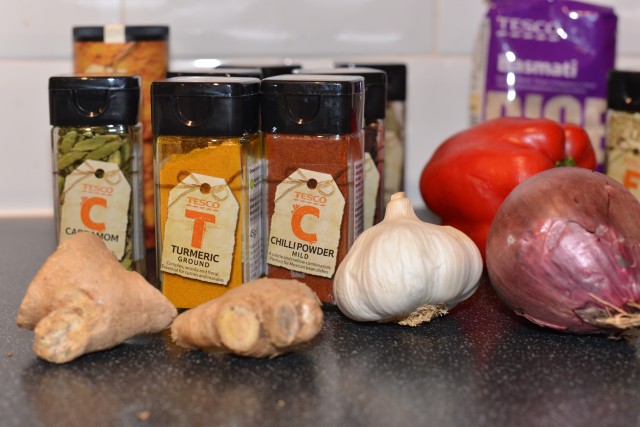 I do try and encourage my children to help out with the cooking, but tend to focus more on sweet things, like biscuits and cakes, it's quite rare that they help out with a main meal. I was actually very surprised at how keen all three were to help with this project. I think the responsibility of using a sharp knife ( while supervised ) was quite appealing to them, it was also a great opportunity to talk about the different smells and textures involved with the recipe as we chopped and cooked.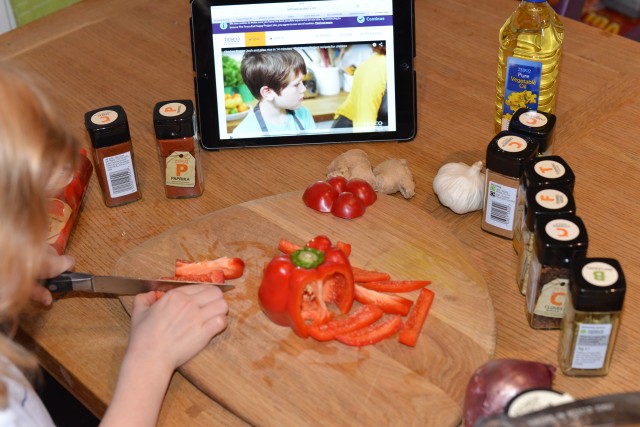 Following along with the video made the whole process much more interactive for all of us and avoided the usual stress of me reading a recipe and trying to work out what to do while the kids wait impatiently. The instructions were clear and even told us when to pause.
Sydney loved peeling the garlic and ginger, watching the children on the video do the same made it all seem very manageable for her. We would definitely use videos to help us cook together again.
Being allowed to stand at the hob was another big treat, and wasn't quite as nerve wracking as I'd imagined. Sydney was very sensible, made sure to hold the pan handle ( as told in the video ) as she stirred and was very careful to avoid the heat.
She was a little over generous with the curry powder, but that was our only mistake.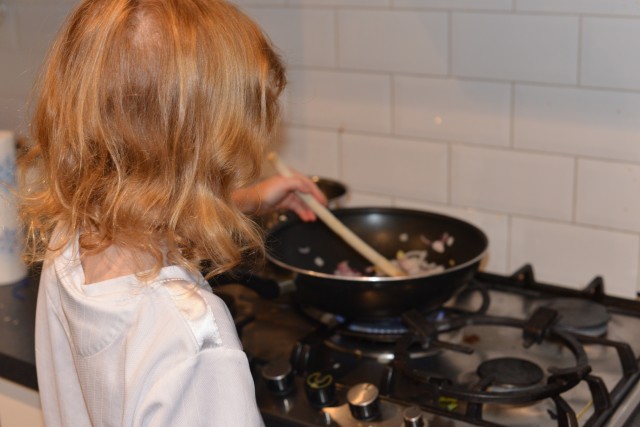 We have made curries for the kids before, but I would never have thought to make my own pilau rice, which was actually really easy and a great way to introduce the kids to a new flavour.
All in all the meal was a huge success and definitely something I will make again. I'll also be getting the children more involved from now on too, as it was a really lovely way for us to spend time together.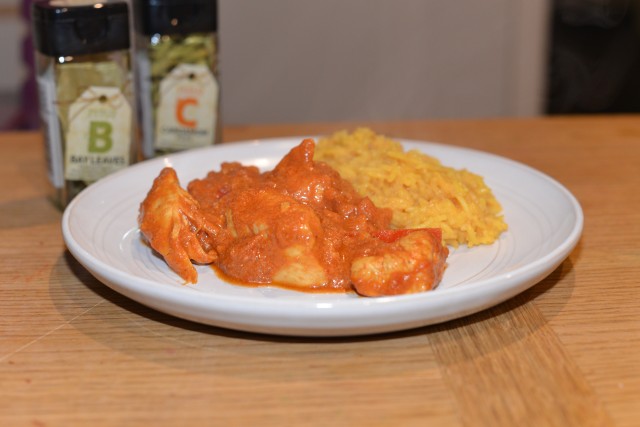 We also enjoyed watching some of the skills videos on the Eat Happy website. Hannah has been asking me to peel apples recently, so we watched the peeling video and she did really well trying it herself, although I think I'll be supervising her very closely for sometime yet.
Don't forget to check out the Tesco Eat Happy Videos for more inspiring recipe ideas.
This is the Chicken Rogen Josh recipe video we followed.

Tesco sent us the ingredients for this dish via their online shopping service, which arrived on time, well packed with a very friendly and helpful delivery lady. We were very impressed!