Charlie has just reached what I think is the perfect stage for messy play. He doesn't try to eat everything he touches, is very happy to try something new and is just getting to the point where he is starting to play independently and he LOVES a bit of mess!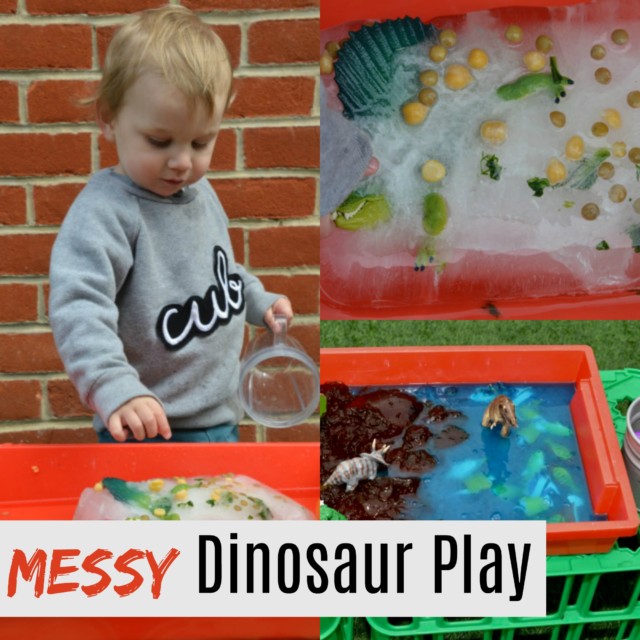 I tried jelly indoors a few weeks ago but he mostly just flicked it around the room, so this time we went outdoors and added some dinosaurs. Charlie is the first of my children to be a little obsessed with dinosaurs, but according to my research a dino obsession is a very common thing. Studies have even shown that kids obsessed with dinosaurs are are smarter than those who aren't. I haven't spent enough time researching this to know if it's true, but regardless, being able to say and remember tricky dinosaur names and time periods can only help develop a young brain.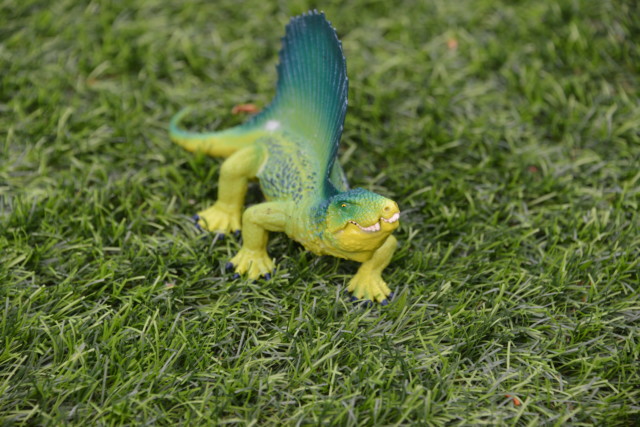 I plan to fully embrace Charlie's new interest by getting messy and learning about dinosaurs together.
Messy Dinosaur Play
Dinosaur Ice Excavation
This one isn't actually that messy. I froze our Schleich Dimetrodon with some dried chickpeas and lentils. Charlie was confused initially, but then excited to see bits of the dinosaur appear.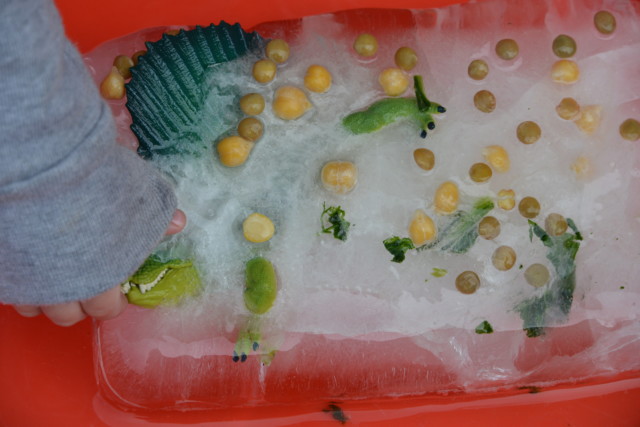 I put warm water in a container and let him pour it over the ice to melt it. He did try with the pipette, but doesn't quite have the fine motor skills yet. He had a good go though.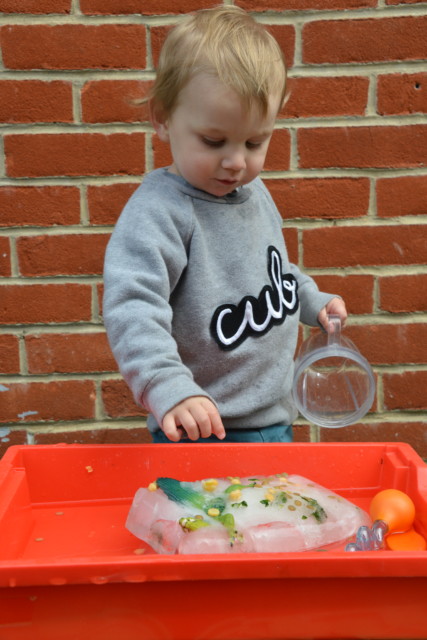 Jelly Dinosaur Play
This was another big hit. I laid this one out with ladles and wooden spoons and Charlie worked to 'rescue' the dinosaurs from the jelly swamp. He loved it.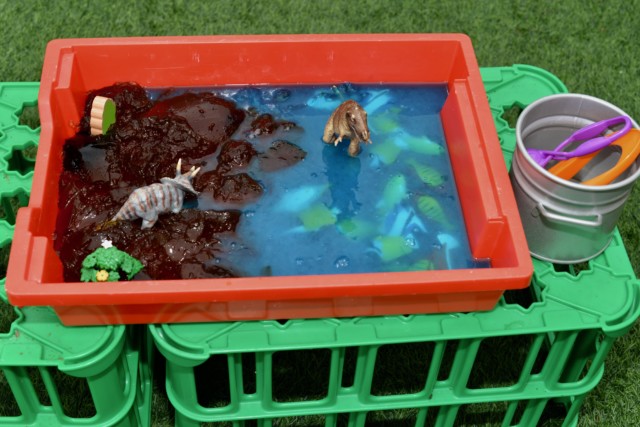 All the dinosaurs we use for these activities are from Schleich, some we've had for years and some were sent to us to review. They are perfect for this kind of play as they are very well made, sturdy and great quality. Charlie loves that he can open the bigger ones mouths to feed them jelly, pom poms or whatever else he happens to have to hand. The detail on them is amazing too! Schleich dinosaurs are available from Smyths Toys and other good retailers. The smaller dinosaurs start at £7.99, which is great value as the quality is fantastic.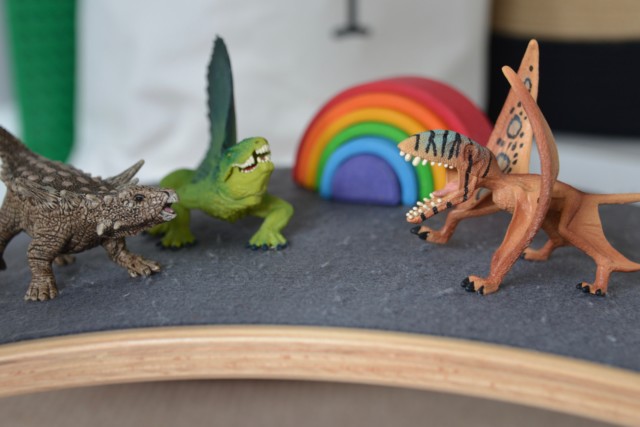 Slimy Spaghetti
We also love using our dinosaurs in slimy spaghetti. To make this cook cheap spaghetti in a pan with food colouring. Once it's cooked, drain it and leave to cool before coating with a thin layer of oil. It feels lovely and slimy!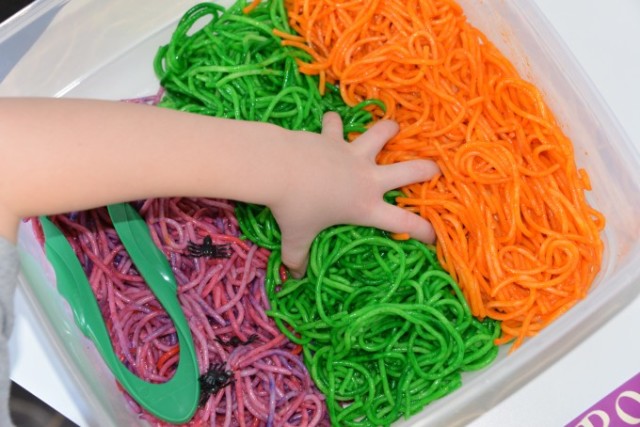 Create a play scene and tell a story
We had a lot of fun creating this scene and making up funny stories!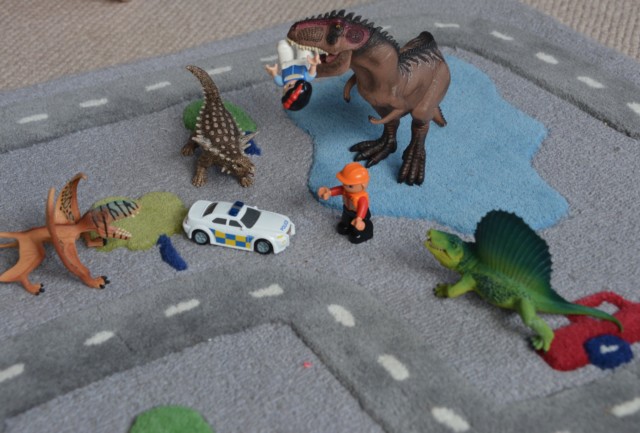 Giganotosaurus is one of our favourite Schleich dinosaurs, just look at all the detail in his face.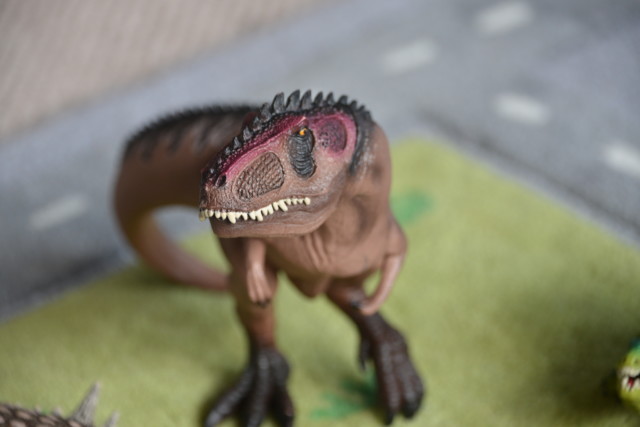 Dinosaur Tea Party
Set up a dinosaur tea party, this has been one of Charlie's favourite activities. He likes to feed them cereal.
Older children could also create a special dinosaur menu with dinosaur themed food.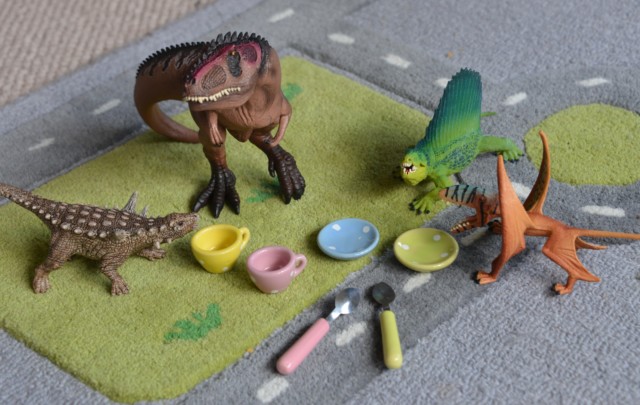 More Dinosaur Play Ideas
Make your own fossils like Science Sparks using clay or play dough.
If you have a little Harry and his Bucketful of Dinosaurs fan, make them their own bucket! This was one of Charlie's birthday presents which he loved. I left one dinosaur unwrapped, but wrapped up the others.