Since having baby H, I've only managed to go shopping a handful of times, choosing instead to shop online. I'd forgotton the simple pleasure of going into an actual shop and looking around, being able to see everything all in one place.
Z, H and I went to have a look around the Enchanted Wood toy shop in Farnham. As soon as Z saw the giant Lego figure by the door he was absolutely mesmerised and when we stepped inside couldn't hide his excitement, there were shelves full of Playmobil, LEGO and every other toy you could imagine. I realised for the first time just how loud H's voice has become as she ran around shouting 'rabbit, man, cars…Mummy…LOOK'.
The staff were all super friendly and helpful, we will definitely be going back. As easy as internet shopping is, a real shop is so much better.
Jane from Enchanted Wood, kindly gave us some Playmobil to review.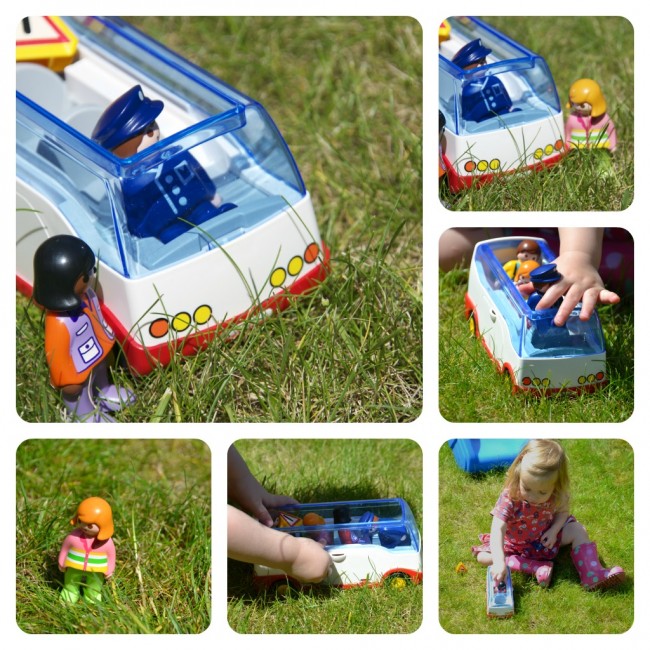 The Airport Shuttle Bus is from the 1,2,3  range. It is super cute, sturdy and great fun.
H has loved putting the little people in and pulling them out, making them talk to each other and zooming around with it on the floor. The figures are brightly coloured and nicely rounded making them perfect for learning through play.
H sometimes has trouble fitting the suitcases in the bus and has to turn them around so I know it's helping develop her spatial awareness, she also likes counting the people as she puts them in.
The only thing we didn't like was that the arms of the figures are fixed to their sides. H kept trying to move them and got a bit frustrated.
The Playmobil 1,2,3 range seems like the perfect introduction to Playmobil, and is recommended from 18 months. I would definitely buy more for H.
We received the airport shuttle bus free of charge to review, all words and opinions are my own.
Enchanted Wood toys have kindly offered me one Airport Shuttle to giveaway. To enter just complete the rafflecopter form below.