My lovely husband drinks a lot of coffee, so I've handed today's review over to him.
Recently we bought a Sage Barista Express™ coffee machine. We love coffee and we have, over the years, owned a number of coffee machines ranging from basic espresso shot machines, Pod/Capsule machines through to our previous machine; an Italian "Bean to Cup". We've enjoyed all of them.
It was time to get a new machine, and I decided I wanted to get more involved with my coffee. Bean-to-cup's are great, but just pushing a button and then coming back to a ready made coffee, while very consistent didn't really do it for me.
Enter the Sage range by Heston Blumenthal. We bought a Sage Barista Express™ (with integrated grinder) which retails at around £550, and is packed with great features. The first thing to note is that it has an integrated Burr grinder for your coffee. This is a high quality grinder with variable coarseness settings giving you a lot of control.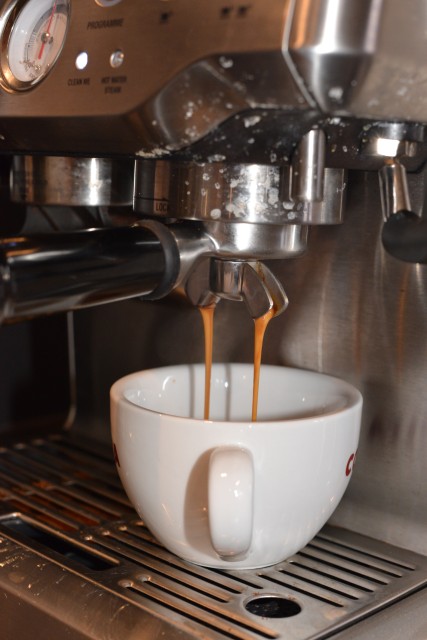 You simply grind your beans and then transfer the portafilter assembly to the grouphead press a button and you're away….well sort of – it does take a bit of experimentation, more on that later.
The Sage Barista Express™ comes as a single boiler machine which means you use the same boiler to steam your milk and make your espresso. The downside of this is that you can't do both of those activities at the same time. The upside is that the machine is less expensive as a result, a fairly reasonable compromise.
Unboxing the Sage you get a milk jug, 4 filters – 2 x single walled 1 and 2 shot + 2 x dual walled 1 and 2 shot and a cleaning kit. The Dual walled filters allow you to achieve good espresso pressure even with sub-standard or old coffee.
A 2L water tank means you can make plenty of espresso before needing to refill it, and with an integrated charcoal filter holder (1 filter supplied) ensures good quality water going through the machine.
The Barista Express™ looks awesome. A great blend of solid, weighty metal and high quality plastics make it a fine addition to the kitchen. It just looks and feels good quality. Using it is excellent fun and (I'll explain more in my next post) it is very satisfying once you've mastered the different aspects of making an espresso. We genuinely don't buy coffee shop coffees very often any more, they're just not as good!
I don't miss my bean-to-cup machine, I feel like I have graduated to something that gives me much more control and therefore much more variety in the subtle flavours of the coffee I love so much. It's also fun and satisfying to get a great coffee pulled, you can see in this photo the pressure gauge, telling me the pressure is in the Espresso range.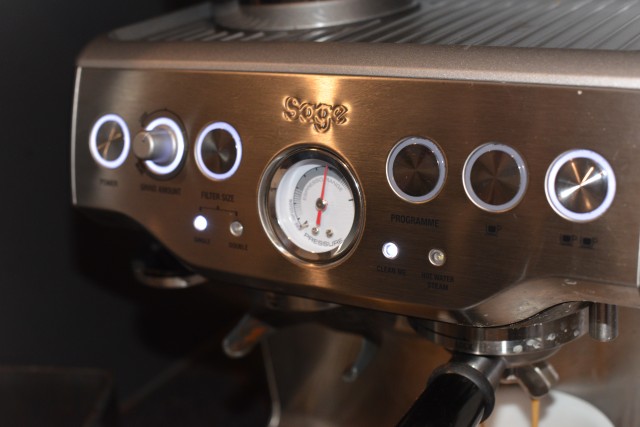 In my next post I shall provide some tips and tricks from my own learnings and explain some of the more advanced features of the Sage Barista Express.
We received a discount on the Barista Express™ machine