I've spent much of the last four weeks feeling completely blocked up with nothing I tried doing anything to help clear my nose or soothe my throat. Luckily Jakemans sent me a package full of their delicious menthol cough sweets and within a few minutes my airways felt much, much clearer.
Did you know Jakemans have been around since 1907? This means they've been creating wonderful menthol confectionary for over 100 years!!
Jakemans bagged sweets are available in the following flavours:
Throat & Chest
Honey & Lemon
Cherry
Peppermint
Menthol & Eucalyptus
Blackcurrant
Blueberry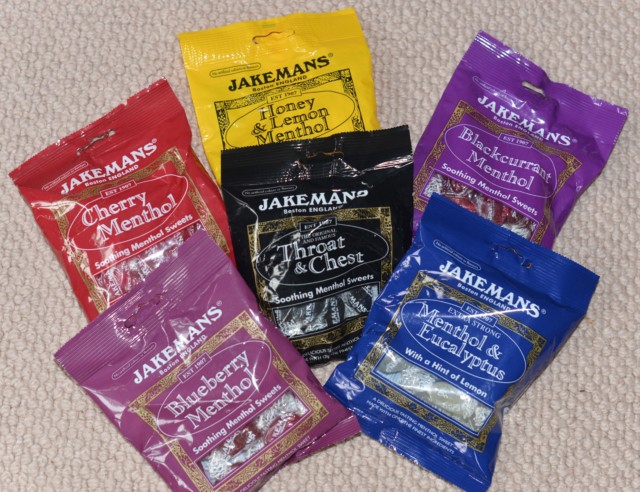 My favourite is the traditional peppermint, while my husband and son favour the fruitier blueberry and blackcurrant flavours. Each flavour has the same great fresh taste and there isn't a flavour we don't like.
You can also get smaller sweet stick packs in Throat & Chest and Honey & Lemon flavours, which are perfect for having in your bag or pocket.
Do you know  how best to care for a sore throat? Marvin a leading pharmacist and Jakemans expert has some top tips to share.
Rest your voice
Resting your voice helps you to recover from a sore throat.
Sleep
Likewise, sleep is essential for the recovery process. Getting a good night's sleep helps the body's immune system fight off viruses and bacteria that can be causing a sore throat.
Sucking on menthol cough confectionery
Sucking on menthol cough confectionery, such as Jakemans, can help soothe sore throats. Each Jakemans sweet is bursting with menthol which releases natural vapours to also help keep airways clear. I found that the menthol really did make my airways feel much clearer almost instantly giving me much needed relief.
Drink Water
If you're dehydrated, your body can't produce enough saliva and mucus to keep the throat naturally lubricated, making the swelling and inflammation of a sore throat worse. Remember to drink lots of water or warm herbal teas to stay hydrated.
Forget the alcohol
Alcohol can irritate a sore throat, so it's best to avoid if you can.
Breathe through the nose
Breathing through the nose, rather than the mouth, is a fantastic way to filter the air your breathe from bacteria and other harmful irritants before they enter the body. The nose is an amazing filter lined with tiny hairs called 'cilia', which help to filter, humidify and warm or cool air, therefore protecting your body from particles of foreign matters.
Swallow!
Swallowing helps to cleanse the throat. Did you know saliva keeps mouths healthy and prevents infections by controlling bacteria and fungi in the mouth.?
Have a shower
This is a method I tried a lot when my blocked nose was at it's worst and it did give me a little temporary relief. A steamy bathroom can help prevent the lining of the throat from becoming too dry and irritated.
Get a new toothbrush
If you just can't get rid of your sore throat, buy a new toothbrush. Toothbrushes can be a haven for bacteria which collect on the bristles.
Jakemans is proudly British and uses only the finest ingredients, with no artificial colours or flavours, and are suitable for vegetarians. They really are the perfect way to easily soothe a sore throat.
How do you treat a sore throat? I find honey and lemon drinks help me a little as well.
In collaboration with Jakemans.